5 Tips to Choose the Best Tile For Your Bathroom
Are you worried about having to remodel your bathroom tiles? If so then do not worry, there are lots of ideas, including some quick fixes that you can use in a rented house or apartment or for choosing the best tile for your bathroom altogether. So, if you have just moved into an old house, you may be fixing it up and curious to know how you can cover these ugly or broken bathroom tiles. So, how can you choose the best tile for your bathroom? 
Here are five tips for choosing the best tile for your bathroom:
Use Waterproof Paint
Bathroom Tile Panels
Bathroom Tile Resurfacing
Quick-Setting Concrete
Tile Over Tile
Now that you have an idea of the options to help you choose the best tile for your bathroom, let's take a closer look at each of them in this article. Therefore, here are some suggestions given for you to know about changing and covering bathroom tile which can be helpful for you and you can as well get a good idea of what to do or not.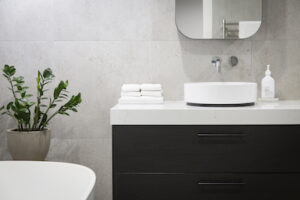 1. Use Waterproof Paint
One of the best options is painting, if you have the ability to make a permanent change then this can help bring back tiles that are stained, scratched, or have the wrong color. There are some steps that you might have to follow like:
Clean the tiles properly.

After cleaning, sanding tiles are equally important.

You have to select Epoxy paint that works better on bathroom wall tiles as they get wet.

After painting, primer is the finishing touch which is often overlooked but only the right waterproof primer will make your bathroom tiles waterproof.
When it comes to waterproof paint, it is important to make sure that it has a good water resistance rating. This will ensure that the paint will hold up against moisture and humidity in the bathroom area. It is also important to check if the paint is compatible with any existing tile or grout already in place before painting. Additionally, be sure to check if the waterproof paint can be used outdoors as well as indoors in order to protect other surfaces from becoming damaged due to moisture or humidity.
2. Bathroom Tile Panels
Bathroom Tile Panels are an easy-to-install option for homeowners looking for an inexpensive way to spruce up their bathrooms quickly and they come in a variety of colors, designs, and textures that can bring any bathroom to life. While easy to install, they also are incredibly easy to clean, making them a great choice for those who don't have time to perform regular maintenance on their tiling. This is the easiest way to cover up the tiles as PVC is the best part of these bathroom tile panels which won't damage externally. Also, installing it is simple and can be done in four steps:
Before customizing new tiles you should clean the tiles.

Panels are not for individual tiles, so you must measure each bathroom wall side.

As installation is easy, you can use glue to stick the panel.
3. Bathroom Tiles Resurfacing
When you resurface bathroom tiles, you basically just give them a deep clean and a coat of varnish to make them look better. But if your tiles are broken in other ways, resurfacing might not help them look better. Well, in that case, you can go for some other option.
I really think it is really fun to remodel the bathroom when you have a lot of ideas about the styles and themes you want to use. If you are still worried about how to make your dreams come true, you can just call the bathroom remodelers to do the work for you.
Before we start, you should know that for resurfacing, you need to have time and go through a number of steps. You will need tools like:
Resurfacing kit

Gloves

Sponges

Roller

Sandpaper

Brush

Primer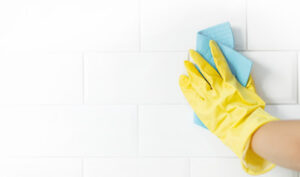 4. Quick-Setting Cement
Another cheap way to cover bathroom tiles is with quick-setting cement which is also called "cement that sets quickly." Their job is pretty clear! They dry in 10 to 15 minutes and can make your old, bad tiles look stylish on a budget. 
You can use concrete or white cement, but they will not be very helpful when you are trying to cover up bathroom tiles. As most likely, they were used to put the tiles on the bathroom walls.
You should know that there are some easy steps for quick-setting cement which are:
Cleaning tiles is necessary for old tile renovation, so nothing new to say. Get each gap equally.

Spread quick-setting cement on each gap and joint after drying, apply the second cement coating.

Quick-setting cement or external primer can finish the setting finally.

After cleaning, let the tiles dry and you will be happy to see the result as you gave it time.
So, all in all, quick-setting concrete is ideal if you want a flooring solution that sets quickly without sacrificing quality or design customization options. Quick-setting concrete is also a great choice for those who want to create an interesting design but don't have much time to install tiles. With quick-setting concrete, you can get a durable and attractive floor in as little as one day.
5. Tile Over Tile
Finally, tile over tile is another option for those looking for easy installation and long-lasting protection. By using the existing tiling material and simply laying new tiles on top, you can achieve a beautiful finish without needing to perform any additional work. Tile over tile is especially ideal if your current bathroom needs just a bit of sprucing up without going through the hassle of completely replacing all the existing tiling.
However, there are mainly three kinds of tiles.
Porcelain Tiles

Shiny or Unglazed Tiles

Ceramic Tiles
Tile over tile is a useful but odd way to cover up tiles on the bathroom walls. It does what it says but by putting new tiles on top of the old ones, you can hide the old ones.
However, it takes a long time, and tiles are not even cheap so, lastly, you still have to decide what kind of tiles you want, even if you cover up old ones with new ones but it may not be the effective way like other options.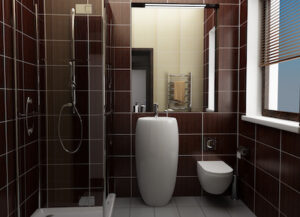 Final Words
However, if you are wondering how to remodel and cover bathroom tiles, then these five tips should help you choose the best tile for your bathroom when it comes time to do a renovation or just spruce up the space. From waterproof paint to tile over tile, consider all of these options and choose the one that best fits your needs. What you choose is completely up to you, but you must always test which one looks best and goes best with your bathroom walls. With some research and careful consideration, you can create a bathroom oasis that will last for years to come. Good luck and thanks for reading!