Renovating the Ideal Bathroom Tips
A bathroom renovation should fulfill both function and style, as it will add value to your everyday living and also increase your home's resale value. However, a renovation needs to be carefully planned, as a poorly executed remodeling project can cause a lot more harm than good with future headaches to fix. Whether tempted to try to DIY or to find the right person to build it for you, it's crucial to follow expert advice on how to approach the process. So how do you begin renovating the ideal bathroom? The expert tips for renovating the ideal bathroom include:
Plan Accordingly To Stay Under Budget
Finding Inspiration
Seek Professional Help with Design
Find the Right Contractor
Look Up Your City Regulations and Requirements
Obtain the Right Permits
So now that you have an idea of some of the tips for renovating the ideal bathroom, let's examine each one of these tips in greater detail.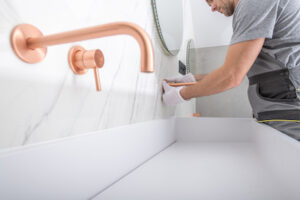 Where Do You Start  – Proper Planning
Proper planning and design are critical to a successful bathroom renovation. With all the different design options available, it can be pretty easy to get distracted and overwhelmed. 
But before you start determining what you want to purchase for materials or picking out color schemes, you're going to want to decide what your primary needs are. The most important principle for your renovation is tailoring your design to your specific preferences.
Start by assessing the needs of everyone who uses this personal space. Is the bathroom used by rambunctious children or in a household with older relatives? This can be the difference in deciding between nonslip tiles or flooring that has a quieter impact.
Whether that is a solution to its functionality and layout, lighting up a dark space, or your requirements for storage and what you want on display. For such a high-traffic area, you will want decor that is both easy to maintain and durable.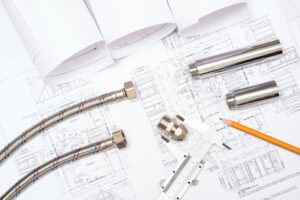 Finding Inspiration
After determining the primary reason for the remodel, planning how you want to style the bathroom will be next.
If you are not an interior designer, there is no need to worry as finding inspiration is quite easy. To find the latest in bathroom trends and solutions, seek ideas presented through magazines, interior design publications online, or even Pinterest.
A simple google search will provide numerous inspirational ideas that you can apply to your own unique home. If you find images or designs that match your mental picture, they can then be presented to a contractor to discuss how to execute the vision.
Seek Professional Advice
Many people are still unsure about how they want their bathrooms remodeled despite their vast wealth of ideas. Even if you know exactly what you want, the question still remains if it is even possible to create with your existing space. 
This is where professional advice can make your life a whole lot easier, as bathroom remodels are complex projects. Contacting an experienced architect or contractor will allow you to create the best possible design for your home.  
They will also inform you of a timeline or duration of your project and most importantly, what you can expect for the total costs of the project. Receiving a free consultation from a professional can bring to light the challenges of your remodel that you may have overlooked. 
Contractors are able to provide 3D renderings and plan to let you see what your existing space is capable of and an accurate depiction of what your project will look like when finished. 
Picking the Right Contractor
Generally, homeowners should only hire a professional contractor and architect who are licensed, bonded, and insured. In Los Angeles for example, a professional contractor has been subjected to an examination of state licensing by the California Contractors State License Board (CSLB) to show industry experience. 
Solid reviews from Yelp and Google will generally point you in the right direction when looking for the right local contractor.  Most construction companies will offer free consultations to discuss the scope of the project. Make sure to schedule an appointment with at least three companies to check their estimates and the quality of the work they provide.
Check Your City's Residential Permit Rules
Residence permits are sworn permission slips issued by your city to allow a homeowner or an architect to work on your renovation. This sounds like bureaucracy, but the permit protects homeowners. 
Permit stipulations ensure that the work conforms with locally defined policies like land use, zone, and construction. This makes sure that future buildings or structures are secure for you and your future guests. 
Building permits, codes, and regulations will vary depending on your city or area. Most local contracting companies should be able to handle the majority of the permit process, including preparing the correct documents to file for approval.
When Permits Will Be Required for Your Bathroom Renovation
The majority of bathroom renovations will generally require a permit to be completed. These projects below are complex and generally require building permits. Contact your local municipalities website for information about residential construction and bathroom remodeling.
1. Adding New Electrical Outlets
New electrical outlets are often a risk for people without a professional electrician. Each city requires a certain amount of outlets to prevent wasting electricity. If electrical work is needed or installed in the bathroom you must be registered and have a permit.
2. Windows, Doors, or Adding New Openings
The addition of windows, doors, and openings will need to be checked for structural integrity in your bathroom. These permits are designed to ensure that the city had examined this building and found it structurally sound and secure. 
3. Removing Any Load-Bearing Walls
A loading-carrying wall is a large wall that holds significant support to the structure of a home. Removing walls or making structural changes can cause devastating damage to your home if done incorrectly. Because there is considerable potential for property damage, this project requires a building permit. City inspections can verify your project and ensure safety in your operations. 
4. Installing New Plumbing for Sinks or Bathtubs
Some bathroom renovations will involve redesigning the whole layout. Moving existing objects such as a sink, toilet, or bathtub will generally require a plumbing overhaul. This involves routing or reconfiguring different pipes that need shortening or extension to accommodate your new fixtures. 
To ensure your plumbing complies properly, it is necessary for an approved permit to install the new changes. A plumbing permit serves as a first gatekeeper in order to check if your remodel complies with the applicable codes and regulations to proceed with your new layout.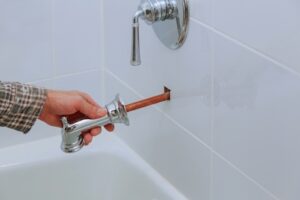 Related Questions
What Adds the Most Value to Your Bathroom? 
Adding additional square footage to your bathroom will provide the most additional home value. If expanding the space is not an option, homeowners can look into choosing the right lighting fixtures to make the overall appearance of the room seem larger. Generally, the main focus of any bathroom is the shower area, so updating this feature to become a walk-in with glass walls would be a great investment. 
How to Save Money on a Bathroom Renovation?
One of the most important ways to save money on a bathroom remodel is to keep the same structural layout.  Remodels tend to increase significantly in price once the existing plumbing and electrical work get moved around.  Also, removing load-bearing walls will change the foundational structure and can be a major costly project. Homeowners should look at the possibilities of removing interior walls that do not bear weight to create more space at a moderate cost.
Conclusion
We hope these tips for renovating the ideal bathroom in your home were helpful. After you have finished the renovating process, it is important to take care of your bathroom so that it lasts for years to come.