Why Are Brown Kitchen Cabinets Trending Again
Are you a fan of brown-stained cabinet varieties but are afraid that they are losing the battle for popularity? If yes, fret not for you are not alone. Many homeowners with brown-colored cabinets are currently living in fear, thanks to the popularity of colored cabinets; most of them think that their brownish cabinets will soon be completely out of style.
But contrary to the opinion of many homeowners, brown cabinets still hold an impressive mark as far as their popularity is concerned. If you presently doubt the popularity of brown-stained cabinets, just continue reading.
We have explained everything about brown kitchen cabinets in detail to help you understand why they are and will continue trending.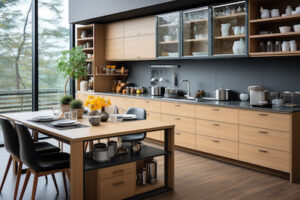 Brown Kitchen Cabinets
The color brown is ideally a popular color choice for kitchen cabinets. Cabinets with this emblematic shade have been around from as long as the 17th and 18th centuries when farmhouse and shaker-style cabinets dominated the interior of countless homes in America.
The color brown may not be as common as its traditional counterparts like the colors white and black but its popularity is immense and global. Generally speaking, brown kitchen cabinets topped lists of trending cabinet designs for many years until the entry of colored cabinets into the interior design industry.
Why Are Brown Kitchen Cabinets Trending Again
Their popularity is largely built upon their benefits, which include:
Ease of Cleaning and Maintenance
Thanks to their dark-toned neutral tone, brown kitchen cabinets boast a higher capacity to conceal dust and smudges. Unlike light-stained cabinets, brown cabinet designs can amazingly withstand the impacts of prolonged usage and save you significant sums of money, most of which you would have otherwise immersed into cabinet repairs and maintenance.
Now that most people are too busy and broke to find time and money for frequent kitchen repairs and remodeling, homeowners are, day by day, shifting to dark-toned cabinets, the majority of which are black and brown-colored.
Warm Atmosphere and Color Contrast
Regardless of how big or small your kitchen is, you can make it feel full of life, just like the heart of a home; simply by installing in it brown-stained drawers. With their dark brownish tones, brown kitchen cabinet designs can easily absorb heat from the external environment to make the place around them warm and cozy.
To a vast population of modern homeowners in America, the outlook of brown kitchen cabinets is valuable in limiting the bolder aspects of contemporary shades. They are right because the dark aspect of the color brown is outstandingly effective in acting as a background for other colors, especially bolder colors.
Multiplicity of Design Options
There can never be an argument against the fact that brown cabinets exist in all fashion designs. Besides featuring fashion trends from the traditional to the present world, brown-colored cabinet varieties come in different shapes and layouts, each of which is markedly defined by different shades of the color brown, including charcoal, ivory, and dark brown.
Because of their versatility, brown cabinets have turned out to become attractions of not just lovers of traditional style but modern interior designs as well. Regardless of your preferences when choosing kitchen cabinets, there's no doubt that you will seamlessly discover your ideal cabinet designs if you consider searching among brown-colored cabinets.
Will Brown Kitchen Cabinets Continue Trending?
Now that you know the reasons that make brown kitchen cabinets popular, you probably cannot question the fact that they are trending in 2023. But there are questions question you cannot avoid facing, especially if you are very attracted to these drawers; Will brown cabinets continue trending? For how long will they trend?
The truth, however, is that brown cabinets still have a long way to go as far as their popularity is concerned. The fact that many homeowners have not yet fully realized the cost-effective aspects of brown cabinets, for example, durability and ease of cleaning, is proof that these drawers will continue trending. Below are other proven reasons why brown-colored cabinets are more likely to trend for many more years to come:
The Return of Classic Designs
With a quick comeback of classic-style cabinet designs like shaker and farmhouse cabinets to contemporary interior design, brown kitchen cabinets are continuously being featured in trending modern interior design ideas.
If homeowners continue to choose classic style over modern-looking cabinets, brown kitchen cabinets will surely skyrocket in terms of popularity; thanks to their classic-like neutral appearance.
The Need for Color Mixing in Modern Interior Design
Interestingly, while many homeowners are reverting to classic colors and styles, many others are going colors. However, it is normal for people's choices to be unique and personalized. Brown cabinets appeal to people differently.
Modern homeowners whose tastes are in colors are choosing brown cabinets to enhance color contrast in their mostly colorful kitchen interiors. This reason too, is justification to the fact that brown cabinets still have a long way to go as far as their popularity is concerned.
The Convenience of Working with Brown Cabinets
As we mentioned before, brown kitchen cabinets are simpler to clean and maintain. Besides, they are compatible with many different colors and can match all interior designs. Modern homeowners are more likely to value them for many years just for this reason.
Because modern fashion features blends of different décor materials and colors, brown-colored cabinets will continue to be searched in the post-modern interior design industry. Brown cabinets are not only easier to style but can match an array of material textures as well as colors.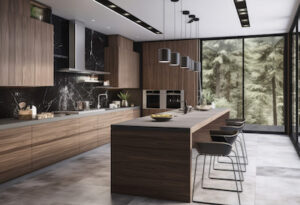 Frequently Asked Questions (FAQs)
Can I paint my existing cabinets brown to follow this trend?
Yes, painting your cabinets brown is a cost-effective way to embrace this trend without a complete renovation. Ensure proper surface preparation for a lasting finish.
Are brown cabinets suitable for small kitchens?
Absolutely! Brown cabinets can work well in small kitchens, especially when paired with light-colored countertops and backsplashes to create a spacious feel.
What countertop colors complement brown cabinets?
Countertops in shades of white, cream, or light gray are ideal for harmonizing with brown cabinets. They create a balanced and visually appealing contrast.
Do brown cabinets require more maintenance than other colors?
Not necessarily. Properly finished and sealed brown cabinets are as easy to maintain as cabinets in any other color. Regular cleaning and maintenance will keep them looking pristine.
Can I mix and match brown cabinets with other cabinet colors?
Certainly! Combining brown cabinets with complementary colors like sage green or navy blue can create a unique and personalized kitchen design.
Are brown cabinets suitable for modern kitchens?
Yes, brown cabinets can seamlessly blend into modern kitchen designs when paired with sleek hardware, minimalist decor, and clean lines.
Are Brown Kitchen Cabinets Worth My Money?
Of course yes! With these drawers, you can get value from your money in different ways. Firstly, as we have already mentioned, because they are less susceptible to the effects of tear and wear, brown-stained cupboards will help you save money on repairs.
Secondly, brown kitchen cabinets are considerably cheaper to style. They can never demand you to waste money in buying excessive décor items to enhance their visual appearance. Last but not least, brown cabinets are convenient to find and use in interior design.
Final Thoughts
If you are planning to remodel your kitchen, you should consider installing in it, brown cabinets. You will not only save money but also enhance the overall appearance of your home if you make brown-colored cabinetries part of its interior design elements. Brown kitchen cabinets are easier to use, functional, and durable.