9 Useful Tips to Keep Your Home Safe From Thefts
Your home is your safe haven. It's a place where you should feel secure and comfortable. But what happens when that feeling of safety is shattered by a break-in? Whether it's a burglary or a home invasion, the experience can be traumatizing. Unfortunately, these crimes are all too common, as there were over a million burglaries in the U.S. in 2019 alone.  There are many steps that people can take to help make their homes safer from thieves. While some of these steps may seem obvious, while others might be things you haven't considered. Here are 9 tips to keep your home safe from thefts: 
Make Your Home Less Appealing to Criminals
Keep Your Doors and Windows Locked
Install a Security System
Old Locks May Need to be Replaced
Keep the Yard Clean and Shiny
Install Outdoor Lighting
Install Electric Fencing
Always Attentive and Ready for the Worst
Have a Dog at Home to Prevent Home Break-Ins
As the world progresses, unfortunately so does crime. So as the rate of burglaries continues to increase, it is important now more than ever to take measures to protect your home from thieves. So now that you have an idea of how to keep your home safe from thefts, let's examine each of these tips and ideas in greater detail in order to secure your home from thieves. And so that you can get some extra piece of mind and help keep your home safe from thefts.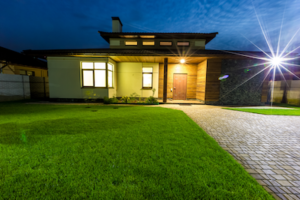 1. Make Your Home Less Appealing to Criminals
One thing to do is make your home look occupied even when you're not there. You can do this by using timers on lights and electronics. Also, you keep your valuables out of sight and in a safe place. This will go a long way to make your home less appealing to criminals.
Another thing you can do is to get to know your neighbors and let them know that you're looking out for each other. You should also make an attempt to get to know who your neighbors are and where they live.
2. Keep Your Doors and Windows Locked
One of the best ways to save your home from theft is to keep your doors and windows locked. This may seem like an obvious tip, but you'd be surprised how many people leave their doors and windows unlocked, making it easy for thieves to break in. If you want to keep your home safe, make sure to lock all of your doors and windows, even when you're home. 
While this will help greatly in preventing a break in, there are other things you can do to help prevent your home from being the next target for thieves
Get a

door buzzer system installation

by a professional team to lock on all doors and make sure they are used.

Keep doors and windows locked at all times, even when you are home.

Don't hide keys outside; burglars will look for them.
3. Install a Security System
Another way to prevent thieves from breaking into your home is to install a security system. A security system will deter burglars and can also alert the authorities if someone does try to break into your home. If you don't have a security system, consider investing in one. With a housebreaking occurring every 15 seconds in the United States, this could be the difference between a safe home and a broken-into one.
There are many different types of home security systems available on the market, so it is important to do some research to find the one that best suits your needs. One type of home security system is a home alarm system. Home alarm systems can be installed by a professional or purchased as a do-it-yourself kit. Home alarm systems usually include sensors that detect movement inside the home, as well as door and window alarms that sound an alarm when these entry points are breached. Another type of home security system is a CCTV system. CCTV systems use cameras to monitor activity around the perimeter of your home.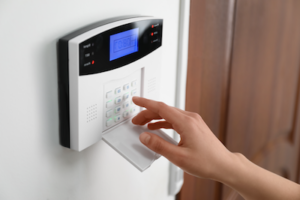 4. Old Locks May Need to be Replaced
If you have moved to a new house, it is important to replace the locks. Previous owners with their family, friends, and staff that worked at the house on repairs can all be the creators of copies of the key. You can change the lock when you're a renter, and if it doesn't malfunction, the idea of having a better lock shouldn't be neglected.
5. Keep the Yard Clean and Shiny
Without thick trees, dense bushes, or burnt-out lights, a thief can appreciate the place from afar. In areas lacking plenty of lighting, lighting overlooking backyards and house entryways can be highly valuable at deterring intruders. Adding more strategy between the home and its perimeter is an excellent idea.
6. Install Outdoor Lighting
As the weather gets warmer and days get longer, people spend more time outside. Unfortunately, this also means opportunistic thieves have more time to target homes. There are a few things homeowners can do to deter criminals, including installing outdoor lighting and electric fencing.
Having a well-lit outdoor area is a very effective crime deterrent. Thieves, who prefer to operate in the dark, are much less likely to target a home that is well-lit. Homeowners should install lights around their property, paying particular attention to dark corners and areas where thieves could quickly gain entry.
7. Install Electric Fencing
Electric fencing is another effective way to deter would-be criminals. An electric fence sends a strong shock through anyone who tries to touch it, making it an excellent barrier against intruders. 
Electric fences are relatively easy to install and can be customized to fit the specific needs of any property. They're a popular option for homeowners throughout Charlotte and the surrounding areas because they're inexpensive and effective.
8. Always Attentive and Ready for the Worst
Creating a safety and security plan is a good approach for strengthening relations within a family. Choose a routine that everyone in the family can follow. Make sure the plan includes a schedule for locking doors and windows, a restriction on letting strangers in, and rules for operating alarm systems. 
You can practice drafting a safety plan by trying to come up with a routine about how you should lock and unlock doors and windows when there are strangers around and how an alarm system locks and unlocks when you're not home.
9. Have a Dog at Home to Prevent Home Break-Ins
One way to help prevent home break-ins is to have a dog. A dog can provide both a physical and psychological deterrent to would-be burglars. Even small dogs can make a lot of noise, which can scare off an intruder and alert you to their presence. And if a burglar does manage to get into your home, a dog can help track them down.
Of course, having a dog isn't the only way to deter burglars. There are plenty of other things you can do, like installing security cameras or keeping your doors and windows locked. But if you're looking for an extra layer of protection, a furry friend might be the way to go.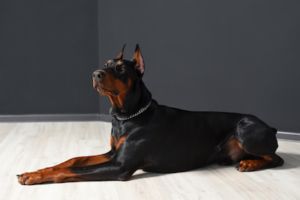 Break-in-Prevention with Guard Dogs for Homes – Breed Options
There are a number of different dog breeds that make excellent guard dogs for the home, and keeping a guard dog home trend have been increasing in a recent years. Some popular breeds include German Shepherds, Rottweilers, and Doberman Pinschers. By nature, all of these dog breeds are large, powerful, and protective. They will deter would-be burglars and intruders simply by their presence.
Of course, any dog breed can be an effective deterrent if properly trained. Guard dogs must be well-socialized, so they do not become aggressive with family members or visitors to the Home. They should also be obedience trained to respond to their owner's commands. As mentioned earlier, the best way to prevent break-ins is to have a robust security system in place. This includes alarm systems, motion sensor lighting, and cameras.
Final Words
Hopefully, with these tips to keep your home safe from thefts will help you to prevent a robbery at any place. Following these tips can help to deter thieves and make your home a less attractive target. Remember to be vigilant and take steps to secure your home, both inside and out. Taking action to protect your home can give you peace of mind and help keep your family safe.