6 Ideas for Adding Beauty to a Bland Wall In the Home
We can probably all remember occasions when we have moved into a new home only to feel depressed upon seeing many of its walls. So what are some of the best ideas for adding beauty to a bland wall in the home? Here are six great ideas for adding beauty to a bland wall in the home:
Take a Two-Tone Approach With an Entryway Wall
Take Inspiration From Nature
Place an Electric Fireplace Flat Against the Wall
Hang Up Some Mirrors
Display Some Large-Scale Art 
Cover the Wall with Bookcases
Maybe the home's previous residents had an unconventional view of what constitutes "exciting", or the walls are in a room that was rarely used in the first place. Whatever the reason in your case, here are several reliable methods of beautifying walls.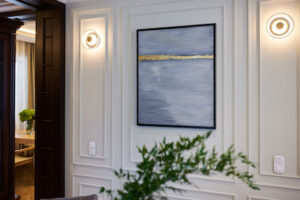 1. Take a Two-Tone Approach With an Entryway Wall 
When decorating entryway walls in your home, consider how guests will experience the space. Your entryway is likely to be the first space that visitors see when they enter your home, so it's important to create a welcoming atmosphere. Some great entryway wall decor ideas by taking a two-tone approach where you split the upper and lower parts of the wall. These could be done by using wall paneling for the lower half of the wall and then painting or using wallpaper for the top half of the wall.
Also, you can create an inviting entryway by adding shelves for displaying items or photos, incorporating plants and flowers for a splash of color, or installing wall art that expresses your personality. If you have a large entryway, consider using bold colors and patterns to really make a statement. No matter how you choose to decorate, be sure to take into account the overall aesthetic of your home when choosing pieces for the walls. This can help create a cohesive look throughout the space. Adding a mirror can also be a great way to brighten up the entryway and make it appear larger. When deciding on wall decor, try to choose pieces that reflect your style while also helping to create an inviting atmosphere for guests.
2. Take Inspiration From Nature 
What we have found that is a great and interesting idea is to use nature-inspired in your home. What we have seen is that many interior designers have taken to the idea of nature-inspired wall murals and other wall art that expresses your personality. Some great areas to place murals such as these would be in areas where you normally entertain guests such as the dining room or living room. Another idea is to add shelves for displaying plants and flowers for a splash of color. As it will be a versatile way to incorporate nature and other items such as photos on the shelves later on if you wish to change up the area.
3. Place an Electric Fireplace Flat Against the Wall 
If are wanting to have the classic look of a fireplace or stove, you are probably thinking about getting a gas one. However, research shows that when comparing a gas and an electric fireplace and stove, the electric versions are much more environmentally friendly. So, by using an electric fireplace flat against the wall, not only will you make the wall much more interesting, but also energy efficient. Also, you have a lot of choices with the design of your electric fireplace — and a fireplace surround could be added, too.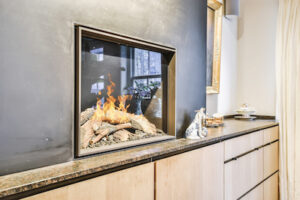 4. Hang Up Some Mirrors
Mirrors are a great way to add light and visual interest to your walls and that's why hanging up some mirrors in your home is a great idea! Large mirrors are perfect for making small rooms appear larger, as well as adding depth and interest to any wall space. You can hang the mirror above your sofa or over your mantel for a dramatic effect.
That's because these mirrors can reflect large parts of the room and, as a result, visually 'double' its space. The reflective surfaces can also magnify light. Nonetheless, it wouldn't be wise for you to position a full-length mirror opposite a shower or behind a toilet.
Some other ideas that you can do with mirrors are a great way to add light and visual interest to your walls. Here are some other ways on how to use mirrors to maximize the visual impact of your home decor:
– Create a unique wall space with multiple small mirrors.
Grouping several smaller mirrors together can create an eye-catching focal point in any room. Try combining a variety of shapes, sizes and colors to create an interesting design.
– Use a mirror to create an accent wall.
Create impact by adding a large mirror behind your bed or above your fireplace. The reflective surface will reflect the light and create an interesting focal point in any space.
– Add a decorative frame to your mirrors.
If you're looking for more of a traditional look, add a decorative frame around your mirror. This will give the space a more classic feel, while still allowing the mirror to add visual interest and light to your walls.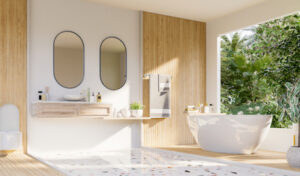 5. Display Some Large-Scale Art 
There's plenty of scope for fun experimentation here. For example, you could hang up just one oversized painting in order to command attention. Alternatively, you could turn the wall into something closer to an art gallery, with a series of enchanting images placed close together.
You could also install wall-mounted display cases to showcase your antiques, such as vintage ceramics or your collection of flintlock pistol replicas. This method of collection display gives the wall personality and gives you a way to express yourself.
How to hang large-scale art pieces in your home:
– If you decide to go with this idea of hanging up some large-scale art pieces, before doing so, make sure that the wall can support its weight.
– Use an anchor or hook rated for at least twice the picture's weight to ensure it stays put.
– Be sure to measure and mark where your artwork will go in accordance with your design plan so that it hangs level. Once you have determined the correct height, use a level and measuring tape to mark the center of the wall where you will hang your artwork.
– To hang your art piece securely, drive an anchor or hook into the wall at the marked location. If your artwork has wire or string attached on its back, thread it through the eye-hook of the anchor before screwing it in. If your art piece has D-rings attached, attach a hanging wire that is twice the width of the frame, then suspend it from the anchor.
– Finally, lift your artwork and secure it with screws or nails in each corner of the frame.
– Make sure to hang the picture at least 4 inches away from the wall to create a shadow-box
6. Cover the Wall with Bookcases 
If your cultural tastes are particularly literary, you probably already have plenty of books you could place in bookcases. This is a great example of how to wall decor can be genuinely practical rather than merely decorative — though you could still opt to arrange the books in blocks of color instead of alphabetically.
Conclusion
So, these were some of our ideas for how to make the bland walls in your home more beautiful and aesthetically pleasing. Hopefully, this helped you and thanks for reading!