A Complete Guide to Buying a New Property
In recent years, getting on the property ladder has become more challenging. An emerging cost of living crisis has become apparent in many developed countries, leading to higher-than-normal levels of inflation and increased costs for common products. The current high inflation levels have direct consequences when looking to buy a first home or move up the property ladder, as they will directly affect monthly mortgage repayment fees.
In 2023, there is a greater need than ever to plan and budget effectively when seeking to purchase a new property. Buying any home is a complicated process and involves a range of steps, some of which need to be completed by property specialists (such as securing a competitive mortgage rate or organizing conveyancing services). However, some key steps are universal, regardless of whether you are a first-time buyer or looking to move up the property ladder to secure a luxury home. In this guide, some of the key actions will be discussed that need to be considered when purchasing a new property.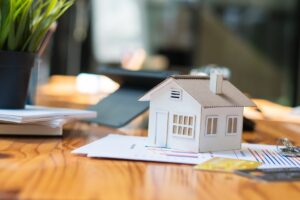 Make a Comprehensive Budget
Before you start to look at any property with a view to purchasing, it is vitally important to create a comprehensive budget. This is true whether you are budgeting for your first home or a home that will take you several stages up the property ladder. When making a budget, it is important to list your monthly income alongside any regular outgoings (such as credit card bills, loan repayments, and direct debits). This will give you a clear understanding of the amount that you can comfortably repay each month on your new mortgage. It can also be beneficial to seek the services of an independent financial advisor. If you are planning to buy a new property as a couple, your income and expenditure may be complicated, and a financial expert can help you gain a greater understanding of your projected budget for your next home. In addition, remember to consider non-recurring costs that need to be budgeted for. Vehicle repairs and replacing household items when no longer usable are common costs that may be difficult to anticipate month by month. Ensure that your projected budget can cover any unexpected costs so that you will be able to afford these when in your new home.
Check Your Credit Score
Before you approach a mortgage lender or financial institution to arrange a mortgage, it is of paramount importance that you check your credit score. You can find details on how to do this for free by doing some research online. Remember that this piece of information will be vital in determining the mortgage rate that you can secure on your next property and most lenders will make a point of reviewing this information before they make their decision. If you have a poor credit score, this can lead to higher interest rates on mortgages and some lenders may not even consider your application. Thankfully, there are a range of ways in which you can improve your credit score and benefit from more attractive mortgage rates. In addition, you can find information on how certain actions can lower your credit score and avoid any of these practices when you are planning to seek a mortgage. This information will help you to secure the most competitive rate for your next home and may even help you to afford a more luxurious property.
Talk to Specialist Lenders
It is important to be aware that there is a wide range of mortgage lenders. Depending on your circumstances, some lenders may be more suitable than others. Whilst homeowners commonly use banks, there are other options available. Many firms will offer a free consultation with no obligation to use their services. Take advantage of these meetings to gain a greater understanding of the mortgage market, especially if you are a first-time buyer. In addition, it may be beneficial to consider using online lending institutions when seeking a mortgage. These types of companies typically have lower overheads as they assess mortgage applications online, without the need for physical office premises. This may have the potential for gaining a more attractive mortgage rate in certain circumstances.
Know Your Priorities
When your finances are in order and you have sufficient information to know the value of the property you can comfortably afford, it is time to start prioritizing what you seek from your next home. Put simply, your circumstances will largely dictate what is an ideal next property. For example, if you are a couple looking to start a family, extra rooms will be vital, along with access to high-quality nurseries and schools in the nearby vicinity. Conversely, if you are relocating to gain a promotion at work and travel is a priority, being located near suitable road networks will be vital for efficient commuting. It is important to make a shortlist of the amenities and locational aspects of what you are looking for in your next property. Ideally, you will end up with a list of essential, desirable, and non-essential criteria that will help you choose both the property and the location.
Get Removal Quotes Early in the Process
The process of securing the services of a removal firm is often thought of as occurring late in the property purchasing process. However, it is important to recognize that removal firms can be incredibly busy on key days through the week (such as on a Friday) and certain months are busier than others. Do not leave removal considerations to the last minute and begin to search the market for removal companies early in the house-buying process. Start by getting a range of moving quotes from reputable and professional firms that specialize in this area. For reassurance, it can be beneficial to look at customer review sites for such firms.
This will assure you that previous customers have had a positive experience when using the company and would recommend their services to others. When your offer is accepted on the new property, book the firm as soon as possible to be sure that they are free on removal day. In addition, take the time to pack all your possessions securely and clearly label each box with a description of their contents. This will save time and effort once you reach your new home. As a final point, it is useful to use satellite navigation to reach your new home, especially if it is in an unfamiliar location or district. This will be highly beneficial to keep stress levels low and minimize the likelihood of getting lost or caught in heavy traffic when driving to the new location.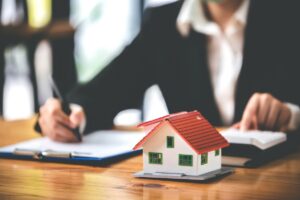 Negotiate Effectively
It is important to recognize that the current housing market is entering a period of slowdown. Higher than normal levels of inflation, combined with increasing levels of unemployment have made selling houses a more difficult and lengthy process than in previous years. This is brilliant news if you are looking to get on the housing ladder as a first-time buyer, as you may be able to negotiate more aggressively on the list price of a starter home, especially if it has been on the market for several months.
However, if you are planning to sell your property to move to a new home, you may need to reevaluate your asking price when the housing market is in recession. Regardless of your circumstances, it is important to be confident when negotiating the asking price of the property you are interested in purchasing. Remember that even a 5% reduction in price could save you thousands of dollars, which could be spent on home improvements. Ideally, you will have spent time researching house prices and will use this information to demonstrate that similar properties are priced more attractively when negotiating with the seller.