Top 10 Reasons to Shop for a Multi-Function Robotic Vacuum Cleaner
Owning a robotic vacuum cleaner may come off as an ostentatious thing but that is just not true. A robotic vacuum cleaner is a necessary addition to your home. These efficient home cleaners are made with the latest technology to give you more value. A multi-function robotic vacuum cleaner has several benefits and these are enough reasons to shop for one. Are you still wondering if you should get one of these smart home cleaners? With the increased use of technology comes more ease and comfort. This is what you get when you upgrade to these powerful cleaners. So, if you are wondering why you need a multi-function robotic vacuum cleaner, here are the top 10 reasons to shop for a multifunction robotic vacuum cleaner.
Adaptability to Different Surfaces
They Are Self-Charging
It Saves Time
Navigation System
Capability to Perform Dual Functions
Versatility
Ease of Control
HEPA Filtration
Very Helpful to People with Physical Limitations and Disabilities
Easy Carrying and Storage
So, now that you have an idea of the reasons why you should have and use a multi-function robotic vacuum cleaner, let's examine each of them in greater detail. To find out how to improve the cleanliness of your home, keep reading!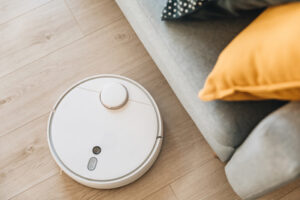 1. Adaptability to Different Surfaces
There are many different floor types and regular vacuum cleaners are adapted for specific ones. Robotic cleaners have been designed to adapt to varying floorings. They can clean well when placed on carpeted floors or rug surfaces. They have sensors that allow them to automatically detect a change in floor surface types as they clean. You don't need to worry about adjusting the cleaning mode when you move from room to room. The best multi-function robotic cleaners in Australia are flexible with floor types.
2. They Are Self-Charging
The multi-function robotic cleaners are designed to work independently. Their cordless design is great but more to that is their self-charging ability. It thus takes the worry of charging them completely off you. Once the battery is down, the robot finds its way to its charging station to refuel. These cleaners make use of different signaling technologies to automatically find their way to the charging point. The bottom line is that you have an independent cleaning robot that charges itself when needed.
3. It Saves Time to Use Robotic Cleaners
Cleaning can require several hours if you choose to do it yourself. In the same vein, you will spend a lot of time and energy using conventional vacuum cleaners. On the other hand, with a robotic vacuum cleaner, you get to save a lot of time. The smart cleaner can work on a schedule without your help. It allows you to focus on some other expedient tasks while it keeps your space sparkling clean. Also, you don't have to be home for these cleaners to work. While you are away at work or shopping, the robot is doing what it does best. 
4. They Have Navigation System
Robotic vacuum cleaners are good because of their advanced navigation systems. Many of these cleaners are installed with modern navigation systems that make them work well even in low light. Many also have technologies for setting up virtual walls that keep the cleaner working within a set space. Their advanced navigation system helps them avoid barriers while they clean. It is also these various navigation systems that allow these machines to locate their charging stations when they need recharging. 
5. Capability to Perform Dual Functions
Removing dirt from the floor is not the only function of many multi-function robotic vacuum cleaners. There are some vacuum cleaners that have both cleaning and mopping functions. After the dirt is picked off the floor, these robots can still use water to mop the surfaces cleaner. These intelligent robots use a smart water system and a mop surface to clean your floor. Two cleaning worries are simultaneously knocked off by investing in a multifunction robotic vacuum cleaner.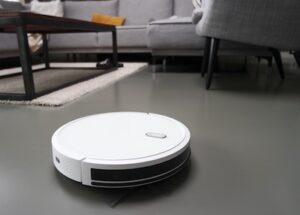 6. Efficient Designs Make Them Versatile
Robotic cleaners have sleek and compact designs that allow them to clean seemingly inaccessible places. Many have flat designs that allow them to clean under beds, tables, and other house furniture with ease. This extra versatility makes them a great choice for your home. Other efficient designs include some with rotating brushes, deep spot cleaning, and pet hair removal, and many have increased machine learning abilities.
With increased machine learning, some cleaners get more adapted to your home space and thus deliver better cleaning and navigation over time. Increased versatility also accounts for some having the ability to discover dirt and initiate the enhanced spot-cleaning mode on their own. You won't need to change the settings, the machine will automatically switch to the right mode based on the floor condition.
7. Ease of Control
Remote access and control of robotic vacuum cleaners are possible with their modern technological designs. Many of these gadgets have WiFi connectivity that allows them to be controlled from smartphones through a mobile application. You can easily schedule the robot for a cleaning session or start and stop it with the remote control on your mobile device. You can also control the vacuum cleaner while you are not at home with the connected device. At work or out with friends, you can schedule your cleaner for a cleaning session from the mobile application on your phone or tablet.
8. HEPA Filtration
Multi-function robotic vacuum cleaners have HEPA filtration properties. High-efficiency particulate-absorbing filters are embedded in these modern vacuum cleaners. This makes the cleaners do more than just cleaning. They also filter dust and other harmful particles away from the air in your home.
They can rid your house of allergens that may come from your pets or other sources. The increased ability to filter the air also makes them able to get rid of pet hairs. For dogs, cats, and other pet owners, you don't need to worry about their tiny hair being a headache again.
9. Helps Out People with Physical Limitations and/or Disabilities
All the above properties of robotic vacuum cleaners make them suitable for someone that is incapacitated by manual cleaning. You will not have to worry about keeping your house clean, you have able hands that can work independently. For a disabled or injured person, robotic cleaners are best. The use of a robotic cleaner takes away more than 90% of the physical effort needed for manual cleaning. Whether it is an aged person or someone with physical limitations, a robotic cleaner takes off the cleaning stress.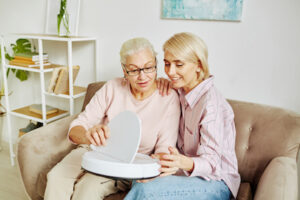 10. Compact and Sleek Designs for Easy Carrying and Storage
When you need to move your vacuum cleaner, you don't have to worry about the size or weight. They are designed smartly to be easy to carry and move around. You can safely store your robotic vacuum on a shelf, under the bed, or in any small space. This ease is also manifested in taking out the smart cleaner to keep the house clean. Unlike traditional vacuum cleaners that are bulky in weight and size, these ones are light and small. 
Conclusion
Home cleaning is stressless with multi-function robotic vacuum cleaners. They are smart, independent, intelligent, and versatile cleaning gadgets. You can get yourself one of the best robotic vacuum cleaners in Australia today. With one of these intelligent machines, you no longer need to worry about keeping your home clean with your busy schedule. Finally, it is worth every penny to get yourself a robotic vacuum cleaner because of its many benefits. Bear in mind that you will be giving yourself more comfort and ease with these advanced cleaners. Ease of control, better cleaning, almost zero physical effort needed, and better environmental effect among others are a few reasons to get yourself one.