Cleaning Your Home: Should You Do It or Pay Someone Else?
In today's busy times, people find it difficult to keep up with cleaning their homes. Especially if they have children or elderly family members in the home who require extra care and attention. As cleaning your home is no small task and requires dedication and determination. That's why many people are wondering if they should take the time and effort to clean their homes themselves or hire a professional cleaning service to do so for them. So, if you are asking yourself should I clean my home or pay a professional cleaning service to do it?
There are pros and cons to both options when it comes to deciding whether you should clean your home yourself or pay for a professional cleaning service. The advantages of cleaning your home yourself are that you save money and can clean your home the way that you like, but this takes lots of time and effort. While professional cleaning services are a great way to clean your home if you do not have the time and energy to do so and they will make your home sparkling clean.
So, now that you know the main benefits of cleaning your home yourself are the cost savings and how you can clean your home more according to your specific preferences, let's examine the benefits of hiring professional cleaning services to clean your home for you in greater detail.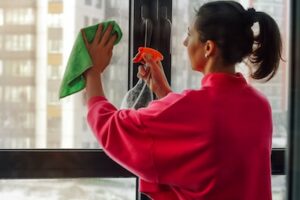 Benefits of Hiring Professional Cleaning Services
Cleaning your home yourself typically requires more time and effort on your part. If you have a busy schedule or physical health issues that make it difficult for you to bend, lift, or move heavy objects, it may be better to pay a professional. Professional cleaning services are experienced and knowledgeable about the best techniques for deep cleaning your home quickly and efficiently. As, when it comes to perfection, nothing can beat professional cleaners. Not only do they provide a pristine level of cleanliness and hygiene, but they also bring many benefits that are often overlooked. They can be trusted to provide a consistently thorough cleaning job that can help maintain the health and well-being of occupants while ensuring high levels of hygiene and sanitation. 
If you are still undecided about hiring professional cleaners, here are some of the benefits that will help you make an informed decision:
1. Time-Saving
Professional cleaning services will clean your house or office in a fraction of the time it would take you to do it yourself. This is because they are equipped with the right skills and tools to clean efficiently and quickly. Thus leaving more time for you to focus on your other important tasks. Most companies have efficient workers trained to clean quickly and effectively, so you don't have to worry about missing out on any spot.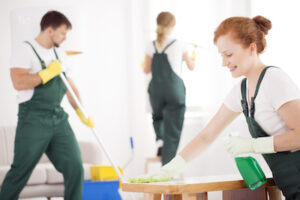 2. They Are Cost-Effective
Are professional cleaning companies cost-effective? Yes, they are. When you hire a professional cleaning service, you save yourself from buying all the necessary cleaning products and equipment. Professional cleaners bring all their own supplies, so you will save yourself the hassle of buying them or renting them when needed.
The best part is most professional cleaning companies use a cleaning invoice template to provide you with an itemized list of the services they provide. This will help you calculate the exact cost and save money in the long run.
3. They Are Insured and Bonded
Insurance should be a top priority when hiring any service. Professional cleaning companies are insured and bonded, so you don't have to worry about being liable for any damages or injuries that may occur during the job. Additionally, these companies undergo a rigorous screening process to ensure that their employees are trustworthy and reliable. This provides you with the peace of mind that your property is in safe hands.
4. Organize and Declutter Your Space
Be it in your home or office, professional cleaners know how to organize and declutter your space in the most efficient way. They work with you to prioritize tasks and ensure that your place looks neat and organized.
Furthermore, they use their expertise to identify improvement areas and suggest better ways of organizing the space. This helps you create a system for maintaining a clean space. It also saves you from the hassle of doing it yourself.
5. Offer a Wide Range of Services
With a good cleaning company, you don't need to call multiple companies for different tasks. They offer a wide range of services beyond just vacuuming and mopping, such as carpet cleaning, window cleaning, and pressure washing. 
Most of them provide both one-time deep cleans and regular maintenance, so you can pick the cleaning schedule that works best for you. By offering various services at once, professional cleaning companies provide you with convenience and a high level of customer service.
6. They Use Eco-Friendly Supplies
Professional cleaners use eco-friendly supplies to help reduce the environmental impact of cleaning. Most companies use green products that are free from harsh chemicals and toxins, which helps keep your space safe for everyone. Their products are better able to handle: tough messes, dust and dirt build-up, and allergen and bacteria elimination.
These products are also often biodegradable, making them better for the environment. This means you don't have to worry about your cleaning products harming the environment.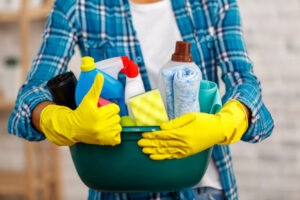 7. They Provide Customized Services
Professional cleaners like working with you to customize the cleaning process to fit your needs and budget. They assess your space and offer a tailored cleaning plan that works for you. This is so you don't have to worry about overspending on unnecessary services or products. They also provide custom solutions, such as carpet shampooing and upholstery cleaning, to make sure that your home is clean and well-maintained.
Conclusion
In conclusion, while cleaning your home yourself may seem like a good idea in principle, it is important to consider the drawbacks before doing so. The time, energy, and money saved may not be worth the risks that come with taking on this project. It is best to weigh your options carefully and decide what makes the most sense for your situation. For these reasons and the benefits of hiring a professional cleaning service, for many, this is the best option to get your home sparkling clean. They will save you time, money, and effort and ensure that the job is done right. So why wait any longer? Book a professional cleaner today and enjoy a neat and tidy space!