How to Hang Curtains Over Blinds to Elevate Your Window Treatments
Are you trying to determine how to give your windows the ideal combination of usability and style? You only need to consider the skill involved in hanging curtains over blinds. You may create a cozy and pleasant hideaway in your living area by combining the functionality of blinds with the elegance of drapes.
We realize that the chore of merging high quality curtains and blinds may first seem overwhelming, with concerns like where to place the curtain rods, what kind of curtains to select, and how to guarantee they work in unison with the blinds. You may relax knowing that we will address all of your worries and give you professional advice and techniques to get fantastic outcomes.
A Step-by-Step Guide For Hanging Your Curtains Over Blinds Flawlessly
We have the solutions you need, whether you want to soften the appearance of your blinds, add a splash of color, or improve insulation. If you're new to DIY projects, don't panic; with our professional tips and tricks, getting results that seem professional won't be difficult.
By following our thorough advice, you'll not only improve the beauty of your windows but also gain the advantages of better light management, increased privacy, and the versatility to change your window coverings to match the seasons and your moods. Let's explore the world where practicality and style collide and learn how to hang curtains over blinds to create a wonderful ambiance in your house.
Tools Required
Following are the tools or supplies that you will need while hanging the curtains over the blinds.
Measuring tape
Level
Drill
Screwdriver
Pencil
Curtain rods and brackets
Curtain hooks or rings
Curtains of your choice
Optional: Curtain tiebacks, holdbacks, valances, or cornices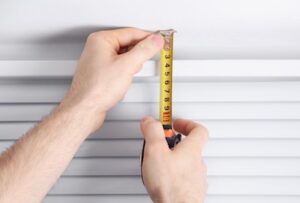 How to Hang Curtains Over Blinds Step-by-Step Guide
By observing the mentioned steps, you can enjoy a flawless hanging experience. So without any delay, let's begin.
1. Measure and Prepare
To choose the right size for your curtain rods, measure the width of your window frame.
Choose the height at which the curtain rods should be hung, taking into account elements like the length of your curtains and the intended aesthetic.
Mark the locations of your curtain rod brackets on the wall with a level and a pencil.
2. Install the Brackets
Drill pilot holes for the curtain rod brackets where they have been designated.
With screws, firmly fasten the brackets to the wall, making sure they are level and properly positioned.
3. Attach Curtain Hooks or Rings
Step 3 can be skipped if your curtains contain tabs or loops; instead, move on to Step 4.
If your curtains have rings or hooks, place them evenly spaced around the top hem of the curtains.
Make sure the rings or hooks are firmly fastened and dispersed equally throughout the breadth of the curtains.
4. Hang the Curtains
Slide the curtains onto the curtain rod, letting them naturally gather or pleat.
After the curtains are on the rod, attach the rod to the brackets.
Ensure that the curtains hang equally on both sides of the window and make them as full and long as you desire.
5. Adjust and Style
To obtain the desired look, check the curtain length and make any required adjustments.
If you have blinds, put them where you want them for privacy and light control.
To create opulent drapery or let natural light into the space, think about adding curtain tiebacks or holdbacks.
To improve the overall aesthetic appeal, put valances or cornices above the curtains if preferred.
6. Final Touches and Maintenance
Take a step back and evaluate how your curtains and blinds combo looks overall.
Make any necessary last-minute styling changes to get the desired appearance.
To ensure the longevity and aesthetic appeal of your curtains and blinds according to the manufacturer's cleaning and maintenance guidelines.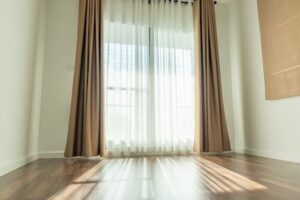 Additional Tips and Considerations While Hanging Curtains Over Blinds
Here are some additional tips and considerations to keep in mind while hanging curtains over blinds:
1. Coordinate Colors and Fabrics
Pick drapes that go with the decor and color design of your space. To guarantee a unified aesthetic, take into account the colors of your current furniture, walls, and blinds.
Use curtain materials that give the room texture and aesthetic interest. To achieve the necessary level of seclusion and light filtering, take into account the fabric's weight and opacity.
2. Length and Fullness
Choose whether you want your curtains to be tailored to break, touch the floor, or float slightly above it.
Curtains that drip a little on the floor will give the room a more formal and sophisticated appearance.
To optimize privacy and light control, make sure the curtains are broad enough to cover the entire window when closed.
3. Layering Options
To add depth and visual intrigue, experiment with layering various curtains and blind kinds.
To provide seclusion while still allowing natural light to enter, think about using sheer curtains in conjunction with blinds.
4. Proper Installation
To hold the weight of the curtains, make sure that tension rods or curtain rods are fitted securely.
To ensure that the curtains hang equally, double-check that the rods are level.
If you need to provide more support for heavier drapes, use the proper wall anchors or brackets.
5. Functionality
Think about how you intend to use your blinds and curtains. Choose curtain designs that are simple to operate if you intend to open and close them frequently, like grommet or rod-pocket curtains.
Make sure the blinds can be lifted or lowered without being obstructed by the curtains so that they can function properly.
6. Maintenance and Cleaning
Maintain the blinds and curtains on a regular basis to keep them clean and in good shape.
To avoid harming the fabric or blinds, according to the manufacturer's cleaning and care instructions.
7. Finishing Touch Ups
To improve the overall appearance of your window treatment, add decorative components like curtain tiebacks, holdbacks, valances, or cornices.
To create the ideal style and mood in your room, experiment with various decorating possibilities.
Be Creative With Clicky Clips: A Bonus Tip
A practical and adaptable solution for hanging curtains over blinds is curtain rings with clips. Just clip the rings to the cloth rather than affix curtain hooks to the top hem of the curtains. With this technique, the curtain length can be easily adjusted without the need for exact measurements or adjustments. Moreover, curtain rings with clips give your window treatment a sleek, streamlined appearance that adds a touch of modernism.
You can enjoy the freedom of modifying the curtain length as necessary by using curtain rings with clips, which makes it simpler to obtain your desired style and fit. If the size of your windows might vary in the future or if you want the flexibility to alter your curtains without having to start the installation process over, this option is quite helpful.
In Closing
You can make a magnificent window treatment that precisely blends style, privacy, and light control by following these step-by-step instructions and taking into account additional suggestions and concerns. To achieve the desired style, consider the length and fullness of the curtains as well as stacking possibilities to provide depth and texture. It's important to pay attention to proper installation and performance because they affect the overall efficiency and durability of your window coverings.
With the appropriate equipment, thoughtful preparation, and close attention to detail, you can securely arrange drapes over blinds and turn your windows into eye-catching focus pieces. A wonderfully decorated room that shows your unique taste and improves the ambiance of your house will be the ultimate result, whether you select tension rods or standard curtain rods. So go ahead and indulge your creativity while having fun designing a window treatment that reflects your personal sense of style while also being elegant and functional.