Recommended Nail Guns for Installing Shiplap
Having the right tools for the job of installing shiplap is vital for efficiency and speed.  Whether installing shiplap or fixing existing shiplap, you're going to need a nail gun that can handle the job. Using a great nail gun can help speed up the project and save you valuable time.
For these kinds of projects, a good nail gun can help speed along the progress without having to use so much energy to get the job done.  The market for nail guns is rich with options and can be intimidating if you don't know what to look for.
We did the research for you to find the best options for nail guns.  We think these options will help get the job done.
How Do You Hang Shiplap?
When hanging shiplap on a sub-surface make sure that your surface is clear and everything is removed. Make sure there aren't any nails sticking out or clumps of putty left on the surface. You'll want to use a 18 gauge nailer with 1 3/4″ to 2 1/4″  brad nails. If you're using traditional shiplap planks, make sure to top edge which has the grove or cut out section is under the corresponding grove on the next plank. Shiplap traditionally has a 1/8″ space. To accomplish this you can use a 1/8″ tile spacer to get the correct spacing. Slide just one end of the space between the planks. Use a stud finder to find all of the studs and then mark them with a chalk line. It will make the install easier in the long run.
You'll need to cut the planks to stagger the cut ends. Do this in rows and repeat from bottom to top until you complete the wall.
What is Shiplap?
Shiplap has been made popular recently due to it's exposure on reality TV. Simple put shiplap is a kind of wooden board that is used for constructing barns, sheds or in rustic houses. Shiplap has groves in it that allow it to fit together and give it a distinct look. One of the things that makes shiplap unique is how each board or plank is prepared for installation. The cut pieces are  installed horizontally and have grooves that allow each plank to have an overlapping effect and fit together nicely. This is called a tongue and groove fit. The interlocking system was created to seal the wall for protection from the elements and make it less prone to buckling. The modern use of shiplap has less to do with protection from the elements and more to do with  the unique visual effect that the small spacesbetween the planks have. It gives the wall character and depth that it wouldn't have with paint alone.
The Bostitch Nail Gun, Brad Nailer is one of the best on the market. This nailer is great for finish work including shiplap, kitchen cabinetry, paneling and baseboards. It's Smart Point technology makes nail placement easy because it has a smaller nose. It also has a tool free jam release that helps getting jammed nails out easily. It drives 18 GA brad nails from 5/8″ to 2-1/8″ length. It is also oil-free and this helps to reduce the risk of oil stains on your finish project. The ergonomic shape makes it easy on your hand and wrist for jobs that take a substantial amount of time. 
Review:
This nail gun is very nice. It replaced an old 18 gauge gun I had bought used from a neighbor who was moving. I had no idea what I was missing. Quality construction, no jams, and the nailing point makes it easy to shoot nails in at an angle where my other one had to be depressed fully before it would nail, making angles very difficult or impossible. I've used it on installing a new exterior door where a window used to be and on the exterior stairs going up to the door (as a temporary hold). I look forward to using this on many many projects—seems like it will last a very long time but I'll keep my review updated!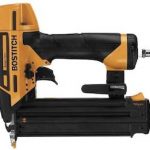 If you're wanting to  hand your shiplap wall and don't want to be confined to an air compressor the  NEU Master Cordless Nail Gun is the tool to use. With its spiral-drive technology powered by a NEU MASTER 20V MAX Lithium-Ion battery NTC0023-18 is ready to go to work without the hassle of using gas, compressor and cord. Its delivers up to 1100 shots on a single charge. Its drives 1/4" crown staple from 5/8" to 1", and 18 gauge brad nail from 5/8" to 1-1/4", which makes it ideal for fastening anything from shiplap to trim boards.
Review:
I don't write a lot of reviews. I was concerned about the off name brand, no reason…WOW! This is probably the 2nd BEST TOOL I've every BOUGHT! I charged the battery, nice LED indicator of the charge! I drove at least 400 1″ 18ga staples on 1/4 charge. About 30 staples didn't penetrate all the way into the wood, due to knots, hitting other nails or hitting the 1″ wire mesh I was attaching! Day two, drove another 400 1″ 18ga staples through 1/2 plywood, into 2×4…VERY FEW bad staples! WOW! I would certainly buy this product again! 100% BLOWN AWAY!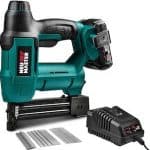 The Makita 16 Gauge Straight Finish Nailer combines several features and powerful performance in a compact size. This model has a rear-loading magazine that accepts standard 16 ga. straight finish nails sized 1″ to 2-1/2″. With a compact size and weighing in at only 3.8 lbs., the Makita 16 Guage Nailer was engineered for all-day professional or home use. One fun thing about this nailer is the reversible belt hook. It allows you to use your hands with out having to set it down and pick it back up.
Review:
I have never used a nail gun until today. I have however used plenty of Makita tools in the past. One that I use quite often is an angle grinder. I have had it for 7 years now and it has taken a beating. Makita is on the same level as Dewalt in my mind. This nailer is very light and gave me zero issues. I also used 2″ nails in it so it supports nails other than 2.5″ ones. I used a Bostitch pancake compressor and it worked just fine with that.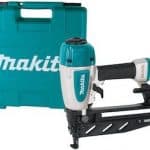 This CRAFTSMAN V20 20V max 18GA cordless finish nailer's cordless design eliminates the need for compressors, hoses, or costly Gas cartridges. The motor delivers consistent power firing in various weather conditions and materials. The extensive runtime on a single battery and Fast shot speed allow for less downtime on the jobsite. The single tool-free depth setting makes adjusting your nail depth quick and simple, while the other tool-free settings make potential nail jams or stalls easy to fix. The cordless finish nailer is lightweight and well balanced, making this product very comfortable to use for prolonged time
Review:
I am a female crafter and I also like to do odd jobs around the house. I love this nailer and use it often for odd jobs. It's easy to use, had very good power. I am currently putting barn wood on the wall in the mud room and this nailer is awesome. So glad I bought it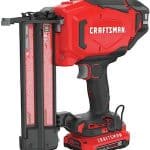 The Tacklife 18 GA 2-in-1 pneumatic brad nailer heat treated aluminum Housing-extra heavy duty industrial design high-capacity magazine holds up to nails. The spacious magazine carries up to 100 brad nails 15-50mm or crown staples 16-40mm while the quick-release design makes jam clearing a breeze. Safety glasses are made from CE, which prevents accidental firing of wood dust.
Review:
You want your first time to be memorable, and that's what you get with this nailer . Easy to operate, brads slide in easily and exit with that satisfying pffft that tells you you've nailed straight and true. For those without much experience, you cannot match the price and ease of use. Perfect for small jobs.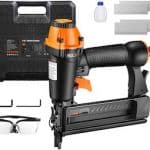 5 Fun Shiplap Facts
Before we go here are a few fun shiplap facts:
1. Shiplap originated as a way to make ships waterproof with their overlapping design.
2. True shiplap will have the tongue and groove design.
3. Shiplap was also used in harsh climates to block the wind that would seep  through the walls.
4. With all of the pros of using shiplap a small con can be the need to dust in between the gaps.
5. Over the years as shiplap fell out of favor with design much of it was covered over. If you live in a modern home you may have shiplap in your walls be hind the sheet rock!