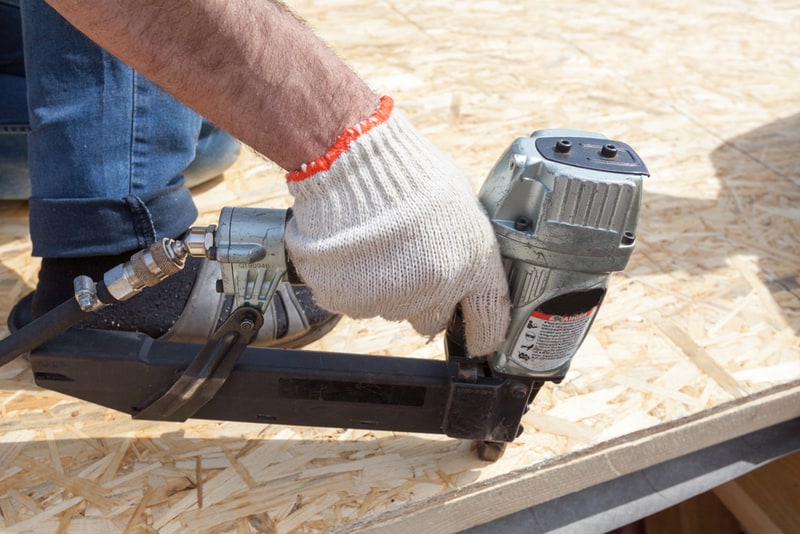 15 Mar

Best Nail Gun for Roofing 2022 (Ratings & Reviews)
Recommended Nail Guns for Roofing 2022
Having the right tools for the job is vital for efficiency and speed.  Whether you're installing your roofing or adding new shingles. You're going to need a nail gun that can handle a big job. When nailing shingles into roof decking it's critical to be working with the right tools.
For these kinds of projects, a good nail gun can help speed along the progress without having to use so much energy to get the job done.  The market for nail guns is rich with options and can be intimidating if you don't know what to look for.
We did the research for you to find the best options for nail guns.  We think they hit the nail right on the head.
Htaching Power Tools is now Metabo HPT. The same quality that Htiachi has built over the yeas is now under the new brand fo Metabo HPT. This nail gun has so many built in extras that may seem simple but come so handy. The rubber padding on this model keep it from sliding off of the roof and falling. With other nail guns that would slide off the roof you'd either need to climb down the ladder to pick it up or go to the store to buy a new one if it broke. If you're looking for comfort you'll appreciate the long lasting rubber grip. This nail gun also utilizes a pneumatic power feed which allow it keep working from job to job in some of the most difficult conditions. The side loading magazine is really convenient when working on a big job. 
Review:
Was leery at first, I didnt know Hitachi was no longer Hitachi.. so far it's been every bit as good as the original. So 2 thumbs up
Weight: 5.5lbs
Dimensions: 9 x 4.5 x 10.2 inches
This flexible roofing nail gun is ideal for roofing and almost any exterior job. This durable nail gun is the ideal tool for big or small roofing jobs. It has a function called zero nail lockout which stops it from firing when it's out of nails. This will allow you to not waste time and get it reloaded so you can get back to work. This nail gun is ideal if you want a long lasting nailer that's light weight, powerful and accurate. The added touch is the molded grip. You'll find this nail gun is easy to hold and use in any weather condition.
Review:
First time DIY roofer – Just finished putting a roof on my ranch style house. Very happy:
Positives: Low cost, dependable, easy to load, powerful, fast, light enough.
Negatives: Learning curve to prevent double nailing (minor). Loud (expected).
Weight: 5.8lbs
Dimensions: 13.4 x 14.4 x 5.1 inches
This nailer is great for large or small projects. It's also perfect for asphalt shingle application. It'll will keep the project moving along by allowing you to drive 120 nails before reloading. This nailer also feels great in your hand with it's comfortable design and lightweight construction.
Review:
Did my whole roof with this unit and I can say it never jammed once. I always buy Dewalt tools because they are long lasting and have always worked as intended.
Weight: 5.2lbs
Dimensions: 11.35 x 5.55 x 10.67 in
Theis nailer is designed with a cabide insert which allows it to be a long lasting option. This also one of the more affordable roofing nail guns on our list. This one also has anti slide pads on the sides to help eliminate sliding when placed directly on the roof. It drives 15° 3/4" to 1-3/4" coiled roofing nails. Although it's heavier than some of the other nailers on our list it's still lightweight but sturdy option. This flexible nail gun is ideal wheahter your roofing a house or building a deck. It can handle a variety of jobs.
Review:
Let me start off my saying I am NOT a professional contractor or carpenter. I am building a monstrosity of a garage on my weekends. I bought this (obviously for the roof) and had zero issues. The last nail on the roll almost always pops out with the second to last nail ( does not go into the material) so I know I am out of nails. I have NO idea if it was designed to do so but it was convenient for me. Never jammed.
If I was ordered to give a "needs improvement" comment I would say that it does shoot double nails quickly. What I mean is if you are not fast enough on letting go of the trigger you will double tap the shingle. Double tap is great for combat situations but not roofing.
Weight: 7.2lbs
Dimensions: 11.8 x 4.6 x 11.6 inches