Tips for Keeping Your Home Safe
Your home is your sanctuary – a place where you should feel safe and secure. Unfortunately, crime happens in even the safest neighborhoods. Nobody likes to think about something bad ever happening within the walls of our home, but it's important to be prepared.
With just a few simple tips, you can feel better about protecting your home and family. That's why in this article, I will be sharing my best tips for home safety. Here are 7 must-do home security safety tips:
Check Your Smoke Detectors
Make Sure Your Windows And Doors Are Secure
Install A Home Security System
Don't Leave Spare Keys Where They Can Be Found
Be Smart About What You Post On Social Media
Keep Your Home Well-Lit At Night
Get A Dog
What do you think? Do these security safety tips sound like something that would help protect your house from burglars and keep your family safe? If you're not quite convinced, let's dive into how these tips help plus some bonus tips at the end!

1. Smoke Detectors
Most of the time, when you think of home safety, you're thinking of locks and alarms. However, home fires can be just as common yet more deadly than a home robbery. There are more than 367,000 house fires in the United States every single year.
You can't always prevent a home fire from happening but you can be prepared if and when it happens. Having working smoke detectors installed will give you an early warning system that a fire is taking place in your home so that you have time to safely evacuate.
Experts suggest checking and replacing smoke alarm batteries at least twice a year. And if your smoke detectors are more than 10 years old, it may be smart to replace them with a new advanced model.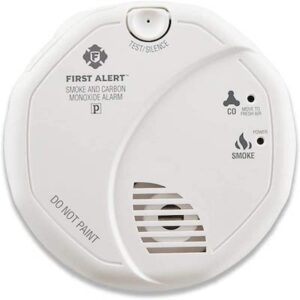 2. Windows And Doors
Your windows and doors are your first line of defense against potential intruders. If a criminal can't get into your home through the door or window, they're likely to move on to an easier target.
Make sure that all of your windows and doors have strong locks that cannot be easily picked or broken. If you haven't done so already, consider installing a security system to all of your doors and windows so that any forced entry will set off an alarm.
You should also keep your doors and windows locked at all times – day and night. Don't make the mistake of leaving a window unlocked just because it's on the upper floor or in an unwatched area. This can be very dangerous!
If you have an older home with dated windows and doors, it would be a great idea and well worth it to replace them. Not only are modern doors and windows better-insulated to save you on energy costs; they are also harder to break in through.
3. Home Security System
While security systems used to be expensive, there are many affordable options available today for as little as $15 per month. If you're a renter or are simply looking for something more affordable than a traditional system, there are even DIY options that you can install yourself with no monthly fees.
Having an alarm attached to your home will help give intruders pause and let them know that they've been detected. Even if they do break in, the alarm will notify the police and they can be on their way.
Some systems like Ring even allow you to see and speak with the person at your door, even if you're not home. This is a great option for checking on package deliveries or keeping an eye on who is coming and going from your house.

4. Spare Keys
It's always a good idea to have a spare key hidden somewhere outside of your home in case you lose your key or lock yourself out. However, you need to be careful about where you hide it.
Don't put your spare key in these overly-common places:
under the doormat
in a planter
under a rock next to the door
inside a grill
in your mailbox
These are some of the most common places burglars will look for a key. Instead, try hiding your key in a loose brick or an old path light. You can even get a key fob that attaches to your keyring so you don't have to worry about hiding a physical key.
Finding a unique place to put a spare key can make a big difference!
5. Social Media
It may seem like common sense, but one of the easiest ways for people to learn about when you're not home is by checking social media posts. Don't post anything on social media that could give away your home's location or when you're not going to be there.
It only takes a second for someone to break in and steal your belongings, so it's best not to take any chances!
You may be surprised to know that not all home break-ins are done by strangers. A shocking amount of burglaries are committed by people who know the victims. In many cases, these people are friends, family members, or neighbors!
So be aware of who is following you on social media and do not overshare your daily schedules and whereabouts.
6. A Well-Lit Home
There's been some confusion and disagreement on whether it's better to leave the house lights on or off at night. The answer is, it depends.
If you know that you'll be coming home later than usual – whether from work or vacationing out of town – then leaving the lights on will help deter intruders since it means someone is likely at home.
However, if you're going to be away for an extended period, turning on lights at random times will help make it look like someone is home.
This can be done easily with a smart light system that you control remotely or by leaving a few lamps on timers to come on and off throughout the day.
Also, keep your porch lights on at night while you're away as well. This will help prevent burglars from lurking around your house because they'll be afraid of being seen.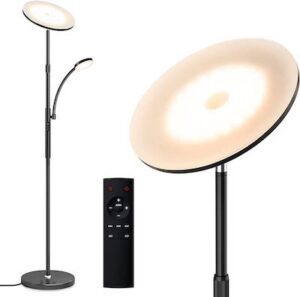 7. Not Just A Pet
This tip is listed last because not everyone has the capability or time to have a dog, but it is a great way to keep your apartment or home safe. A dog is not just a pet; he or she can be an invaluable asset when it comes to keeping intruders away!
If you have a large breed that barks loudly, then this alone can help ward off burglars and make them think twice about attempting to rob your home.
And if you have a smaller breed that is territorial and barks at anyone who comes near the house, this can also help deter potential burglars.
So if you have the time and money for it, having a dog is worth considering as part of your home security system.
What Is The Best Home Security System?
When it comes to home security, there are a lot of different options to choose from. You can go with a traditional security system that includes a keypad, sensors, and a control panel or you can opt for a more modern system like Ring that uses smart technology.
No matter what type of system you choose, there are many benefits to having one installed at your home. You should spend some time researching different types and what they can offer you.
I would also suggest looking into the track record of the company and reading customer reviews. You can also ask family and friends what they use and why they like it.
While there is no one perfect home security system, I would recommend looking for these features when comparing different systems:
The ability to arm and disarm your system from anywhere in the world
A loud alarm that can be heard throughout the house and outside
Motion sensors that detect movement inside and outside of the house
Cameras that can be viewed from your phone or computer
A backup battery in case of a power outage
When choosing a home security system, it's important to find one that fits your needs and lifestyle. Don't just go with the first one you come across – take the time to do your research! You'll be thankful you did.
How Common Are Home Break-Ins?
While no one can say for sure how common home break-ins are, the fact is that they happen more often than you might think. In the U.S., there are about two million burglaries each year, and that number is only going up.
Burglars typically go for easy targets, so by taking some simple precautions, you can make your home less appealing to them.
Some things that may make your house an easy target include:
Leaving your home unoccupied for long periods
Keeping valuables in clear view from windows
Having an unlocked door, window, or car
Visibly broken or damaged windows or doors
Not having an alarm system or a security system
If you're going to be away from home for an extended period, make sure to take steps to secure your property. This includes putting up light timers, having someone check on your house regularly, and asking a friend or neighbor to keep an eye on things.
What Are Some Other Home Security Tips?
In addition to the tips listed above, here are a few more things you can do to help keep your home safe and secure:
Store important documents like passports and social security cards in a safe place
Keep your yard well lit at night
Install a deadbolt lock on all exterior doors
Install tamper-resistant window locks
Store any valuables in a safe or safety deposit box
As you can see, many things go into keeping your home safe and secure. The more effort you put into it, the better protected your property will be. You should also make sure to review your home security plan regularly and update it as needed.
Thank you for reading today's article, I hope it was helpful to you!