Your garage is a space where you store all your necessary items, such as sports equipment, gardening equipment, and decorative items. And not to mention – your car! With such a big job to do, it's easy for your garage to become disorganized, unattractive, and cluttered.
Does your garage look like a disaster zone? If you answered YES, why don't you give it a makeover to make it look attractive and organized? The best way to start giving your garage a makeover is to declutter the area, so you can see what needs to be done. After you've decluttered, it's time to get organized. Here are some tips on how you can keep your garage looking neat.
Declutter Your Space
Maximize Storage Space
Don't Forget About The Flooring
Remember Lighting
Get a Fresh Coat of Paint
Choose an Insulated Garage Door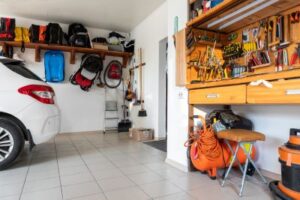 What Are The Best Ways To Keep Your Garage In Order?
If you are planning to renovate your home, don't forget to give your garage space a makeover. If you think enhancing the curb appeal of your garage will cost you a fortune, then you are wrong. Luckily, there are some budget-friendly ways that not only enhance your garage but also make it well-organized. Curious to know what these are? Let's get started.
 1. Declutter Your Space
Initiate your garage optimization journey by decluttering it. It is one of the best and simplest DIY methods to give your garage an instant makeover. By decluttering your garage, you will discover new storage spaces which you have never seen before.
 You might have seen images of garage decor ideas on magazines or Pinterest.
Do any of them look messy? No, right?
Without decluttering your space, you won't be able to give it an elegant look, no matter how much you spend on decor.
 A cluttered garage can:
Attract pests
Increase the risk of fire hazards
Make things harder to find
Attract dust
 Your first step should be to declutter your garage by removing all the unnecessary items. Once you do it, you will have a clearer idea of what you own.
2. Maximize Storage Space
If you want to make the most of your garage and make it look organized, consider adding storage space to it. With proper storage space, you can easily store your items without making your garage disorganized.
 Here are some of the ways to add storage space to your garage:
 Slatwall Storage Panels
Adding storage panels in your garage can open your space for hangable items, such as cords, tools, and ladders.
Overhead Storage Racks
Adding overhead storage racks is always worth it. It helps to store heavier items and enhance the overall appearance of your garage at the same time. It's a win-win! You can easily store tires, large storage bins, out-of-season items, etc.
Storage Cupboards
Adding storage cupboards is another best way to maximize the storage space. You can keep your tools and other items in your cupboard. Also, it makes it easier for you to access them when you need them.
 When it comes to maximizing the storage space in your garage, the opportunities are endless! All you need to do is to find the right storage option that suits your garage space.
3. Don't Forget About The Flooring
When it comes to renovating a garage, the importance of floors is often overlooked by homeowners. The reason for overlooking the floors is They only think of a garage as a place to store their cars.
The reality is that valuable garage square footage can be used for so much more.
Because the garage is used for multi-purposes, such as house workshops, crafting areas, etc., the floor needs to be durable.
However, as per the latest garage decor trends, the demand for epoxy flooring is on the rise, and it shows no signs of slowing down.
It consists of multiple layers of durable coatings to protect your floor and gives your garage an elegant look.
 The best thing about epoxy garage floors is that you can customize them as per your preferences. You can choose the multiple colors, designs, and patterns that appeal to you. While epoxy garage floors can be expensive, their durability makes them cost-effective. After all, you don't have to replace it for many years.

What Is The Best Type Of Flooring To Use In Your Garage?
Many people think that just putting a coat of paint on the floor will brighten it up. However, this is not always the best option. Many different types of flooring can be used in a garage. However, not all are created equal.
The most common types of flooring used in garages are:
– The Best of All Is Polished Concrete Flooring
For garages, polished concrete flooring is the best solution. Concrete floors are typically hard and resilient.
– One Of The Smart and Feasible Options Is EpoxyFlooring
Epoxy is a hard, long-lasting finish that can be used on any type of flooring. It comes in a variety of appealing hues and cleans easily. Be sure to ensure that your subfloor is moisture resistant, as well as no dampness, is detected before applying the epoxy.
– An Easy To Install Option Is Rubber Tile Flooring
Rubber flooring is made up of rubber tiles that can be laid on top of hardwood, vinyl, linoleum, or any other type of flooring.
– If Your Garage Is Low Trafficked Try Vinyl Flooring
It is not a mistake to install vinyl flooring in garages. Enhanced Urethane coated vinyl tile flooring is the finest option if your garage does not receive a lot of use and pressure.
– If You Are Wanting Quite The Upgrade And Cost Is Not The Option Try Stone Flooring
Granite, on the other hand, is a popular choice for worktops in kitchens and bathrooms. It comes in a variety of colors and patterns to fit any house décor. Granite is both durable and hardy.
 4. Remember Lighting
This is one of the most important renovation tips. Don't forget to add lighting to your space. A single light bulb or fluorescent tube won't work.
It will make your garage look traditional and dull.
Before investing in the lighting options for your garage, it is wise to measure your garage size.
It will help you identify your true output needs.
If you are considering ambient lighting in your garage, a good rule of thumb is to aim for at least 50 lumens per square foot. Whereas, 300 lumens is appropriate for task lighting.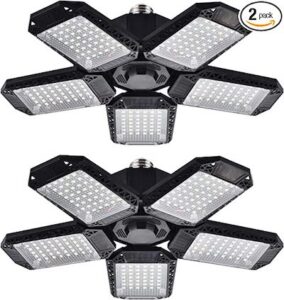 5. Get A Fresh Coat Of Paint
Giving your garage a fresh coat of paint can go a long way in enhancing its overall appearance. It is important to choose the right color for your garage. This can be a challenge.
Today, most homeowners prefer to opt for lighter colors for their garage to give it a more "open-air" and cheerful feeling.
However, you can also go for the darker colors if you want a studio experience that will complement the professional lighting concepts.
 When choosing the lighter color for your garage, you can go for grey, beige, blue, and green.
If painting with lighter colors is not an option, you can go for darker shades, such as dark blue, dark grey, or black. No matter which color you choose, you need to make sure that it doesn't wrap with moisture and stays true to form longer.
What Is The Best Paint To Use In Your Garage?
Interior latex paint is the best option for garage walls and ceilings, although oil-based paints can also be used. Because it's water-based, latex paint dries quickly, can be thinned with water, and has less odor/vapors than oil-based paint. It's also easier to clean up with soap and water.
When you use oil-based paint takes longer to dry.
This particular type of paint must be thinned with paint thinner Oil-based paints have a distinct odor and fumes.
The clean-up time is extended a bit due to you cannot use soap and water.
It's crucial not to use outside paint in your garage, even if it may be more scratch-resistant or stain-resistant.
Exterior paints are frequently toxic and should therefore only be used outdoors, even in a well-ventilated area.
Interior brand is an option for garage wall paint that is both attractive and long-lasting.
Garage walls and ceilings may be painted with the same color. Garage floors, on the other hand, must be covered with paint that is expressly intended for use on cement. In most cases, garage floors are instead coated with an epoxy-type sealer rather than painted.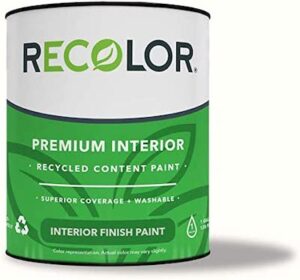 6. Choose An Insulated Garage Door
To make the most of your garage, consider replacing your old garage door with an insulated one. As compared with uninsulated garage doors, insulated doors are more durable.
They are constructed differently from other types of doors, which make them strong.
Another best thing about insulated garage doors is that they are much quieter than uninsulated doors.
Installing an insulated garage door is not a DIY thing. Thus, seeking help from experts can be your best bet to get the garage door installation job done.
However, noise cancellation is not an important factor to consider, but it is an added benefit. Also, it tends to make your garage warmer in winters and cooler in summers.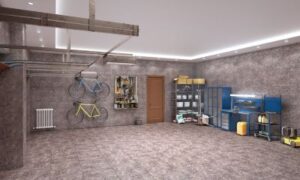 Final Words
By following the tips mentioned above, you can easily renovate your garage and make it more functional. These tips will help you keep your garage organized and tidy. You can also install a few shelves to store the things that you don't use frequently. Doing so will declutter your garage space and make it look neat.
Your garage can genuinely work for you if you pay close attention to decorating it and keeping it well-organized. The tips mentioned above will surely help you renovate your garage and make it more functional. To sum it up, follow the garage decor tips mentioned above to give your dull-looking space a fresh and clean look.