What does HVAC Stand For?
What does HVAC Stand for? HVAC stands for heating, ventilation, and air-conditioning. The main purpose of HVAC is to maintain the standard thermal comfort and satisfaction and to provide suitable indoor air quality. The HVAC system is controlled by a central thermostat.
It involves several disciplines of mechanical and chemical engineering focusing on the fields of heat transfer, thermal fluids, and energy conversion. That is why it takes a considerable amount of skills and knowledge when dealing with issues for HVAC services.

What Systems Are Included in My HVAC System? Your HVAC system includes your heating, air conditioner, ventilation and thermostat. 
Recently, expert studies have shown that refrigeration also follows the same principle as HVAC repair and service. This is why they also have included this process in the field's abbreviation at times.
Heating System
Heating provides the necessary warmth from the main unit to different areas in multiple rooms. The heat is distributed throughout the house or business in three different possible ways. These ways of distributing heat are forced air along ductworks, means of water circulating through a specially designed pipe, or steam traveling along channels or conduits
The most commonly used type of heat generation involves the combustion of fossil fuel in a boiler or furnace. Heating is essential to maintaining a consistent temperature in your home or business during the cold winter months not only to keep the temperature pleasant but to keep your home's building materials from shrinking as they get colder and crack under the pressure.
Heating service includes checking all vents and ducts, checking the thermostat, maintaining the heating units, and servicing gas flow into the heating unit. Both commercial and residential structures receive their service when requested. Certain heating units may use water in the heating unit. In this case, the water unit will be inspected for rust and erosion as well as leaks.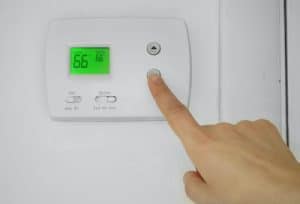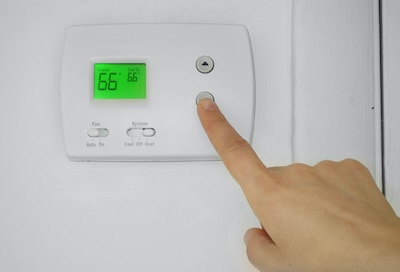 Air Conditioning System
Air conditioning is what cools and controls humidity for all of a house or business and its many rooms. Air conditioning involves the removal of heat through thermal radiation, convection, or conduction. Some air containing units use refrigeration, which makes use of chemicals called refrigerants. A compressor pumps air through the vents to high pressure and temperature area to pull the heat out of the air molecules before forcing the air back into the home.
Air conditioners may be classified as central or split type. Central or all-air air conditioning is combined with an external condenser and evaporator unit installed in homes, offices, and businesses. An indoor coil filled with the refrigerant liquid cools the air and is then distributed through the strategically placed ducts.
Servicing air conditioning units includes checking all vents and ducts, checking the thermostat, adding refrigerant to any system that may have a built-in refrigeration unit, maintaining indoor and outdoor coils, and maintaining air filters. These services are not exclusive to residential and any business owner in need of air conditioning service will get the same treatment.
Ventilation Service
Ventilation is the process of exchanging or replacing the air in a home or business to provide filtered, high-quality air. This ensures temperature control and oxygen supply. It is also responsible for the removal of odors, smoke, moisture, bacteria, and carbon dioxide. Ventilation can pull out harmful gases such as carbon monoxide and methane as well.
This is accomplished by forcing continuous air circulation to avoid any air stagnation. It is supplied by natural ventilation, such as wind-driven ventilation or buoyancy-driven ventilation, which makes use of higher and lower air temperature and pressure. The other way uses mechanical air handlers or exhausts which remove odors and sometimes the humidity, factoring in the flow rate and noise level of the equipment or machinery.
Ventilation service usually comes as a package deal with either the heating service or air conditioning service. If there is something wrong with airflow in or out of your home or business, the first place to look is in the ventilation. This service includes sweeping ducts and cleaning filters as well as maintaining high-efficiency airflow in and out of the home or business.
The video below provides a great visual representation of how the HVAC system works as a whole.
Troubleshooting HVAC Problems
Most HVAC issues are simple and easily fixable with a few steps, others require a professional to help guide the system back to full capacity. We've put a little list of issues and how to troubleshoot them. Also included is a way to tell if you need a professional HVAC technician to service your heating or air conditioning units.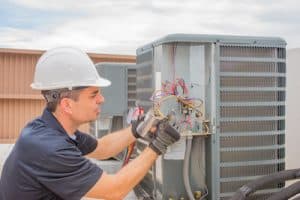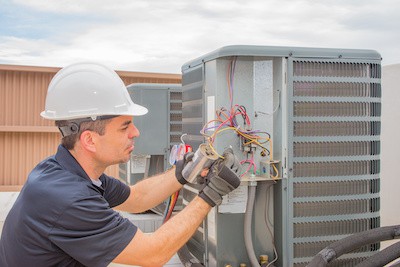 The first step to troubleshoot the failure to turn on the system is to check the power panel to see if the unit is receiving electricity. If that is happening, then it could be a blown fuse. Check the breaker box for a tripped switch that connects to the air conditioning or heating unit. Then check the thermostat settings to confirm that they are set to the correct temperature and engaging the right units.
My Unit is On, But Not Heating/Cooling
In the case of A/C not getting cold, the most common occurrence is that the main coolant pipe gets frozen and restricts the flow to cool off the air in the air conditioning unit. If your heater is not getting hot, there may be an electrical issue or an issue with the thermal couple.
In both of these cases, calling an HVAC technician is your best bet to get the problem checked out by a professional who can take care of it swiftly to get the air back to the temperature you desire.