A ductless range hood can have a few benefits. Your ductless range hood with a charcoal filter can save you from having to have an expensive duct installed. But range hoods, whether it be a ductless island range or one built in along the walls, needs proper maintenance and repair.
Whether you use your ductless range for quick and easy meals or are creating home barbecue on the regular, you need to know how to properly maintain it so that it can last for a long time to come.
Tips on How to Maintain a Ductless Range Hood
There are 7 tips below that will help you when it comes to properly maintaining and caring for your ductless range. Keep in mind that not performing regular maintenance and care will not only substantially shorten the life of your range but will require a replacement far sooner than later.
1. Know-How to Troubleshoot a Range Hood
We can define troubleshoot as the method of finding a problem within a specific item or appliance. Most of us have troubleshooted something in our lives and a troubleshooting guide can help us avoid expensive maintenance calls.
The troubleshooting process on range hoods with ducting can be exponentially different from ductless hoods. By knowing how to properly troubleshoot the issue to begin with, you can identify those issues faster and implement a much quicker fix. All of which saves you time and money in the long run.
When it comes to ductless range hoods, most troubleshooting is done online. Either there are troubleshooting guides directly from the company or you can find others just like you who have had a similar issue.
2. Cleaning the Range Hood Filter
Cleaning the reusable air filter is important. There are oil air filters, a carbon air filter, and charcoal air filters that can go in your kitchen exhaust. When you have a dirty air filter, it just recirculates all of those contaminants back into the air.

Learn how to clean a range hood filter. You will need to do so every so often not only to ensure that your filter continues doing its job but that you are not breathing back in the contaminates that are in the air.
Your filter can also lead to other potential issues with your ductless range, so keeping it clean is imperative. Should the filter be too dirty to clean, you can replace it for relatively cheap.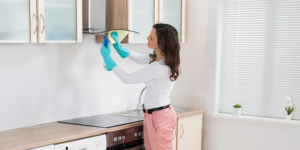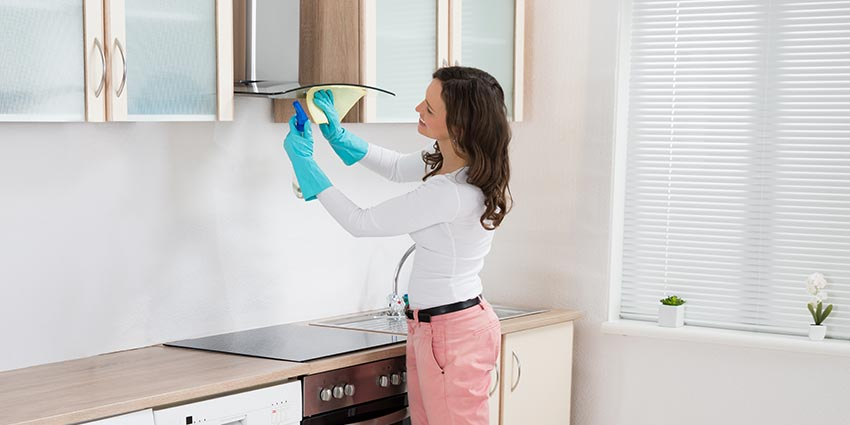 3. Check Fan Parts of the Range Hood
There are fan blades that distribute the air and contaminants into the charcoal filter and then back out into the air. When the time comes, replacement fan blades can be installed in place of those that have worn or broken.
Your fan motor can also wear down and require maintenance or replacement from time to time. The range hood fan motor can be a bit more difficult to replace, though. Check out online repair guides if you plan to do it yourself. In the worst-case scenario, you can call in a professional technician to resolve the issue for you.
Keep in mind that regular maintenance can help you get a lot more shelf life out of your ductless range and its various components than you would have otherwise. So take the steps to keep your range working properly.
4. Cleaning the Ductless Range Hood Itself
Cleaning your ventless range hood is one of the most important things that you can do. Make sure that you know your range hood height so you can make accommodations for cleaning. Just because it is taller than you does not mean that you do not have to clean it.

Make sure that you change out the range hood light bulb from time to time to prevent burnout and that you get under the range hood cabinet as well. Remember that, unlike a vented range, your ventless system is not actually removing those contaminants.
Instead, your ductless range circulates the air through your charcoal filter and then redistributes it back into the air. When your range gets to be built up with dirt, grime, and debris, it is just going to redistribute those contaminants back into your system.
Make sure to clean your range on a fairly regular basis. Doing so once a mother or so should be enough to help you keep your kitchen and range as clean as they deserve to be.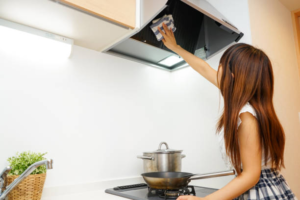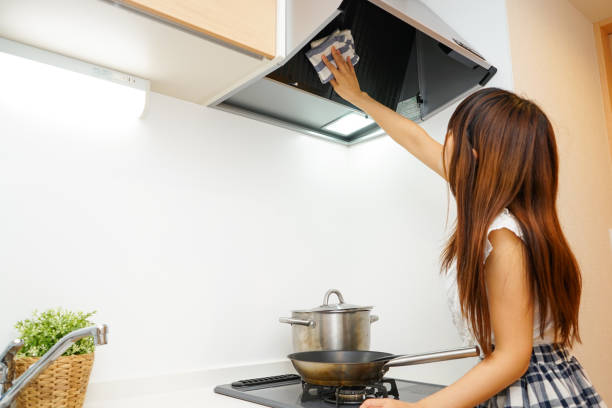 5. Check the Range Hood Ventilation System
Remember that your hood ventilation system is different than that with a duct system. The range hood parts are somewhat different and require different care. One ventilation hood may be different from another manufacturer as well.
Consult the owner's manual for your specific range. There may be different troubleshooting or maintenance methods that you may not have realized are required. By doing your due diligence, you can find the proper repairs and perform proper maintenance as well.
Not only that but you can avoid making improper repairs or maintenance. That can be just as harmful to your ductless range as anything else.
6. Ask for Help from a Range Hood Specialist
Don't be afraid to ask for range hood repair help. Range hood repair can be a bit more difficult than it might seem. Whether it be a broken fan, a range hood filter, or even a range hood light bulb replacement, don't overlook a helpful hand.
Besides, when you do not have the necessary knowledge to perform repairs, you find yourself in a position where a lot more bad is done than good. Having the wherewithal to know that you are not up to the task is just as important as performing the task itself. Don't be afraid to ask for professional help along the way.
7. Preventative Maintenance
Having a preventative maintenance schedule, as well as a preventative maintenance checklist, can go a long, long way towards properly caring for your range hood cover. Start by knowing your range hood dimensions. When you know the area in which you are working, you get a better scope of the maintenance that needs to be done.
Do not underestimate the power of preventative maintenance. With proper cleanings, filter changes, and other preventative maintenance, you can substantially extend the life of your ductless hood range. As a matter of fact, proper maintenance goes a long way regardless of the major appliance. After all, you want to get the most possible use out of that appliance before replacing it, right? That is why preventative maintenance is such an important factor and something you should definitely pay attention to.
Conclusion
Caring for your ventless range hood is easier than you think. While it might not be a "set it and forget it" type of situation like you hoped for, a little bit of preventative maintenance, cleaning, and care can go a long way.
When all else fails, you can turn to a professional to perform the cleaning or maintenance for you. While that might be a little more money out of pocket, it can give you the peace of mind in knowing that your ductless range hood is properly cared for and will last a long time to come.