Elevate Your Home Decor with Unique Window Embellishments
Decorating a home isn't just about selecting the right furniture or deciding the perfect color for the walls. A truly cohesive and charming interior design involves attention to every little detail, including the ones we often overlook. Your windows, for instance, play a pivotal role in the aesthetics of your home, directly influencing light, privacy, and the overall atmosphere. Upgrading your windows can significantly elevate your home decor, making it more elegant and appealing. So, how do you elevate your home decor with unique window treatments? While you might be tempted to opt for standard window dressings, a more personalized approach can create a unique and impactful statement. But before we delve into this, it's essential to understand why windows are a vital component of your home decor.
Understanding the Importance of Windows in Home Decor
Windows serve as a conduit between your home and the outside world. They allow light to pour into your interiors, creating a warm, inviting space. Besides this functional aspect, windows also contribute to the aesthetics and atmosphere of a room. They can highlight a particular design style, enhance a view, or simply provide a point of visual interest.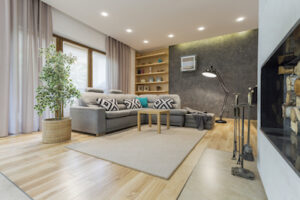 Now, let's explore how you can transform your windows into stunning design elements that reflect your personal style and complement your home decor.
Consider the Room's Function and Style
First and foremost, the window treatments you choose should align with the function of the room. If it's a bedroom, you might want treatments that offer privacy and light control. In a living room or a study, you might prefer options that maximize natural light while reducing glare.
Once you've determined the functional requirements, consider the room's aesthetic. If the decor leans towards traditional, classic drapes or shutters might be a suitable choice. For a modern or minimalist look, consider sleek shades or blinds.
Choose the Right Materials
Window treatments come in a myriad of materials, from sheer fabrics and heavy velvets to wood and metal. When choosing a material, keep in mind not only the style of your room but also practical aspects like durability and maintenance. For example, a bathroom would require materials that resist moisture, while a bedroom might benefit from light-blocking materials for better sleep.
Opt for a Personalized Approach
Investing in custom window treatments can provide a remarkable difference in the overall look and feel of your rooms. Unlike off-the-shelf solutions, personalized window dressings are designed and made to perfectly fit your windows and match your exact specifications. This ensures seamless integration into your decor, enhancing overall visual harmony.
Add Layers and Texture
A layered look can add depth and interest to your windows. This could mean combining curtains with blinds, or sheers with heavy drapes. Mixing different materials can create a textured look, making your windows more visually appealing. Additionally, this layered approach can provide more control over light and privacy.
Don't Forget Hardware
Window hardware, including rods, rings, and finials, shouldn't be an afterthought. These elements can add an extra layer of style and sophistication to your windows. Choose hardware that complements the style and color scheme of your room.
Experiment with Color and Pattern
Don't be afraid to make a statement with your window treatments. Bold colors or interesting patterns can make your windows stand out, adding character to your room. However, if your room is already quite vibrant, you might prefer more subtle, neutral window treatments to maintain balance.
Play with Light
Light plays an essential role in defining the atmosphere of a room. Depending on the type of window treatment you choose, you can manipulate light to create your desired ambiance. Sheer curtains allow a room to be bathed in soft, diffused light, while opaque blinds or shades can block out light for a cozy, intimate feel. In rooms where you want to balance light control with privacy, consider options like cellular shades or plantation shutters.
Invest in Energy Efficiency
Window treatments aren't just about aesthetics; they can also contribute to the energy efficiency of your home. Certain options, such as cellular shades or thermal curtains, can provide insulation, helping to keep your home warm in winter and cool in summer. By investing in energy-efficient window treatments, you can enjoy not only a stylish home but also lower utility bills.
Create a Visual Flow
To achieve a cohesive look in your home, aim for a harmonious visual flow. This doesn't mean you need the same window treatment in every room, but rather that they should complement each other. For instance, you might choose different styles or materials for different rooms, but maintain a consistent color palette throughout the home. This can create a sense of unity, ensuring that each room transitions smoothly into the next.
Don't Neglect Small or Unusual Windows
Every window in your home deserves attention, including the small or unusually-shaped ones. Custom solutions come in particularly handy for these windows, ensuring a perfect fit no matter the size or shape. For small windows, choose treatments that maximize light and give an illusion of size. For arched or circular windows, consider custom-shaped shutters or shades that highlight their unique shape.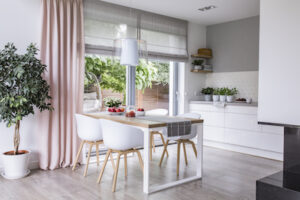 Unique Window Treatment Ideas for Your Home Decor
Now that you know how to elevate your home decor with unique window treatments, let's explore some different ideas to enhance your window treatments.
Luxurious Curtains: A Timeless Classic
Curtains are a timeless classic that instantly adds an element of sophistication to any room. Opt for high-quality fabrics such as silk or velvet to create a luxurious ambiance. Consider experimenting with bold colors or delicate patterns to match your personal style.
Roman Shades: Stylish and Functional
Roman shades offer a perfect balance of style and functionality. These versatile window coverings can be customized to complement any decor theme. Choose from a wide range of fabrics, textures, and colors to create a tailored look for your windows.
Sheer Elegance: Delicate Voile Panels
If you prefer a light and airy feel, sheer voile panels are an excellent choice. These translucent window treatments allow natural light to filter through while adding a touch of elegance to your space. Pair them with solid curtains for a layered effect and enhanced privacy.
Wooden Blinds: Natural Charm
Bring the beauty of nature into your home with wooden blinds. These window coverings add a warm and rustic charm to your decor. Choose from various wood finishes, such as oak, walnut, or bamboo, to create a cozy and inviting atmosphere.
Decorative Valances: A Dash of Style
Valances are an excellent way to add a touch of style to your windows without overpowering the room. These decorative fabric toppers come in various designs, including pleated, scalloped, or swagged. Pair them with blinds or curtains to create a layered and textured look.
Elegant Drapery Hardware: Finishing Touches
Drapery hardware plays a crucial role in enhancing the overall appearance of your window treatments. Select decorative rods, finials, and tiebacks that complement your chosen embellishments. Opt for finishes such as brass, chrome, or wrought iron to add a touch of elegance.
Conclusion
In conclusion, window treatments are a powerful tool in home decor, impacting not just the aesthetics but also the comfort and functionality of your space. From understanding the importance of windows to considering the room's function, choosing the right materials, layering textures, selecting stylish hardware, experimenting with colors and patterns, paying attention to size, playing with light, investing in energy efficiency, creating a visual flow, not neglecting small windows, and incorporating smart technology, there are numerous ways to elevate your home decor with unique window embellishments. The key is to think outside the box, tailor solutions to your needs and tastes, and remember that even the smallest details can make a big impact. With these tips on how to elevate your home decor with unique window treatments, you're well on your way to creating a home that's not only stylish but also uniquely you.