How Much Weight Can Your Bathtub Hold?
Have you ever wondered how much weight your bathtub can hold? Especially if your bathroom is on a second or third-story floor, this is an important question. The last thing you would want is for your bathtub to leak or break, causing physical damage to both your house and even possibly to you. How much weight your bathtub can hold is dependent on the size of the tub and the type of bathtub that you have.
So, how much weight can your bathtub hold? Research shows that a standard tub made of porcelain can hold around 40 to 60 gallons of water or 335 to 500 pounds. That might seem like a large span, but that is because the amount a tub can hold is also directly related to its size. Most bathtubs are around 30 inches wide and 5 feet long. But, luxury tubs and tubs with jets can be much larger, even up to 7 feet long, and nearly 4 feet wide.
Find Out What Affects Bathtub Weight Limit
You may have a bathtub that was already installed before you moved into your home, or you may be shopping for something new. Regardless of your situation, it is important to know what to look for in a bathtub to make sure your tub is durable, sturdy, and most of all, the right fit for you. The amount of weight that a tub will hold is one of the most important aspects of it. Who wants an aesthetically pleasing tub if it doesn't function well? There are plenty of new, beautiful bathtubs out there, but not all of them will fit your specific needs. 
Your Bathtub Size
A general rule of thumb is that the larger the tub, the more water it will be able to hold. However, even a large tub may not have the ability to hold a great amount of water due to the material it is made out of. Sometimes, the material that a bathtub is made of will actually dictate the depth allowed for the tub. Bathtubs are most definitely engineered with your safety and long-term use in mind.
The space that you have available in your bathroom will obviously be a determining factor of your bathtub's size as well. If you have a small space, you will have a smaller bathtub, and this bathtub probably cannot hold as much water as a luxury tub in a larger bathroom. However, a bathtub's depth may give room for more water, and therefore, weight. Be careful that you don't try to install a master bathroom-sized tub in an upstairs guest bathroom, or a bathtub with a depth that cannot be supported on an upstairs floor.
Bathtub Materials: Acrylic, Fiberglass, or Porcelain?
A standard tub is usually made of enameled cast iron. These tubs are also often called porcelain bathtubs. You may be able to infer that this type of bathtub is extremely difficult to bust or break. Cast iron is a very strong material, and with an enamel coating on top to make it even more durable, this is a great material of choice for a tub. These can also usually hold the most weight, regardless of size.
Acrylic bathtubs are also common. Acrylic tubs are a good choice because they are extremely resistant to water damage. This is because of the fact that acrylic is a non-porous material. Fiberglass is used in the process of making acrylic tubs, but unlike fiberglass, it will not absorb any excess water. Because of this, acrylic tubs will repel any mildew or general bathroom stains. Overall, it is another strong and also very common choice, especially in new constructions today.
Lastly, fiberglass is another material worth mentioning. The benefit of fiberglass is that it is a very affordable choice. However, over time it can become brittle and has a good chance of cracking. This also means that it cannot hold as much weight as the other two options. However, a fiberglass tub is still a very reasonable choice.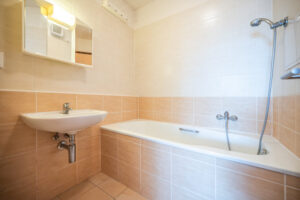 Your Bathtub Type Affects Your Safety
The type of bathtub that you choose does have a possibility of affecting your safety. Make sure that you consult with a professional general contractor when choosing a new bathtub, or examining the soundness of an existing tub. Overall, you are going to be safest in a tub that is not only correctly chosen for your space but is installed and sealed properly. If it was approved and installed by a professional, you should be good to go!
When Does the Bathtub Weight Limit Matter?
Weight limit matters. This is especially true when you are either building a new home, replacing a tub, or adding an additional bathroom to your house. If you are installing a tub on a second-story, it is important for a general contractor to know that the tub will safely be able to be installed. They must take into account its actual weight, the weight it will be when filled to capacity, and the weight that the tub itself can withstand holding. Though the bathtub weight limit does matter, most of the time, you will be completely safe. You can go and enjoy your bathtub worry-free!
Related Questions
How Do You Fix a Leaky Bathtub?
Fixing a leaky tub should be done by a professional. Cracks and improper seals on bathtubs can cause permanent damage to a home. Additionally, they can cause the bathroom to harbor mold, mildew, and rust. Make sure to reach out to a plumber or contractor. These professionals will be able to accurately assess the situation, and re-seal or repair your tub before it is too late.
Should I Fill My Bathtub All the Way Up?
There is no reason not to fill your bathtub up high for a nice, long soak in the tub! Bathtubs are created to hold and sustain a certain amount of water, so you shouldn't worry. However, it is important not to fill your tub up so high that when you get in, water will splash out of the tub. Doing this repeatedly could cause damage to your bathroom floor. Therefore, it could erode the seal on your bathtub over time.