Are you aware that every bathroom requires excellent ventilation? That with improper ventilation comes mold and stuffy air? Even with this in mind, sometimes it becomes difficult if not impossible to vent a bathroom if you don't have outside access.
So, how do you vent a bathroom with no outside access?
The easiest way to vent such a bathroom is by installing a ceiling vent. There are, however, other options you can consider as well.
In this article, we will help you learn all about them, but before that, let's go through the reasons you might need to up your bathroom's ventilation.
Common Signs that Your Bathroom Requires More Ventilation
Extra moisture
Most bathrooms have showers, sinks, and tubs. This means that if your bathroom is poorly ventilated, it'll have lingering moisture even if you don't use it frequently.
Mold
According to dwellingexpertise.com This is the most common problem in poorly ventilated bathrooms. Since moisture gets trapped in such bathrooms longer, it encourages mold and mildew to grow on the walls and tiling.
Having mold in your bathroom is quite dangerous as it causes many allergic reactions and respiratory diseases.
Stuffiness
Ever been in a poorly ventilated room? Did you notice how stuffy it was? Imagine how it would be in a bathroom. Too stuffy and uncomfortable, right?
Stains on the Ceiling
If you notice stains on your wall or ceiling, you lack proper ventilation. It means that have too much moisture in the house caused by the moist bathroom air.
Lingering Smells
If your use a combined toilet and shower, excellent ventilation should be your first consideration. Just imagine a situation where someone has used the toilet, and you want to take a shower after a few minutes. Can you withstand the smell?
If the bathroom cum toilet is poorly ventilated, smells from the toilet tend to linger for a long time. Don't be surprised to find the bathroom smelly even after 30 minutes or more.

How to Vent Your Bathroom with no Outside Access
As earlier mentioned, installing a bathroom fan with no outside access is a daunting task. You'll require an HVAC contractor's help for some of the mentioned installation processes. So, if you are thinking of installing a bathroom fan, we recommend that you look online for the Best Bathroom Extractor Fans.
Vent beneath the floor
If your bathroom is situated away from your exterior wall, venting through the roof is impossible. This is usually a common issue in bathrooms located under a stairway.
Get your HVAC contractor and ask them whether to extend a bath fan through the floor. The plumbing vent runs between the floor joints and out via the exterior wall in such a situation.
Add a ceiling vent
A ceiling vent is a great way to move moisture and steam from your bathroom through the roof. It'll not only help you keep your bathroom looking great but also help to reduce the moisture levels.
Another advantage of adding a ceiling vent is that these fixtures come with lights attachments, hence a worthy investment.
Expand your bathroom ducts
If your bathroom has ducts in place already but still doesn't offer enough ventilation, it's high time you added extra vents. These will help increase the airflow inside.
Add a recirculating fan for your half bath
Although a recirculating fan doesn't exhaust the air, it passes it from your bathroom through an air filter and ensures that all odor gets removed.
Therefore, a recirculating fan is an excellent option for half baths since there are no installed showers. This means that the moisture level is minimal.
Install commercial ductwork
If living in a small apartment within a larger building with high ceilings, you'll need to get a contractor to install commercial ductwork to unify the airflow. This will increase your bathrooms' breathability.
Add a fan
If you need extra breathability for a project, add a fan to your bathroom temporarily. This you can do on your own.
Plug the fan in and let it do its job as you work on the project.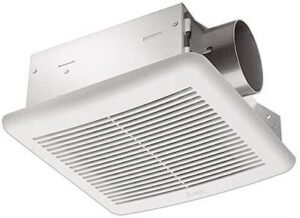 Conclusion
A poorly ventilated bathroom is no one's favorite place. If you have such a bathroom, any of the options listed above will help you solve this issue. Choose one that suits your needs and get yourself a spotless and moisture-free bathroom.