Top Exterior Additions & Home Improvement Projects
Are you considering adding square footage to your home to cater to a changing lifestyle? Or are you perhaps looking for some exterior home improvement projects to increase the resale value of your home? Well with the many different types of exterior additions and home improvement projects that you can do, you may be wondering which ones you should do. So, what are the best exterior additions and home improvement projects? 
Deck Addition
Upgrade Garage Door
Eco-Friendly Home Improvements
Repave Your Driveway
Update the Landscaping
Adding Exterior Lighting
Invest in Home Automation
So, now that you have an idea of some of the top exterior additions and home renovation projects, read on to learn about them in greater detail!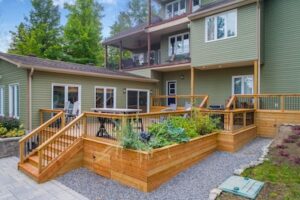 The Benefits of Home Exterior Additions/Improvements
There are plenty of reasons why homeowners might want to renovate their home exterior. Some may want to add more rooms to their home in to accommodate an expanding family. Others might simply want to feel the excitement of having a new project to work on.
Regardless of your reasons for adding or renovating your home exterior, one thing is clear: those who do can expect to reap some great benefits once the work is complete.
Exterior home improvements help boost the property value and will be an advantage to those who think of putting their home on the market in the future

Useful additions and improvements can make long-term maintenance easier

Big energy savings for those who choose such types of improvements and additions

New installations and improvements can increase the property's aesthetic and curb appeal
 That said, the kind of benefit you will get at the end of the project will depend on what kind of changes you want to work on.
 Here are some of the best home exterior additions and improvements that are worth the time, money, and effort.
1. Deck Addition
Do you wish you had a more cozy outdoor space for hosting parties with family and friends? If you're someone who loves having people at home, adding a beautiful outdoor deck or patio will certainly be an added value to your home.
A deck addition is one of the most popular home exterior projects among homeowners. It's a great way to transform all that extra outdoor space into an additional livable area for eating, cooking, relaxing, and getting together with the whole family.
One important thing to consider when installing an additional deck is the material. Your deck will be constantly exposed to the elements. This makes it very vulnerable to wear and tear. If you want your new deck to last with minimal maintenance and repairs needed, consider sourcing durable, quality deck boards like Trex-Select Decks and other solid deck board options.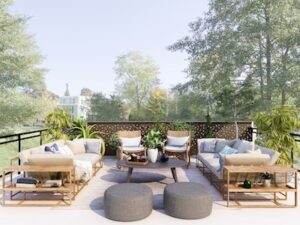 2. Upgrade your Garage Door
Your garage door is one of the most visible parts of your home exterior. Replacing it is therefore a good opportunity for an upgrade.
Aside from being the most front-facing area of the house, the garage door is also often the most utilized so it's no surprise that it will start to show signs of malfunction after some decades of continued use.
If you have the budget for it, a new one will be a good investment. But if your garage door is relatively new and only experiencing minor issues, restoring it to its former glory will be a worthwhile undertaking.
Just a word of caution: if you have no prior experience with successful repairs, it's better to ask a professional to do it for you. Garage door injuries are responsible for approximately 20,000 emergency room visits per year so it's better to err on the side of caution.
However, if you're an experienced repairman who knows your way around your toolkit, it's definitely worth the hassle. Start shopping for a handy set of hand tools, reamers, clamps, and other equipment, and get your sleeves rolling for your next exciting home project.
3. Consider Eco-Friendly Home Improvements
If your goal is to save money and promote healthy living for the family, consider going green on your next home improvement project. These environmentally-friendly, sustainable home solutions will not only help you utilize energy more efficiently but also help preserve the planet.
There are many changes you can do to your home to make it more sustainable. Here are some examples.
Switching to a tankless water heater so you don't have to continually heat water when it's not in use

Switching to bamboo flooring which is more durable and resistant to wear

Installing solar roof panels. Many households in countries like the US get rebates and other incentives for switching to solar power.

Installing energy-efficient, dual-paned windows for their better thermal properties

Repainting your property with low-VOC paint
 Do your research first and see which projects you can do with the budget you have.
4. Repave Your Driveway
If you want to give your home a great facelift that does not include serious trips to the hardware store, consider a driveway redo. The investment required might be a little expensive but it requires minimal effort on your part and the result is a serious boost to your curb appeal.
Your most important consideration when considering a driveway redo will be your choice of contractor. Be sure to work with one who has the experience and the references to back it up. A great paving contractor will help you accomplish your paving project with the least amount of hassle on your end.
5. Update the Landscaping
Those who are looking to increase their property's resale value can benefit from investing in their landscaping. 
As much as possible, you want to give your potential buyers a good first impression. An updated, well-maintained environment around the home is a good way to catch their attention. It also sends the message that the homeowners are diligent in the home's upkeep which is a good sign for wary homebuyers.
You can expect to net a 215 percent return on investment on your updated landscaping and lawn care.
6. Adding Exterior Lighting
The strategic use of outdoor lights can really make a difference in how your home looks. But it's not just all about aesthetics. Incorporating the right lighting fixture helps improves convenience and upgrade your home's security at the same time.
Exterior lights can be added to your patio, providing ambient light for cozy nocturnal conversations and intimate parties with your closest friends. They can also be added around the yard to illuminate pathways. You can use it to illuminate the area around your pool. And the right fixtures will be a perfect addition to highlight your garden at night.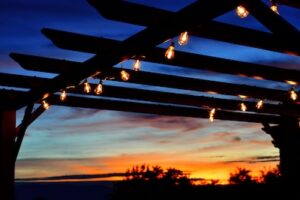 7. Invest in Home Automation
Having an advanced home network might not be necessary but it certainly stands out if you're looking to impress a buyer.
Smart home systems are getting a lot of attention these days as more homeowners get more acquainted with the benefits of technology-controlled spaces.
The most in-demand features of a smart home environment include the following.
Ask a professional about what kind of options are available for your more specific needs.
Bottom Line
As you can see on this list, figuring out the right home improvement project for you depends on what your goals are and what you expect to achieve at the end of the process. Some homeowners simply want to beautify their homes while others might want to do so because they're looking to get money out of a resale. No matter the reasons, it's important to do thorough research and consult with an expert to determine the best options for you.