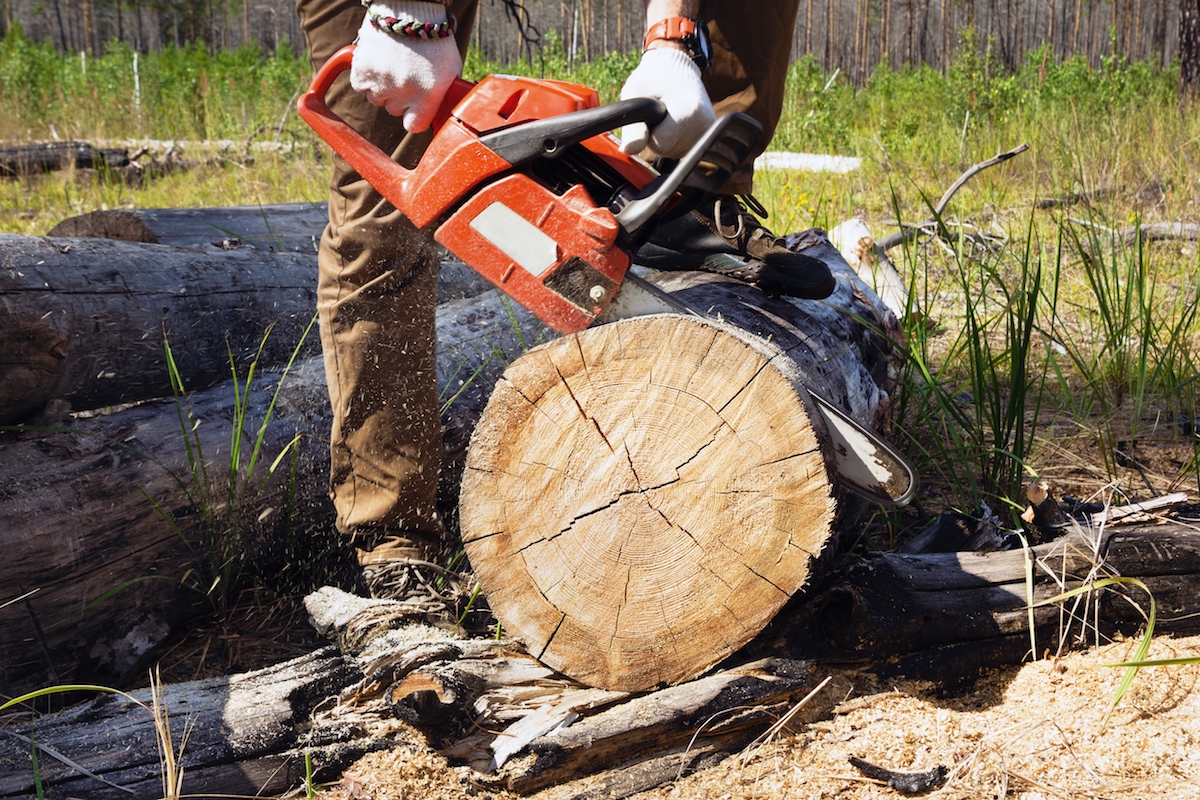 30 Dec

Top 5 Cordless Chainsaws for Trimming 2022

For quicker, quieter, and less tiring garden cleanup, many homeowners are using battery-powered chainsaws. Unlike their gas-engine counterparts, these motors don't require fuel or worry about the chemical degradation of fuel over time. Swapping out the battery from another machine is all it takes to remove a fallen limb or put down a small tree. When it comes to power, the many cordless chainsaws compare favorably with gas-engine saws.
Cordless Chainsaw
The battery isn't the only important part of the saw's electrical system. The battery turns on the motor and the motor drives the saw's moving components, particularly the chain that spins around the bar. An electric motor is as efficient as a gas-powered one, which means the battery will provide equal power before it needs to be recharged.
Picking Your Saw
There are three different uses for a chainsaw like your professional series, mid-series, and light-duty saws. Decide what you will be using your saw for and how often will it be used.
Professional Duty Saw
The price of this saw ranges from $300 to $400. A six-inch-diameter hardwood log may be cut as many as 100 times (or more) by one of the professional saws.
Mid Duty Saw
This saw costs about $250. These mid-duty saws cannot cut as much as a professional. They are not quite as good as our top picks. These types of saws will make 40 or 50 cuts.
Light Duty Saw
A simple, inexpensive tree limb trimming saw will cost you anything from $150 to $200. This saw is intended and priced to cut down a fallen tree limb only on occasion.
When deciding the type of saw that is right for you, consider what you need a chainsaw to do and how often you'll use it. Factors like power and battery life should determine your decision. The more powerful the motor, the heavier duty it can be used for – but this also increases the price. Battery life is also a big concern for many purchasers; the more you pay, the longer it'll last.
Below Is Our List of the Top Chainsaws for Trimming Bigger Branches:
We are taking our Lithium-Ion technology to the next level and giving you the gas comparable alternative chainsaw solution you have been looking for with up to 30% more torque and up to 70% less vibration than gas powered chainsaws. Greenworks new G-MAX 16-inch DigiPro chainsaw is powered with our innovative brushless technology allowing for longer life, greater efficiency and less noise with more torque making this the first battery powered chainsaw that can replace your gas. The perfect chainsaw for users of all experience, whether it is your first time or a veteran this chainsaw features a heavy duty Oregon bar and chain, .0375 chain pitch, chain brake, metal bucking spikes and an automatic oiler to make this easy to use while providing the high performance needed to get your yard work done quickly and efficiently. Once you have tried our new DigiPro chainsaw you will not want to go back to mixing gas and oil. Our new DigiPro brushless system will offer gas comparable performance lawn tools for the serious lawn care enthusiast. We are taking our Lithium-Ion technology to the next level and giving you the gas comparable alternative chainsaw solution you have been looking for. Make your life easier with this cordless Greenworks DigiPro G-MAX 16-inch chainsaw. The innovative brushless motor technology provides up to 80% longer life and up to 30% more torque, it also creates less noise and lower vibration for user comfort making this the first battery powered chainsaw that can replace your old gas chainsaw. This is the perfect chainsaw for users of all experience, whether it is your first time or a veteran, you can get started within seconds compared to the hard to manage pull cords, the mixing of oil and gas, the fumes and the mess.
Review:
Powerful for an electric, well balanced, well designed bar and aggressive chain. A pleasure to work with and a well designed tool.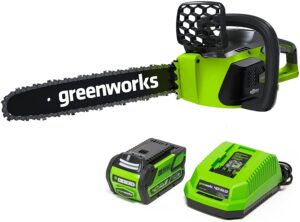 This Cordless Chainsaw Kit adds versatility to your battery system. Gas-free operation eliminates the cold starts, fumes, carburetor issues, and maintenance involved with gas-powered chainsaws. Use it to cut beams, do demolition work, and manage tree limbs. This battery operated chainsaw is built to handle tough construction and outdoor work. The lightweight design maximizes user control. Its brushless motor technology delivers extreme runtime and long motor life. Kit includes a 5.0Ah 20V MAX* battery, charger, and a hard bar cover.
Review:
I have had this chainsaw for a few months now and like other reviewers and very surprised by the power this unit has. I had a tree come down on my backyard fence and this cut the tree right up. No, it's not as powerful as my gas saw (which is not working), but this does what I need it to do (clean up brush and small trees) very well. Battery lasts longer than I thought it would and charges fairly quickly. I also love the DEWALT 20v XR line of tools – I currently have 4 tools in this line and love them all so far. My one and only complaint with this saw is that it seems to leak some bar and chain oil if you let it sit more than a few days – I set the saw on a couple of rags which does the trick.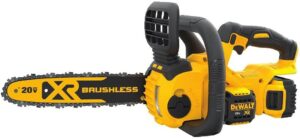 Introducing the all new EGO POWER+ 18″ Chain Saw. Everything on this saw screams innovation and power. The reimagined chain tensioning system tightens your chain with the twist of a dial, no need to take anything apart to get your chain set properly. An aggressive 18″ bar and chain for taking down large branches, stumps and tall trees. The bright LED headlights illuminate your cut when you are cutting at dusk or in an emergency and there is no access to lights. The advanced EGO POWER+ 56-Volt battery uses industry-leading Arc-Lithium technology to deliver Power Beyond Belief and is compatible with all EGO POWER+ products. The EGO POWER+ Chain Saw delivers the performance of gas without the noise, fuss and fumes.
Review:
A storm knocked down an eighty foot tall pine tree on my property. I was able to cut through 16 in diameter sections of the tree quickly and with ease. The auto tensioner on the chain works great. It has all them orders ways of preventing an accidental start of the chainsaw but I still recommend removing the battery during transport. This tool is no joke it will get any chainsaw task around your home done.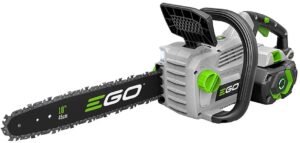 Landscapers and contractors are demanding more cordless alternatives to gas-powered outdoor power equipment. Makita is meeting demand with an expanding line of cordless OPE, including the 18V X2 LXT (36V) Brushless 16" Chain Saw (XCU04PT1). With zero emissions, lower noise, and considerably less maintenance, the XCU04PT1 is a welcome solution for cutting and trimming applications. It's powered by two 18V LXT Batteries for maximum power, speed and run-time, but without leaving the strongly-preferred 18V battery platform. And with the efficient Makita outer rotor brushless motor with direct drive system, users get high power efficiency that is equivalent to a gas chain saw. The XCU04PT1 has a 16" guide bar and the Makita-built Outer Rotor BL Brushless Motor direct drive system motor with variable speed delivers 0-3, 940 FPM for increased cutting speed. It has zero emissions and reduced maintenance: there's no engine oil to change, no spark plug to replace, and no air filter or muffler to clean. And there's no need to drain the fuel for storage. Simply pick it up, load two 18V LXT Lithium-Ion batteries, and the saw is ready to use. Convenience features include a tool-less chain adjustments, a front hand guard engineered to actuate chain brake when engaged, an electric brake for maximum productivity, and more. It's part of Makita's expanding 18V LXT System, the world's largest cordless tool system powered by 18V lithium-ion slide-style batteries. Makita 18V LXT Lithium-Ion Batteries have the fastest charge times in their categories, so they spend more time working and less time sitting on the charger.
Review:
Super duper. No cranking. I cut trees that is up to 8″ diam no problem. Provided that your chain is sharp and you don't lean heavy on your chainsaw. This chainsaw is smart enough to stop if you overload it. Surprisingly good for about 30 cut of about 8″ diameter of green wet wood. Fast 45 minutes charge. You can take cut wood out of the way by the time it charges again. Very safe to use too. I am impress. No more carb worries. Would cut construction beam, joist and plywood no problem if an electrical source is available to charge batteries.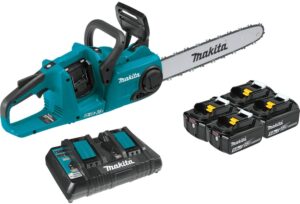 Looking for the perfect cordless chainsaw? The Husqvarna 120i is a lightweight, easy-to-use battery saw that's ideal for pruning branches and felling small trees. The intuitive keypad makes getting starting a breeze, while an inertia chain brake promises problem-free handling. The power-conserving savE mode ensures you won't run out of battery, and low noise levels let you work without disturbing the neighbors.
Review:
Cuts great just love that it starts at the push of a button. I'm going to retire my old gas powered Husqvarna rancher 55. Sure nice to use weight is just right and no more problems with stale gas. Be sure to store longtime with the battery at 40-50% so the battery is not stressed. All in all I'm very happy with the 120i 40v.