Regardless of where you live, water damage poses a significant threat to the condition of your home or office. Whether from a natural disaster such as a flood or storm damage or a simple maintenance issue such as a leaking pipe, water damage can severely damage your drywall in a matter of hours. As you can imagine, this creates quite a mess and often requires a significant investment to repair. Fortunately, there are ways to waterproof your drywall to minimize the possibility of this type of damage.
How do you waterproof drywall? There are several ways to waterproof your drywall. However, the most cost-effective and time-efficient way to waterproof your drywall is to paint the surface using a waterproofing primer. This method is recommended for drywall in any area that could be exposed to leaks or water damage of any kind, specifically bathrooms, laundry rooms, basements, and kitchens.
So, is waterproofing your drywall necessary? Are there alternatives to using a waterproofing primer? In this post, we will share everything you need to know about waterproofing drywall including why you should consider this extra step, various methods, and much more.
The Ultimate Guide to Waterproofing Drywall
Many of us have not considered aspects of property ownership such as whether or not to waterproof drywall. Whether you are building a new home, renovating your existing home, or simply looking to improve the water-resistance of your current abode, we are here to help! A good resource can also be your local construction contractor or local architect.
What is Drywall Used For?
Drywall is an inexpensive construction material that is used by most residential construction companies to create the interior of your home. It often covers the beams and insulation that form the shape of the house to provide an easy-to-paint surface. Drywall is relatively easy to install and repair, making it a popular choice for homes in every region.
In place of drywall, some homeowners choose to invest in plaster or wood to create their walls and ceilings, although this is a much more expensive option than drywall. Drywall is made using a mix of gypsum, paper, clay, mica, and resin. Because of this, it is not very resistant to water damage unless it is properly treated.
Reasons to Waterproof Drywall
So, why should you consider waterproofing your drywall? Since drywall is relatively easy to replace, is it worth the added investment of your time and resources? We believe there are several important reasons why all homeowners should consider waterproofing their drywall, especially in areas of the home that are exposed to excess moisture.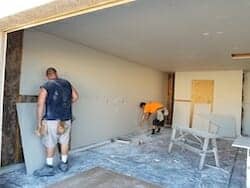 Prevent Mold & Mildew in Damp Areas
The primary reason why homeowners should consider waterproofing their drywall is to prevent mold and mildew in damp areas. Unfortunately, the damage caused by mold or mildew is often hard to notice until it is too late. For some people, the presence of mold in the home can pose a serious health risk!
By waterproofing your drywall in areas such as the bathroom, kitchen, basement, and laundry room, you minimize the possibility of mold or mildew damage due to moisture or water damage.
Save Money on Pretreated Drywall
One reason why homeowners are hesitant to waterproof their drywall is that it essentially adds another step to the process of completing their process. A popular alternative to waterproofing your drywall yourself is to simply pay for pre-treated drywall. However, this is quite expensive and often does not offer the same level of protection.
For just a few extra hours of manual labor, you can save potentially hundreds of dollars that would be spent on pretreated drywall while achieving the high level of protection your family deserves.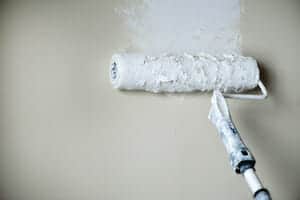 Drywall Waterproofing Methods
Fortunately, waterproofing drywall is a DIY task so simple that you could successfully complete it with little to no experience or you could call on a professional painting company to do the work. In this section, we will walk you through the common steps associated with this task. It is important, however, to consult the packaging for the waterproofing primer you use to ensure their methods follow a similar procedure.
Apply a Waterproofing Primer
The best way to waterproof your drywall is to use a waterproofing primer. You can find both oil- and latex-based waterproofing primers made by most paint manufacturers. These products are created specifically to prevent mold and mildew on the surface to which they are applied.
Oftentimes, drywall will be quite dusty following a home renovation project. The first step to waterproofing your drywall is to clean it using a wet dry vac or microfiber cloth. Do not use water or cleaning agents as these will introduce moisture to the drywall unnecessarily.
Once the drywall is free of dust, apply the primer in a thin, even layer using a roller brush. You may need to use a smaller paintbrush to reach corners, baseboards, or other hard-to-reach areas.
For added protection, select a waterproofing paint to apply over the primer. This will provide a more finished look while adding an extra defense against mold and mildew.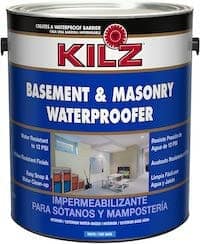 Alternatives to Waterproofing Drywall
While waterproofing your drywall is quite simple, some homeowners may prefer to go another route due to time constraints or other situations. Fortunately, there are other alternatives to waterproofing your drywall using a primer.
Use Water-Resistant Drywall
Many companies offer water-resistant drywall often called blueboard or greenboard because of its color. The water-resistant drywall is significantly more expensive per sheet. However, for smaller areas, the price difference may not make much of an impact.
It is important to note that while water-resistant drywall is better than untreated drywall, it does not offer the mildew resistance that a waterproofing primer will provide. Even if you choose to invest in water-resistant drywall, you may opt for a waterproofing paint to add an increased layer of protection to rooms in your home that are exposed to increased moisture or humidity.
Choose Another Material to Finish Your Home
If you live in an area of high humidity, or one that is prone to flooding, it may be wise to consider a material other than drywall for your home. Drywall is a popular option due to its ease-of-use and low cost, however many other options are available to homeowners today.
Some of the most common alternatives for drywall include the following:
Wood Planks
Plywood
Plastic Panels
Pegboard
Veneer Plaster
Lath and Plaster
Wall Panels
Brick and Masonry
Fiberglass Panels
Concrete Block
The material that you choose to finish your space will depend on the area in which you live and the budget for your project, as well as your personal style. Many of the options listed above such as a Cement Board or wall panels, create a great design statement that eliminates the need for paint, saving both money and time.
Areas to Waterproof Your Drywall
It is likely not necessary to waterproof every area of your home. This would be not only time-consuming but also quite pricey. While there is no harm in doing so, there are some areas of your home that benefit from waterproofing more than others.
In every home, some rooms are exposed to increased moisture, a greater potential for water damage, or even more traffic than others. These rooms often include the basement, laundry room, and bathroom. If there are other rooms in your home that often seem humid, it is wise to waterproof them as well.
Additionally, if you live in an area prone to flooding, you may want to consider waterproofing the drywall on the lower portion of your home or any area that may be exposed to water. If any of your drywall has been exposed to water damage, mold, or mildew, it is wise to waterproof that area upon repair, regardless of its location.
Do You Need to Waterproof Your Drywall?
So, do you need to waterproof your drywall? With so many tasks associated with homeownership, it can be difficult to know what is important. However, due to the high risk of mold or mildew damage, we believe that waterproofing your drywall should be something that every homeowner considers.
An incredibly simple DIY project, waterproofing your drywall requires no more skill than painting a room. You can easily find a waterproofing primer or paint at your local hardware store and complete this project in just a few hours, depending on the size of the area.
If you prefer to delegate this project, many professional painting companies will apply a waterproofing primer to your drywall or use waterproofing paint at your request. Although it may cost an additional fee, it could save you from spending hundreds of dollars repairing and replacing drywall that becomes moldy due to water damage or humidity.
By taking preventive measures, you can maintain the integrity of your drywall and the overall condition of your home or office, ensuring that your valuable office desks and workspace remain free from water-related harm.
Frequently Asked Questions
Can I install drywall by myself?
Many homeowners with a knack for DIY projects are curious about whether or not drywall installation is as simple as it seems. This project requires a few special tools and has a bit of a learning curve. However, handy homeowners should be able to drywall small areas with ease. It is important to note that drywalling is often a two-person task. Be sure to grab a friend before you begin your work!
Is waterproofing paint a certain color?
Do you want to waterproof your drywall while also maintaining your design vision? Do not fear! Most waterproofing paint can be customized to your preferences at your local paint shop. Simply ask for advice regarding the best waterproofing paint to use for your next drywall project.
Why would I waterproof my drywall?
One of the main reasons is to prevent mold and mildew in damp areas of your home.