Luckily, the average homeowner does not interact with a roofing company on a regular basis. A well-installed and carefully maintained roof usually lasts over 20 years. However, when the time comes for a roofing inspection, we find ourselves completely unfamiliar with the situation! 
Do roofers need to come inside? Any professional roofing company with an emphasis on quality services will need to come inside to perform a complete roof inspection. Without inspecting the interior of your roof, you could miss critical warning signs of water leaks and damage. However, once the inspection is complete, it is unlikely that the roofers will need access to the interior of your home during the repair or replacement process.
It may seem like an added frustration to make sure you are at home during your roofing inspection. However, this attention to detail could end up saving thousands of dollars. Keep reading to learn more about why it is important to conduct an inspection of the interior of your roof. We will also share some of the things you can do to prepare your home for the roofers' arrival.
Should Roofers Come Inside During a Roof Inspection?
Roof inspections are one of the many home maintenance services that homeowners tend to forget about. Routine roofing inspections done by professional roofing contractors are the best (and only) way to spot the earliest signs of roof damage.
When contacting a roofing company regarding an upcoming inspection, you should always ask if they include an interior inspection with their services. Many subpar roofing companies today will advertise contact-free roofing inspections. While this type of inspection certainly has its place, it is not always the best option! 
To make sure you are getting the most benefit from your roof inspection, only hire a roofing company that provides a thorough inspection of your roof. This will always include the inside of your home. 
During the interior portion of a roof inspection, a professional roofer will look for signs of water leaks, water damage, or other signs of concern. Their focus will be primarily focused on your attic as this is where many early signs of roofing damage become apparent. If your home does not have an attic, the roofer will often inspect the ceilings of the upper floor of your home instead.
Unless you are facing extenuating circumstances that do not accommodate for an interior inspection, it is crucial to only begin work on your roof once a thorough inspection is completed.
How Long Does a Roof Inspection Take?
A thorough roofing inspection does not take long! Roofing experts know exactly what to look for when determining if it's time for a new roof. For an average-sized, single-family home, a complete roof inspection should take around 45-60 minutes. Once the inspection is done, the roofing professional will provide you with an estimate for your repairs or roof replacement. It is important that you receive this estimate in person as you will be able to ask any clarifying questions during this time. 
It is also wise to ask your inspector to take you around the home to point out the signs of roof damage that they notice on your roof.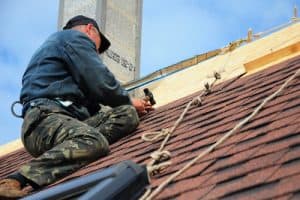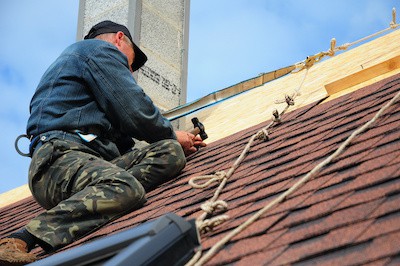 Can I Stay At Home While My Roof is Replaced?
Many homeowners are curious about the logistics of roof repairs or a total roof replacement. In the majority of situations, you are able to stay in your home during your roofing project. However, it is important to note that a roof replacement will make quite a bit of noise! It is crucial that you prepare accordingly to prevent any surprises throughout the roofing project.
Staying At Home While Your Roof is Replaced
Preparing yourself and your family members for your roofing project is the best way to ensure a smooth process for everyone involved. Here are some of the things to keep in mind if you are planning to stay at home while your roof is being replaced or repaired.
Prepare for Lots of Noise
Any home repair project comes with a bit of noise. However, the combination of many adults walking on your roof paired with nail guns and other electric tools create quite a ruckus. If you have small children that need to nap or family members that are especially sensitive to loud noises, it may be best to take a day trip while your roofers are working on the home.
It is also wise to consider relocating for a few days if you work from your home. In most cases, roofers will be on your roof during working hours. This may create a distraction or disturbance while you are trying to concentrate.
Keep Your Children Inside
Another thing to keep in mind as you approach your upcoming roofing project is that you will need to keep your children inside while the roofers are present. While repairing or replacing your roof, materials will be falling and creating great potential for injury.  
Keeping your children inside not only protects them from harm, but it also allows your roofing team to work efficiently. Because of this, they will be able to complete your roofing project in a timely manner.
For this reason, many families choose to schedule their roofing projects when they are out of town.
Take Care of Your Pets
For the safety of your pets and everyone involved, it is important to consider your pets' needs during your roofing project. Even the calmest family pet can become aggravated due to the loud noises created on the roof. It is wise to make arrangements for your pet to spend the day elsewhere to eliminate any potential distress.
How Long Does It Take to Replace a Roof?
Roofing depends greatly on weather conditions. However, as long as the weather cooperates, a single-family home can be reroofed in two to three days. The exception to this timeline is large homes or extreme repairs. However, you can expect your project to be fully completed in under one week. 
Your roofing company will be able to provide you with a more detailed timeline of how long it will take to replace your roof during the inspection process.
Roofing Situations That May Require Interior Access
In most cases, the roofers will only need to access the interior of your home during the inspection process. There are, however, a few situations that may require them to need interior access while working on your roof repairs.
Skylight Installation

– If you are

installing a skylight

as a part of your roofing project, the roofing company will need to access the interior of your home.

Repairing Roof Leaks – If your roofing project centers around repairing roof leaks, it may be necessary for the roofers to work on the interior of your home for a portion of the project. They may utilize a roofing cement or new shingles for the repairs.
Access to Electrical Panel in Older Homes – If you reside in an older home with less reliable power, your team of roofers will often ask for access to your electrical panel in case a breaker is tripped while they are working.
How to Prepare for Roofing Repairs or Replacement
Preparing your home for your upcoming roofing project will eliminate any additional fees or charges. Here are a few of the things that you should do before your roofing team arrives.
Move Your Vehicles
During your roofing project, building materials and tools will be moved about constantly. Additionally, your roofing team will need easy access to their vehicles and supplies. Because of this, it is best if you move your vehicles to another location during your roofing project.
If you need to leave your home
during any part of the project, it is wise to keep your vehicle out of the garage. We recommend parking any of your vehicles on the street in front of your home, or in your neighbor's driveway, anytime the roofers are present. This will protect your vehicles. But, more importantly, it will allow your roofers to work without having to worry about the location of your car.
Take Any Home Decor Off the Walls
With all the movement on the roof of your home, there is bound to be some shaking. If you have important or delicate items on your walls, it is best to remove them before the roofers arrive. We advise removing any piece of home decor or shelving that is not thoroughly secured to the wall.
Cover Personal Belongings
Roofing is a messy project. It is best to cover any personal belongings in your attic with a tarp to prevent excess mess. The same goes for any items on your patio or deck. It is best to cover (or move) your grill, patio furniture, and any yard toys. This will eliminate the need for excessive cleaning once the roofing project is complete.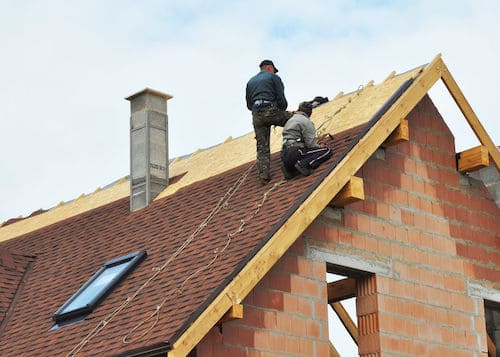 Alert Your Neighbors
Before your roofing repairs or replacement begins, make sure to alert your neighbors. Roofing is not only a messy job but also a loud one. It is best to let your neighbors know so that they can make other accommodations for their family if necessary.
Working with a Professional Roofing Company
Working with a professional roofing company is the best way to ensure that your roof will last long into the future. An experienced roofer will recognize the importance of interior roof inspections. Additionally, they will be able to provide you with the latest in roofing trends as you consider an upcoming roofing project.
Thank you for reading! You can find more roofing maintenance and repair tips here.