Top 9 Curtain Ideas to Add Privacy and Elegance to Your Bedrooms
Window curtains are one of the crucial elements of every space, particularly bedrooms. They make your living spaces complete by adding a touch of elegance and privacy. Speaking of curtains, there are so many options available, offering partial to complete privacy. Choosing the right fabric and curtain style can enhance your bedroom's overall look and provide you with peace of mind. Wall Curtains has got you some of the trendiest curtain ideas for bedrooms that effectively serve the purposes of the aesthetic enhancement and privacy protection.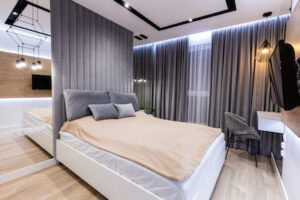 1. Add Life to a Plain Room with Patterned Curtains
Some bedrooms have simple and classic decor. Installing patterned curtains in such interiors will boost the beauty of the windows efficiently. Most particularly, it's important to add attractive patterned window coverings to your bedroom if the whole design looks very plain and basic. Picking such curtains ensures that there is no compromise on privacy protection in your living space, due to the intricate design details.
2. Add Complete Privacy in Your Place With Blackout Curtains
If enabling complete privacy in your bedroom is your concern, curtains with blackout lining are the best option. You should get the curtains made of heavy materials and blackout lining to completely block the view from outside. They are available in stylish designs which will boost the interior beauty of your bedroom. These curtains effectively block the light and view from outside, creating a pleasant and private atmosphere in your bedroom.
3. Pair Your Curtains with Blinds for Added Coverage
Pairing bedroom curtains with classic blinds can never be outdated. These two window treatments are used together to add style and functionality to a place. You can close the curtains in the daytime to enable mild privacy. And close the blinds at night to add complete privacy to your bedroom.
4. Make Your Room Stylish with Creative TieBacks to Hold Your Curtains
Usually, bedroom curtains are opened in the daytime to allow natural light to enter. Adding curtain tiebacks is an amazing idea to make your windows look presentable when opened. You can use tie-backs to hold your curtains back, creating an elegant look with curtain fabric folds. You can open the ties to close curtains and enable privacy in your room. It will enhance the beauty of the curtains when opened.
5. Match Your Curtains with the Colors of Your Walls
Consider choosing the right color of curtains before buying one. You need to buy curtains that look great with your existing decor. Matching curtains with wall paint is a tried and tested idea that makes your bedroom look adorable. Don't forget to make your cushions and pillows the same color as the curtains.
For example, if you have blue walls in your bedroom, buying blue curtains will create a sophisticated look. Such solid-colored curtains will be the perfect addition for privacy maintenance too. If you have light-colored walls, consider getting thick curtains for sufficient privacy.
6. Get an Extra Large Bedroom Curtain For Beautiful Decor
Curtains are usually hung to extend 2 inches past the window frame. You can think out of the box and buy longer curtains than your window frame. Hanging such extra-sized curtains will make your smaller bedroom look bigger. These curtains are perfect for blocking the view from outside, as well. More curtain fabric means more folds, which will enable plenty of privacy in your bedroom.
7. Go For Stylish Eco-Friendly Curtains
There are hundreds of curtain solutions made of synthetic materials. Such fabrics cause harm to the environment and also to the air quality of your bedroom. You need to buy eco-friendly curtains which do not trap allergens or dust mites and create a healthy environment in your place. There are many stylish window coverings that look stunning with all decor styles. Some trendy curtain options that provide sufficient privacy include cotton, silk, polyester, and velvet curtains, which are great at maintaining privacy, as well.
8. Optimize Window Space by Hanging Bedroom Curtains Higher Than the Window
This curtain idea is specifically best for huge bedrooms. Hanging curtains above the window frame will give a complete and attractive look to your large bedroom. You can also hang the curtains higher than the windows and close to the ceiling to make your smaller room seem spacious. Having such long curtains will ensure better coverage and hence improved privacy in your bedroom.
9. Create a Unique Style by Layering Fabrics for Bedroom Curtains
If you are confused about choosing one fabric to hang on your windows, why not hang two? It is possible with the help of a double curtain rod, which makes it easier to hang two curtain fabrics on one winch. Such layered curtains add a very stylish look to your windows. Make sure to choose one fabric in dark color to not compromise the privacy of your bedroom.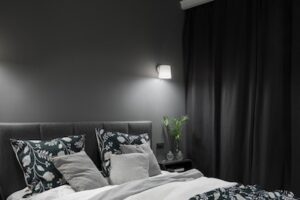 FAQs
How do I choose the right curtain length for my bedroom?
When selecting curtain length, consider the height of your ceilings and the overall style you want to achieve. Floor-to-ceiling curtains create a more dramatic effect, while curtains that hang just above the window sill provide a more casual look. Measure from the curtain rod to the desired length and add a few extra inches for a graceful drape.
Can I mix different curtain styles in my bedroom?
Yes, mixing different curtain styles can add visual interest and create a unique look in your bedroom. Just ensure that the styles complement each other and the overall decor of the room. For example, you can pair sheer curtains with blackout curtains for both privacy and light control.
How can I make my small bedroom appear larger with curtains?
To make a small bedroom appear larger, choose curtains in light colors and lightweight fabrics. Opt for floor-to-ceiling curtains to create the illusion of height and draw the eyes upward. Avoid heavy or dark-colored curtains as they can make the room feel smaller.
What type of curtain rods should I use for heavy curtains?
For heavy curtains, it's essential to choose sturdy and durable curtain rods that can support the weight. Look for rods made of materials like metal or wood, as they offer better stability. Consider using double rods or center support brackets to provide extra support in the middle of long curtain spans.
How do I clean and maintain my curtains?
The cleaning method for curtains depends on the fabric. Most curtains can be either machine-washed or dry-cleaned. Always check the care instructions on the label before cleaning. To maintain the curtains' appearance, regularly vacuum or dust them to remove any accumulated dirt or dust. Spot-clean any stains promptly to prevent them from setting.
Can curtains help with energy efficiency in the bedroom?
Yes, curtains can contribute to energy efficiency in the bedroom. Thick, well-insulated energy efficient curtains can help block drafts and prevent heat loss during colder months. During the summer, curtains with light-blocking features can help reduce the amount of heat entering the room, keeping it cooler and more comfortable.
In Closing
Curtains are not just practical window coverings; they are also an essential element in creating privacy and elegance in your bedroom. By choosing the right curtain ideas that suit your style and needs, you can transform your bedroom into a serene sanctuary. Make sure to use durable curtain accessories for functional and long-lasting treatments. You can also hang or style curtains in your bedroom by yourself. But if you don't have any experience, hiring a professional for the job will be a smart choice. Consider the tips and ideas mentioned in this article to find the perfect curtain ideas that enhance the privacy and elegance of your bedroom.