What's The Cost of Remodeling A Mobile Home Bathroom?
A mobile home bathroom remodel is a great way to improve the look and feel of your space. For many, remodeling can mean new beginnings and offer them a cleaner and more modern space that feels more personalized to their style. However, creating your own dream space does come with a price tag. So, what is the cost of remodeling a mobile home bathroom?
Depending on the size of your mobile home and the complexity of the project, remodeling a mobile home bathroom can range from $2,000 to upwards of $10,000 or more. The final price tag on the project has several factors of course, such as the materials you use, how much of your remodel is DIYed, and several other things as well.
So, now that you have a general idea of how much it costs to remodel a mobile home bathroom, let's take a closer look at all of the factors that will affect the price of your mobile home remodel and more!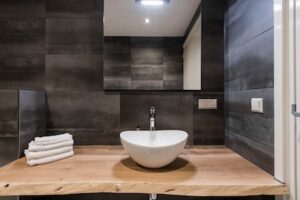 Material Costs
When it comes to materials, several things can affect the overall cost of your bathroom remodel. If you're looking to keep costs down, opt for lower-cost materials. But if you want a luxurious feel to your space, then higher-end materials can easily increase costs considerably. For instance, opting for marble countertops or luxury tile flooring can significantly raise the price tag of your remodel. If you're looking for a low-cost option, on the other hand, you might opt for laminate flooring or basic tile in your renovated mobile home bathroom. Additionally, fixtures like sinks, toilets, and tubs add up quickly as well – with prices usually ranging from $100-$1,000 depending on what type of fixtures you choose.
Cheaper Renovating Options
When it comes to remodeling your mobile home bathroom, there are a few cheaper options to consider. One is to reuse your cabinets and fixtures. Adding a new coat of paint or swapping out hardware, light fixtures, or faucets can give a completely different look to your space without breaking the bank! Another option is to consider resurfacing services. With a simple bathroom countertop resurfacing, you can give your bathroom a brand new look by repairing any damages or imperfections on your current countertop and negating the need to buy and install a new one! Shopping around for materials and fixtures at different stores is another way to get better deals and save money. Additionally, if you're able to find second-hand fixtures (like sinks or toilets) at local thrift stores or yard sales, this could help reduce costs as well.
Taking on Your Own Project
It's also important to factor in whether or not you'll be doing any of the work yourself when estimating the total cost of a mobile home bathroom remodel. Doing the labor yourself can help to reduce costs – as you won't have to pay for the labor itself. However, if you're not comfortable with tackling some of the more difficult tasks such as plumbing or electrical work, then it might be smart to hire a professional contractor to take care of those aspects of your renovation. This is an extremely important part of your remodeling process to consider, as faulty plumbing or wiring can lead to damage down the road, such as mold, leaks, water damage, or even electrical fires. This is why it is important to feel confident and educated in each task you play to do yourself before completing it in your own home.
DIY vs. Professional Work
When it comes to the actual renovation of your mobile home bathroom, depending on your skill level and willingness to complete some or all of the work yourself, you can save a considerable amount. For instance, if you're comfortable with doing basic plumbing and tiling yourself (or with a friend who is knowledgeable in these areas) then you can cut down costs significantly by completing these tasks yourselves as opposed to paying for professional help. On the other hand, if you are not very confident or don't feel comfortable taking on any of the remodeling work yourself, then it might be best to hire professionals for projects like resurfacing services or anything that requires electrical wiring.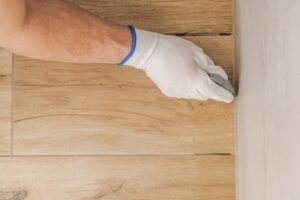 Unexpected Costs
When considering how much it costs to remodel a mobile home bathroom, keep in mind that there are often hidden expenses and unforeseen costs associated with any DIY project. For example, you may find that the wallboard that you purchased is too thin for its intended purpose or that the tile installation doesn't look quite right after all. In these cases, it's important to have extra materials on hand in case you need to make adjustments or repairs.
You might even find a leak or mold while removing walls and fixtures. These issues can be serious if they are not caught early on and can cause unexpected costs for many renovators. If something like this is to happen during your remodel, it is best to contact a professional to properly solve the issue, as leaving water damage unaddressed can lead to severe issues within the rest of your home down the road.
Budgeting for Your Future Project
Overall, it's important to remember that the total cost of a mobile home bathroom remodels will vary depending on what type of materials and labor you use. By understanding what is involved in remodeling a mobile home bathroom, along with taking into account factors such as materials and labor costs, you can more accurately calculate how much it will cost to complete your renovation project.
And while the final price tag may vary depending on each situation, understanding these key components can help give you a better idea of what to expect when considering how much it costs to remodel a mobile home bathroom. Because of this, it's smart to take the time to calculate your budget beforehand – so that you can determine how much you're willing to spend on the project and make sure that you have enough money to cover it. With careful planning and budgeting, remodeling your mobile home bathroom can be a rewarding experience without breaking the bank.
How to Know How Much Your Remodel Will Cost
The cost of remodeling will depend on how much work is involved in completing the project. For instance, if you are just replacing some fixtures or updating finishes, you will likely spend less than if you were doing a complete gut job that involves moving walls and plumbing lines. Generally speaking, labor tends to be the largest cost component for remodeling projects – so keep that in mind as you plan your project.
Planning Ahead
Unfortunately, remodeling projects often take time to get the ball rolling as they require preparations such as estimating material costs and even acquiring permits. When planning a mobile home bathroom remodeling project, it's important to consider any necessary permits that may be needed to complete the work. Depending on what city and state you live in, certain permits may be required which could add additional expenses to your budget. Be sure to research the rules and regulations that apply to your specific project.
Additional Costs
Finally, it's important to factor in any additional costs associated with the remodel. This could include the cost of renting a dumpster for waste removal or hiring a contractor for some of the more complex tasks involved in a mobile home bathroom remodel. Additional costs can easily add up over time, so be sure to consider these items when researching your budget.
Overall Cost of Remodeling A Mobile Home Bathroom
In the end, the cost to remodel a mobile home bathroom can range from $2,000 up to $10,000 or more depending on various factors such as materials used and whether or not you opt for professional help. If you're looking to save money, consider renovating tasks that are within your skill set or using cheaper materials. And if you choose to hire professionals for some of your remodel work, be sure to shop around for quotes so that you can compare prices and get the best deal possible. With careful planning and budgeting, there's no reason why your dream bathroom remodels can't become a reality in your mobile home!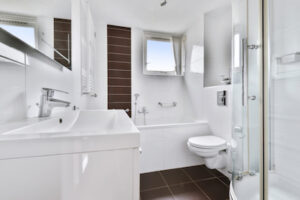 Why Remodeling Can Be a Great Choice
Overall, remodeling a mobile home bathroom is an excellent way to spruce up your living space and improve its value. With proper planning and budgeting, you can complete a successful project without breaking the bank. Be sure to do your research beforehand and consult with professionals if needed – this will help ensure that your project is completed on time, within budget, and to a high level of quality. Utilize resources online to learn how to take on certain projects and ask family and friends to help you when they can!
Remodeling can be a fun process for many and doesn't have to be frustrating or stressful when you know what you are doing! And finally, never be afraid to ask for help. Remodeling projects can get overwhelming, so never feel bad asking for help from professionals or others when it comes to a project you are not comfortable doing on your own. By following these tips, you are sure to have the bathroom remodel of your dreams in no time!