Top 9 Things to Do When Moving Into a New Home
Congratulations, you just received the keys to your new home or apartment. Now what? Before you call the moving company and pack your things, there are a few things that you may want to do. Preparing your new space before moving your belongings in can make certain tasks easier without the extra clutter. In this article, we will cover 9 things to do when moving into a new home to help you get settled in and feel at home.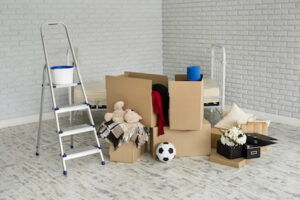 Here are nine things to do when moving into a new home:
1. Deep Clean Your New Home
Before moving in, give your new home a thorough cleaning. Many homeowners clean before listing a property. Even apartments are semi-cleaned between tenants. However, their cleaning standards may not be the same as yours. It's usually a good idea to spend a day deep cleaning, or if you prefer, hiring a company to do one for you. A few key areas to focus on include the cupboards, floorboards, and bathrooms. You may even wipe down door handles and light switches since the home has likely had a lot of foot traffic while other hopeful tenants were visiting it.
Deep cleaning of your new home will help you start fresh and ensure that your new space is free of any germs and allergens. You can hire a professional cleaning service or do it yourself.
2. Change the Curtains
Changing the curtains is a commonly overlooked task when moving into a new home. Many homeowners leave behind their curtains since they are likely custom fit to that home and its windows. Additionally, curtains are not frequently washed as is, meaning it may have been a few years since the curtains in your home have been properly cleaned. You may decide to take them down and clean them or replace them with something in your own style.
This is also a good time to change out the curtain types. A recessed curtain track set can open up your space and make it appear larger. Recessed curtains also block out more light since they're designed and built into the ceiling. This flush look gives your home a consistent and modern design.
3. Unpack, Organize and Decorate Your New Home
Once you have moved in and given your new home a deep clean, it's time to unpack and organize your belongings. Start with the essentials, such as bedding, kitchenware, and toiletries, and work your way up from there. Use storage solutions to maximize space and keep your new home clutter-free.
Also, decorate your new home to make it feel more like your own. Hang up pictures, add some plants, and choose a color scheme that reflects your personality. You don't need to spend a lot of money on expensive decor – there are plenty of affordable options to make your new home feel cozy and welcoming.
4. Change the Locks
Make sure you change the locks as soon as possible. Even if the previous homeowner or apartment tenant gave you their copy, there might be more copies out there. It's not uncommon for homeowners to lose copies and just replace them rather than get a new set made. Additionally, the realtor, inspector, or anyone involved in the home's sale may still have a copy.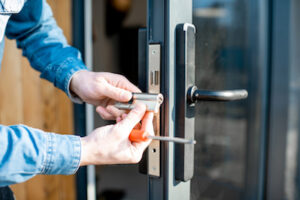 5. Invest in a Security System
Investing in a security system is also a good way to keep your home safe. Many home security systems require an employee to come to your home to wire and set it up. Scheduling this service while your home is empty gives them more room to work. A security system can also deter criminals from scoping out your home. People in the neighborhood may have noticed that the house has been vacant for some time. They may target your belongings as you move boxes from one location to another.
6. Test the Smoke Detectors
This is also a good time to test the smoke detectors. Ensure you and your family are protected by changing batteries or replacing faulty smoke detectors. You'll also want to check that your smoke detectors test for carbon monoxide too. We also recommend testing the HVAC system. This may have been included in a home inspection if you had one, but if not, it's a great way to find out if you need a service appointment. Scheduling a tune-up can ensure the air quality in your new home stays good and may even help you control your heating and cooling bills.
7. Transfer Utilities
You'll need to transfer the home's utilities from the previous tenant or owner's name into yours as soon as possible. If you wait too long, they may come after you to pay a portion of the bill. Don't forget to change out energy, gas, water, and internet. Some neighborhoods also require you to schedule trash service.
8. Paint or Make Repairs
Painting and making repairs are way easier when the home is vacant. Before moving your stuff or family into the home, add a fresh coat of paint to each room. Otherwise, you'll have to move furniture to reach all walls the next time you paint. This is also an ideal time to make any necessary repairs. A technician will find it easier to access certain parts of your home while it's empty.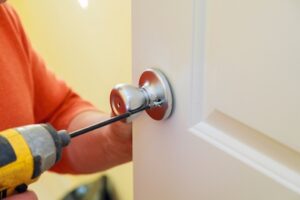 9. Update Your Address
Don't forget to update your address as soon as possible. You'll also need to forward your mail in the meantime to ensure you get any important mail. The United States Postal Service (USPS) allows you to forward your mail for up to one year, making it easier to avoid any gaps in mail service while you move.
Conclusion
Moving into a new home can be a daunting task, but it's also an exciting opportunity to start fresh and create a new chapter in your life. By following these 9 things to do when moving into a new home, you can ensure a smooth transition and make your new house feel like a home in no time. Remember to take time to relax, explore your new community, and enjoy your new space. And if you encounter any problems along the way, don't hesitate to seek help from professionals. Thank you for reading, and happy moving!