When it comes to getting a new roof for a home or business, most people assume that all this process requires is to remove the old roof, then slap on a new one. While this is partially true, there is quite a lot more involved with the process for adding a new roof or replacing an old roof for a home.
One of the important things that people miss is researching the different types of roof decking that are available and the importance of this process. Here is a simple reference guide that you can use as you begin the process of getting a new roof.
What are the different types of roof decking? The 3 main types of roof decking material are concrete, wood, and steel. Each of these materials has different benefits and draw backs, however, the most commonly used type of roof decking is wood.  
In this article, we'll further examine roof decking so you can make the best decisions for your roofing needs.
What Is Roof Decking Material?
What is roof decking? Roof decking material is the centerpiece of the whole roofing process. This decking serves as a protective layer that is usually made up of wooden material such as plywood. The roof decking serves as a platform for a metal roof or shingle roof to rest upon.
Typically, in residential roofing, the sheathing of a roof is created by some kind of layered wooden board, but can also be created by using concrete or metal as well. Occasionally, the owner will want to implement a type of radiant barrier sheathing, which is a wooden board with an aluminum sheet on one of the sides. When this type of barrier is used, the radiant sheathing will be installed facedown into the attic space and then reflect all of the heat that is hitting the roof. This method is pretty popular where the summer months get especially intense since it can reduce the cost of air conditioning.
The end result of the whole decking process, regardless of the material you use, is to give the roofer a base that can be used for nailing the roof coverings, a surface that all of the waterproofing material can be secured to, and a structure that holds all the different parts of the roof together.
Types Of Roof Decking:
The three types of roof decking materials that are most common in commercial and residential buildings are:
1) Concrete Roof Decking Material
2) Wood Roof Decking Material
3) Steel Roof Decking Material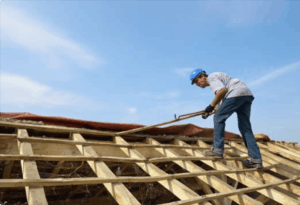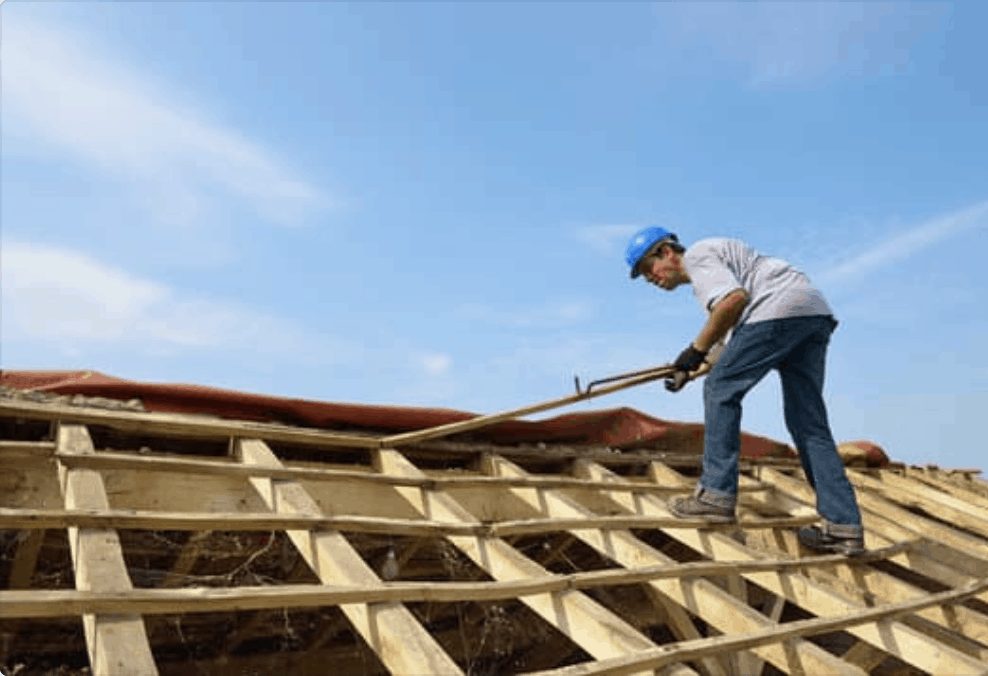 1. Concrete Roof Decking
It's pretty much what it sounds like. This method is purely a solid piece of concrete that seals off the top of your home. When using this material, there are a few different varieties that you can use.
This type of normal weight concrete is usually used for cast-in-place construction and serves as an important part of the entire structure. It is designed to handle really heavy loads and is usually topside insulated using insulation panels.
Structural Concrete Composite
This type of concrete decking is usually used as part of a building design when future above the roof level is a possibility. It is basically a steel panel deck system that contains structural lightweight or normal weight concrete.
When using this kind of concrete, it is a common practice to place it on a variety of structural deck systems that have been constructed to handle heavyweight. It is low-density, lightweight and non-structural concrete that can be used directly on top of a properly supported corrugated steel deck system.
2. Wood Roof Decking
This kind of wood is a created product that is most famous for its durability and strength. One of the unique factors of zip wood is the use of a water-resistant barrier that is still able to breathe. This type of barrier removes the requirement of roofing felt. Every single layer of the zip system is extremely moisture resistant which makes this material a solid choice for decking.
FRT is short for Fire – Retardant – Plywood and is usually required by building codes to prevent fires from spreading from one home to another. This material, however, may not be the best material to use since it was discovered that numerous housing units were built with faulty FRT Plywood in the '80s. The FRT plywood used from years ago could degrade before its time, and often results in roof replacements.
This type of plywood gets its durability from many layers of wood being combined together into one. The grain of this wood changes from layer to layer, adding to the durability of the entire piece of plywood. CDX is a popular type of plywood for roof decking because it can withstand exposure from moisture and even some exposure to rain.
3. Steel Roof Decking
This type of material is extremely lightweight which is a huge plus when considering metal decking. Compared to concrete or tile, there is really no contest when it comes to weight.
Using metal as decking material will also give you a very durable roof. This material is much tougher and resistant to hail and other elements that come your way. This material has also been graded by the insurance commissions in the U.S to have the top level of impact resistance for roofing materials. Some insurance companies will even give you a discount if you have metal decking.
During the hot summer months, this kind of material is able to reflect the heat a lot more than any other kinds of roofing materials. Ultimately, this means the heat in your home is greatly reduced, which means the energy bill comes down.
Questions To Ask:
Should I Replace My Roof Decking? 
Just because you are getting a new roof, doesn't necessarily mean that you need to have the decking replaced. That being said, it is always a good idea to have your decking be looked at by a roofing contractor that is qualified to do so. The best time for an inspection is when all of the old shingles have been removed from your home. Once this is done, it makes it really easy for the contractor to take a look, and take note of any issues that might need to be addressed.
While replacing decking can potentially be expensive, it is much more cost effective to go ahead and take care of the problem right away.
The biggest cause of rot is moisture, and rotten wood absorbs water even faster than new wood does. If the plywood in your home is rotted, it cannot fully handle the weight of the roof in the same way new wood can handle it. It also isn't able to hold the nails as securely. If this is a problem in your home, eventually you will see the effects of it in your attic and in your ceilings.
On top of that, if you try to put new shingles onto old rotten decking, the entire roof might shift, which will cause even more leaks. All of the damages that leaking and rotting can cause can be detrimental to your home.
To avoid any surprises going in, it's a good idea to talk to your contractor about what you would be charged per new plywood sheet.
What Are The Benefits Of New Roof Decking? 
Brand new roof decking basically spreads out all the weight over your entire home, which can re-enforce your roof to handle things like severe weather or even fallen branches.
Another benefit is that decking is a secondary line of defense against any kind of leaks or moisture. While shingles will handle the majority of protection against water, it always helps to have a little more help.
While Plywood is definitely flammable, retardants are typically put on the wood to give extra defense against flames.
You never know when these different scenarios can happen, so it's better to replace your decking now if it's needed.
Can I Inspect My Own Roof? 
Climbing around on your roof is never recommended by any roofing company or insurance company, but there are a few things you can do on your own.
Ground Check
Do a walk around your house and examine the roof. Are there any shingles missing or are there any signs of curling? What does the structural integrity of the home look like? Is it sagging at all in any areas? Doing this type of ground check is an excellent way to get a first look at any potential problems you might have.
Age Of Roof
How old is your roof? The answer to this question can end up saving you a whole lot of heartache. Bad weather or a bad ventilation system is able to cut the life of your roof short by a lot. If you have a roof that is 20 years old or older, you most definitely want to have it looked at by a roofing professional.
Attic Inspection
Go up to your attic and take a look around. The attic is a great space to look for any immediate signs that there is damage to the decking of your home.
Take time to look for any signs of wood that is rotting and if there is any moisture or staining on any of the insulation or plywood. Is there any dampness to the wood in the attack? What about signs that an animal is living in the space? Do you smell any mold in the area? How is the circulation of air in your attic? Is there a fan in the space? How is the ventilation system operating?
These are some great questions to ask before you contact your local roofing specialist.