What Is Roof Decking? Everything You Need to Know
When it comes to roofing, most of us simply assume that the roof is solely comprised of shingles. However, this could not be further from the truth. While shingles play a significant role in protecting our home from outside elements, the other parts of the roof actually play a much larger role. Without things like roof decking, your roof would not be nearly as sturdy as it is today.
So, what is roof decking? As a rule, roof decking, also know as roof sheathing, is the foundation of any roof. It is the supporting wood, concrete, steel or other material that the shingles or tiles are placed on. Typically made of wood, concrete, or steel, roof decking is the protective layer that acts as a seal for your home. Without roof decking, your home would become victim to leaks, water damage, and other issues.
While it is never seen by the visible eye, it is important to make sure that you take the condition of your decking into consideration before replacing the shingles on your roof. Keep reading to learn more about the important role their roof deck plays in the overall safety and structure of your home.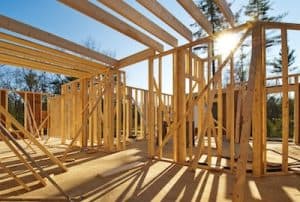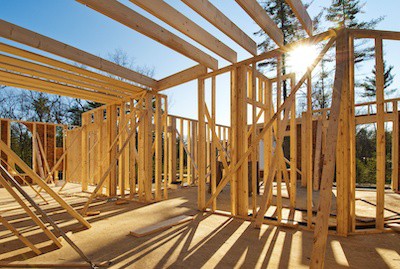 Understanding the Roll of Roof Decking
As mentioned previously, it serves a crucial role by creating a foundation for your roof. The roof deck is attached directly to the rafters of your home. Once the shingles are installed, the roof decking actually supports the entire weight of the roof! This is no small task. 
Not only is roof decking crucial in the structure of your roof but it also acts as a structural element to ensure the integrity of your home! Roof decking also secures the location of the rafters, ensuring that they maintain proper spacing as the years pass by. 
While roof decking has not always been an element of home construction, many professionals now recognize it as a critical structural element of any home. Because of this, it is important to pay attention to the condition and integrity of your roof decking.
What is the Difference between Roof Decking vs. Sheathing
As you learn more about roofing, you will hear the terms 'roof decking' and 'sheathing' used seemingly interchangeably. Roof decking and sheathing are actually just two terms for the same process.
While some roofing contractors may prefer one term over the other, there is not a technical difference. In this article, we will use the term roof decking and roof sheathing interchangably to describe this important roofing element.
Common Types of Roof Decking Material
Three are three types of decking material that are commonly used for both residential and commercial roofing. Within these categories are several different varieties. In this section, we will provide an overview of common materials. You can find a more detailed reference guide of common roof decking materials here.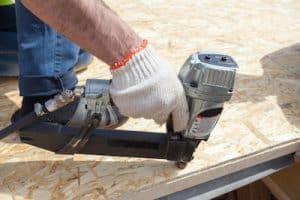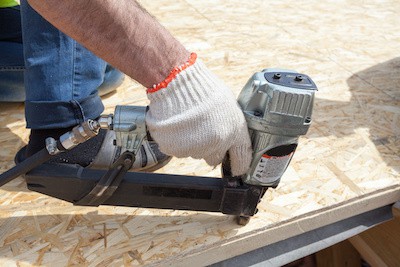 Wood
Wood is one of the most commonly used type of roof decking material. Durable yet cost-effective, wood provides great value for the investment. Although wood is definitely the most flammable material, it is often treated with retardants to add an extra level of protection against disaster.
There are three varieties of wood decking that are popular:
Zip Wood is famous for its strength and durability. Zip wood features a water-resistant barrier that eliminates the need for roofing felt.
FRT Plywood

, or Fire Resistant Plywood, helps to prevent the spread of fire from one home to the next. While it was popular at one time, it may begin to disintegrate prematurely, resulting in a necessary roof replacement. 

CDX Plywood

is one of the most recommended materials for roof sheathing. With incredible durability and increased moisture-resistance, CDX plywood is one of the most cost-effective options.
Concrete 
While it is likely not the first roofing material to come to mind, concrete decking is increasing in popularity. A solid piece of concrete used to seal off your home, concrete roof decking is designed to handle heavy loads.
Not all concrete roof sheathing materials are equal. Here are a few of the types of concrete roofing contractors commonly use for this type of project:
Structural Concrete

is the type of concrete you normally think of when you first hear the word. This type of concrete is designed to handle extremely heavy loads and is usually insulated using insulation panels installed above the concrete sheathing.

Structural Concrete Composite

is used if there is any chance of adding an additional level above the current roof. This unique, steel panel decking system contains both structural and lightweight concrete.

Lightweight Insulating Concrete

is a low-density concrete that is usually used directly on top of a corrugated steel deck system. 




Steel

The third, and final, type of roof decking material we will cover in this post is steel roof sheathing. There are many benefits to using steel roof decking material, some of which may even result in a discount on your home insurance rates! 
Steel is, by far, the most lightweight deck material. Especially when compared to concrete roof decking, the minimal weight of steel decking is hard to beat. 
Perhaps the most coveted feature of steel is its insane durability! If you live in an area that experiences frequent hailstorms or other severe weather elements, steel roof sheathing can help extend the longevity of your roof by several years. 
Many experts rate steel as having the top level of impact resistance among roofing materials. Because of this, many insurance companies will discount your home insurance rates if you install steel roof sheathing.
Another benefit of steel roof decking material that one can not overlook is its contribution to low energy costs. Especially during the hot summer months, steel is able to reflect heat more effectively than other roofing materials such as wood or concrete. This keeps your home cool, greatly reducing the energy bill. 
While steel roof sheathing is often the most expensive option, the benefits greatly offset the cost, making it a popular choice for homeowners across the country.
Do You Replace the Sheathing When Replacing the Roof?
So what happens when you replace your shingles? Do you have to replace the roof sheathing as well? This all depends on the condition of your home, the age of the roof, and other factors such as overall cost. 
While it is not necessary to replace the roof sheathing each time you replace the rest of your roof, many homeowners find that it is a convenient time to do so. Although replacing the roof decking is neither convenient nor inexpensive, the benefits of high-quality sheathing material are hard to argue. 
A professional roofing company may be able to assess the condition of your roof decking before the shingles are even removed! This can provide you with insight into the overall condition of your decking material. If you think it may be time for a new roof, it is best to contact a roofing company and schedule an inspection! 
During your roof inspection, a residential roofing company will provide you with their professional insight into the condition of your roof sheathing and if a full roof replacement is necessary or recommended.
Warning Signs of Damage
Many times, it is easy to tell if your roof is in disrepair. Faded shingles, missing shingles, or shingles that are beginning to warp provide us with insight into the condition of the roof. However, diagnosing the condition of your roof sheathing is a bit more challenging.
There are a few common warning signs of damaged roof deck that you may notice throughout your home. Some of these warning signs include the following:
Leaks

found throughout your home, whether tiny or significant, can point to a problem with the roof decking material.

Sagging ceilings

are also a warning sign of damaged roof decking. Especially with wood decking, water can create staffing which may impact the ceiling of your home.

Water stains are a telltale sign of water damage. Whether due to faulty shingles or poor roof decking, water damage can lead to mold, mildew, and other serious home problems.
While many of these common warning signs could point to both roof damage, they are all signs that you should contact a professional roofing company immediately. The roof of your home plays a significant role in the overall structural integrity of your house. Just like having a beautifully painted home and great roof can increase the value of your home. Because of this, it is important that you keep it in an optimal condition at all times.
Benefits of Investing in New Decking
There are many benefits of investing in new roof decking, even if it is not crucial to replace. First, new roof decking will improve the structural integrity of your home. Especially in areas that experience a wide range of weather elements, the strength of your home could be the difference between an inconvenient storm and a tragedy. 
When you invest in new roof decking, you can select a type of decking material that is most beneficial for your home. In many cases, homeowners will choose to upgrade their old wood decking for a more energy-efficient option like metal. This will require an initial investment. However, the savings provided by both your reduced energy bill and your insurance discounts will offset the cost.
Now that you are equipped with a greater knowledge of the various elements of your roof, you will be able to make decisions on the proper route for roof repairs and maintenance.
You can learn other valuable roofing tips here.