5 Advantages of Hiring a Professional for Pressure Cleaning Windows
Pressure washing consists of professional deep cleaning, focusing primarily on removing dust, dirt, and mold from gutters, pathways, and windows. It is incredibly efficient and effective, leaving your property spotless. Keeping your property clean and tidy is crucial for both the safety of your loved ones and its market value. Many commercial window cleaning professionals state that pressure washing is dangerous if handled wrong. Also, the intensity must be set for each specific material before undertaking any project. So, if you are wanting to pressure clean your windows you need to hire a professional and there are some excellent advantages to doing so.
Here are five advantages of hiring a professional for pressure cleaning windows:
Property Damages and Healthcare Concerns
Market Value and Saving Money
Environmental Sustainability 
Safe Cleaning Procedures / Safety
Efficiency and Speed
If you are considering cleaning it yourself, remember there are many risks. One wrong move and you could break your window or fall off your roof. Hiring a professional team, on the other hand, is the best option if you want to maintain your property in its best condition. If you still need convincing, here are five undeniable benefits professional pressure washing brings!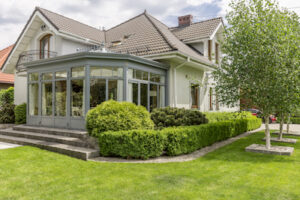 1. Property Damages and Healthcare Concerns
Prevention over-correction is an excellent motto. Structural damages can be extremely costly to replace, which is why preventing them is essential. Mold, grime, and dirt are the perfect environments for bacteria to chip and slowly corrode glass. Hiring a professional team will ensure all vulnerable surfaces are clean and safe.
In states with poor weather, it is crucial for your safety to have clean windows and roofs. Any water accumulation, especially on the roofs, can be disastrous. Water drainage must be in perfect condition to reduce the damage a storm or heavy snow can produce.
Mold bacteria, pollen, and dirt are hazardous and tend to grow on windows, balconies, and front porches. Pressure cleaning can remove those concerns in a short time and at an affordable price. It is also one of the most cost-efficient allergy prevention procedures to maintain a clean and healthy environment for children and adults.
If you are operating an office building, your employee's well-being should be among your top priorities. Clean windows allow for proper natural light and a beautiful landscape inside the offices, which are known to help morale and concentration.
2. Market Value and Saving Money
Buying a home is the biggest investment most people make in their lifetime. Because of this, most will try to increase their property value or maintain it. Not only can pressure cleaning to preserve the windows' clarity, but it also ensures their resistance to outside damage, like UV rays, dirt, and dust. This is why investing in a professional team for pressure cleaning windows will be worth every penny.
Clean and well-preserved houses stand out on the housing market, allowing you to increase your price as demand grows. Paying extra is easier to justify if the asset looks immaculate and everything is in shape. 
If you are concerned about the cost of professionals, remember that doing it yourself can be even more expensive. If you factor in the equipment renting costs, time allocated, and possible injury risk, you have already crossed the budget for a cleaning team. Not to mention that you need proper training to avoid damaging your home. Each construction material can handle a certain water pressure intensity, so you want on-site experts.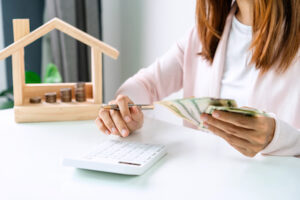 3. Environmental Sustainability 
Climate protection and safe cleaning substances are becoming increasingly important for our society and future. This also applies to pressure cleaning, in which many owners who try to do it themselves pollute the water and their gardens. Professional companies are aware of this aspect and are able to avoid it by using safer and pure substances or increasing the pressure where possible to use less water.
If you want to ensure that your surroundings are not polluted and damaged, your best chance is a cleaning crew utilizing environmentally friendly cleaners in their tasks. Another sustainable aspect of pressure cleaning is water usage. Despite popular belief, pressure cleaners use less water than standard sinks. This is possible because the nostril's design allows a small amount of water to release with incredible pressure.
A pressure washer will use around 70% less water and energy than a garden hose in the same segment. It is also a rapid procedure, cutting bills and energy consumption costs. The procedure is ideal for restoring older windows, which can be kept and reused. Tempered glass, especially, can be easily cleaned and reinstalled or repurposed. 
4. Safe Cleaning Procedures / Safety
Residential homes and units are challenging to clean and tall enough to cause severe damage if you fall off them. Even if it is tempered, architectural glass has to be adequately cleaned from the inside and outside. Considering the modern design of skyscrapers and office buildings, it is understandable why a professional team is vital for their maintenance. 
Using a pressure washer may seem easy, but it can be hazardous, especially if you have no previous knowledge or experience. One of the first unknown aspects is the intensity of the kickback. You may expect some pushback, but if you are not prepared for it, you may fall and experience severe injuries.
A professional company guarantees its employees' safety through equipment and training. Water pressure is one of the many dangerous aspects of this field, which is why window and roof cleaning can be deadly for those not wearing protective gear. Invest in the expertise of a professional cleaning team and keep you and your employees safe.
Another critical factor is the material that needs to be cleaned. Concrete, for example, can stand high pressure and is easy to clean; however, if you are dealing with a glass facade, you can only clean it safely with professional help. An inadequate intensity can chip the glass or even break the protection layer, which is expensive to replace and dangerous for those around when it breaks.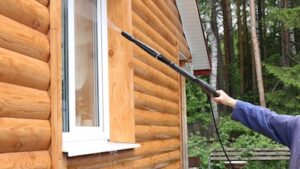 5. Efficiency and Speed
Time is money, so if you want to keep your daily routine as efficient as possible, leave the more complicated DIY projects to the professionals. When you try something new, you are likely to make mistakes or accidents, which are at the expense of your property in this context. The entire process is meticulous and time-consuming if you have no experience. Hiring a professional team will make things much easier and faster, saving you both time and energy. 
Even for more delicate areas, like windows and gutters, you can opt for low-impact pressure washers, eliminating the dirt properly and efficiently. Those stubborn streaks on your windows can be a problem in corporate offices, so you should always count on professional advice. The last thing you want is to clean your windows for hours only to realize that your efforts were in vain.
Finishing every job on time is crucial in a busy and competitive market, which is why a professional cleaning team will use pressure washers for more demanding jobs. They are simple, powerful machines that do the job practically and cost-effectively.
Conclusion
Pressure washing your windows is a great way to keep them clean and clear all year long. However, it's important to hire a professional who has the experience and equipment to do the job safely and effectively. So, whether you need your windows cleaned for an event or just want them to look their best, hiring a professional is always the way to go. Hiring a professional team for pressure cleaning windows not only benefits the property owners but also provides job opportunities for trained professionals in the cleaning industry. Thanks for reading!