The allure of ending a summer evening on a private, rooftop deck is enough to motivate any homeowner to consider this addition to their home. However, adding a roof to your deck is a much more complex situation that building a patio in your yard. With so many aspects of safety to consider, many homeowners are left wondering if their dream could ever turn into a reality. 
Can my roof support a deck? If your roof deck is in optimal condition and can safely support at least 55 pounds of weight per square foot, your roof may be able to support a deck! The final decision, however, is much more complex and requires the advice and oversight of a professional contractor.
Although you will need to hire a contractor to design and build a deck on the roof of your home, there are a few things you can determine ahead of time as you decide whether a rooftop deck is a right decision for you. In this article, we will cover everything you need to know about building a deck on the roof of your home.
Rooftop Deck with an Amazing View 
(You Won't Believe How They Did It)
[vc_video link='https://youtu.be/E8LGAVBlCs4′]
Structural Requirements for a Rooftop Deck 
As you can imagine, building a deck on your roof is no small feat. We have all heard horror stories of rooftop decks collapsing due to poor construction or an excessively heavy load. Because of this, it is crucial that you pay attention to the minimum structural requirements for building a rooftop deck.
1. Roof is in Excellent Condition
It can go without saying that in order to add a deck to your roof, the roof itself must be in excellent condition. While you should contact a roofing contractor to conduct a thorough roof inspection, there are a few ways to determine the overall condition of your roof from ground level.
Take a look around the exterior of your home to look for any signs of roof damage. Roof damage may look like water leaks inside or outside your home, missing shingles, or warped shingles.
Other things like cracked siding, peeling paint along the top of your home, or other signs of deterioration are also warning signs that the condition of your roof is less than ideal. You can learn about other common signs of roof damage here.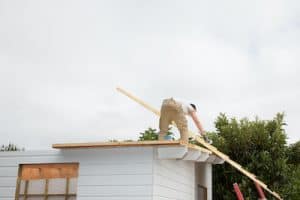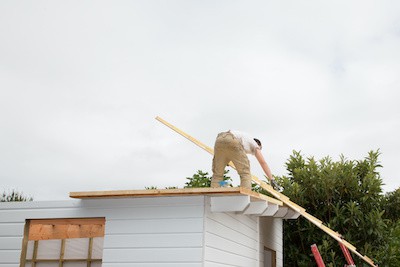 2. Roof is Able to Support Adequate Weight
Determining how much weight your roof can support is a job that should be left to a professional engineer or architect. Miscalculating the strength of your roof can result in grave damage and even death. While local building codes vary from state to state, the minimum requirements typically state that your roof needs to support at least 55 pounds of weight per square foot. 
However, the necessary strength of your roof will also vary depending on how you plan to use the rooftop deck. For instance, if you plan to add a hot tub or other heavy furniture, you will need to account for the added weight in the design of your rooftop deck.
Even if your current roof is not strong enough to support the additional weight of a rooftop deck, there may be ways to strengthen the existing structure. You can read more about how to reinforce your roof strength here.
How much weight can a roof deck hold?
Roof top decks can hold up to 50 pounds per square foot when properly installed. 
3. Roof is Not Subject to Water Leaks
Adding a deck to your roof can exasperate any existing roof water leaks. With a decreased ability for water to easily flow off of the roof, you may experience areas of standing water after a heavy storm. If you currently experience water leaks from your roof, it is important that you address that issue before you add a deck to the rooftop.
In some situations, it may be beneficial to replace your roof, allowing for more intense waterproofing measures to be put into place. You may also be able to design the rooftop deck in a way that accounts for a waterproof membrane between the shingles and the deck. 
Many contractors advise designing a rooftop deck in a way that grants you easy access to the roofing materials below just in case you need to address a water leak in the future. This is especially critical if you plan on installing a hot tub or another type of water reservoir on your rooftop deck.
4. Easy Access to Roof or Plan for Access Point
Your home may already have easy access to the roof. However, if it does not, you need to make sure that you have a plan in place. For instance, building a rooftop deck that is only accessible by climbing a ladder would be unsafe and impractical. 
A contractor can help you design a plan for your new rooftop deck that includes the addition of an indoor access point if one does not already exist. 
What to Do Before You Build a Rooftop Deck
Building a rooftop deck is obviously a very complex process. It is important that you work through the necessary steps before beginning the project to avoid delays, fines, or other negative impacts.
1. Set a Project Budget
Before you contact professionals to begin the design of your rooftop deck, it is important to set a project budget. Doing so ahead of the design process will allow you to make decisions that reflect your financial goals. As you are setting the budget for your new rooftop deck, do not forget to account for things like new outdoor furniture or other finishing elements that will be essential to your enjoyment of the deck.
2. Contact the Professionals
This can not be emphasized enough. Unless you are a professional contractor by trade, you should not attempt to build a deck on your roof. Improper design or implementation during any step of the process could result in serious injury, catastrophic damage to your home, or even death.
When you are beginning to think about building a rooftop deck, it is wise to have your roof inspected by a professional roofer. A residential roofing contractor will be able to diagnose the condition of your roof more thoroughly than any other. 
Once the roofer confirms that your roof is, in fact, strong enough to support a rooftop deck you will need to contact the contractor who will implement the project. You will work alongside the contractor to design a deck that is both structurally sound and aesthetically pleasing.
3. Research Guidelines & Limitations
Depending on the area in which you live, you may realize there are guidelines and limitations regarding rooftop decks or additions. Two of the groups you will need to contact are your homeowner's association or neighborhood board and your local building department.
If you have a homeowner's association or neighborhood board, you will likely have to submit your rooftop deck design for approval. This may even include reaching out to your neighbors to inform them of your intent to build a deck on the roof.
4. Obtain a Building Permit
Once your plans have been submitted and approved, you will need to obtain a building permit from your local building department. The process for this will vary depending on your area. However, you will likely need to provide detailed drawings and construction plans, neighborhood approval, and other documents. 
Most likely, you will encounter a fee for the permit. However, obtaining a building permit is absolutely necessary for a project of this scope. Failing to accomplish the proper approval and permit processes will result in a hefty fine.
5. Carefully Select Building Materials
Your contractor will provide you with insight into the best building materials to use for your rooftop deck. However, it doesn't hurt to conduct some additional research. When building a rooftop deck, avoid using PVC materials. PVC decking material may be an excellent option for other areas of your property. However, the direct exposure to a variety of elements on the rooftop will create the potential for structural concerns.
It's also important to pick a material that will not retain heat. Your rooftop deck will be directly exposed to the sunlight. Because of this, the deck will be the warmest area of your home. It is best to choose lightly colored materials for the deck flooring and the furniture.
6. Investigate Insurance Cost
A rooftop deck is usually worth the increase in homeowners' insurance fees. However, it is important to calculate this expense into your project. A rooftop deck can also cause your property taxes to rise. However, the addition of a rooftop deck will add great overall value to your home. This will likely offset the added expenses incurred because of the addition.
Enjoying Your Rooftop Deck
Once your rooftop deck has been safely installed, it is time to relax and enjoy your new outdoor living space! By adding appropriate landscaping, comfortable furniture, and creating a welcoming atmosphere, you will quickly grow to favor your rooftop deck over other areas of your home.
Don't forget to maintain your rooftop deck! You may find it necessary to contact a pest control company to eliminate any bugs or pests that are also enjoying your new space. It is wise to continue routine roof inspections each year to make sure that your roof is maintaining its structural integrity, allowing you to enjoy your rooftop deck for years to come.
Learn more home maintenance tips from experts here!