How to Fix Carpet That is Buckling
This can be one of the worse things to notice in your home carpet buckling or wrinkling. Carpet buckling is when the edges of your carpet begin to curl up or rise unevenly in certain areas. Carpet wrinkling is very similar. I had to research this problem and find some solutions so my carpet would not be ruined. However, I found that there are ways to fix this problem especially if you do something when you see it first occurring.
So what do you do when you find your carpet buckling? How do you fix this problem? Well, let's begin with why this occurs. There are a few reasons why your carpet could buckle.
Humidity
Dragging heavy objects on the surface of your carpet.
Your carpet was not installed properly.
Moisture
Delamination
Any of these reasons could be the cause of your carpet buckling or wrinkling. There is good news! This can be fixed if you address it in time. You can get your carpet re-stretched. This is when a professional comes and uses specialized tools to straighten out the buckling in your carpet.
In this post, I will talk more about what is causing the buckling in your carpet, what it can cost to get this fixed, and how you can prevent this from happening in the first place. I will also discuss if you can re-stretch your carpet and will the creases that buckling has caused come out. Carpet buckling does not always mean that you have to completely replace your carpet.
Five Common Causes of Carpet Buckling
There are six causes that I found which can cause carpet buckling.
1. Humidity
Humidity is one of the major culprits of carpet buckling. If you are in a climate that experiences four seasons and you can have drastic changes in climate day to day you have to be careful of your carpet buckling. This is also the case if you are in a climate with high humidity.
2. Dragging Heavy Objects Over Carpet's Surface
Next, dragging heavy objects on your carpet's surface can contribute to carpet buckling. This can tug on the carpet and cause it to move and buckle. You must take proper precautions when moving heavy items or furniture across your carpet for this reason.
3. Poor Carpet Installation
If your carpet or its underpad was incorrectly installed you are susceptible to carpet buckling. It is important to have someone with experience and knowledge to properly install your carpeting. If you have an amateur attempting to install your carpet you could incur more cost and headache in the long run.
4. Moisture
Another reason your carpet might be buckling is due to moisture. If your carpet has too much moisture in it due to cleaning or something else, you might experience carpet buckling. Too much moisture in your home could also lead to the growth of mold in your carpet.
5. Delamination
Lastly, delamination could be the cause of your carpet buckling. Delamination occurs when the primary and secondary backing of your carpet detach. This is due to the latex adhesive breaking down. 
Delamination causes the top part of your carpet to be unstable and eventually buckle. If any of these things occur the only way to easily fix the problem is to re-stretch your carpet. Calling a professional to re-stretch your carpet can cost anywhere from $40 to $80 per room or $350 for your whole home.
At times you could have lesser costs if your carpet is still under warranty. If you do not address this problem when it first occurs it could get worse or the buckling could cause visible creases to remain in your carpeting.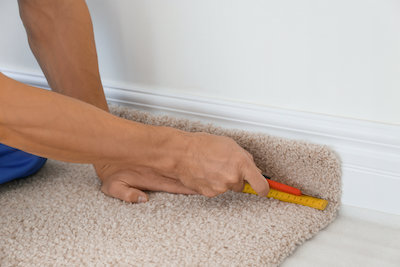 What Can You Do to Prevent Carpet Buckling?
There are a few things you can do to make sure you are not a victim of carpet buckling. When having your carpet installed make sure that the installers adequately stretch your carpet with a power stretcher.
Also, allow the new carpet to acclimate to your home's climate before installation. If coming from a factory with a different climate it could negatively affect the carpet installation.
Another way to prevent buckling is to limit the traffic on your new carpet when it's first installed.
Lastly, pay attention to the major causes of carpet buckling and take precautions against them. This includes having the correct padding for your carpet, getting a professional to install and re-stretch your carpet if needed, and controlling the humidity where the carpet is installed.
Can I Re-Stretch My Own Carpet?
The short answer is that it is not recommended. However, some people are handy enough that they may be able to use professional tools to get the job done. One tool that will help you with the buckling is a knee kicker.
You must remove the carpet from the tack strips and begin smoothing it out with this tool. You might be able to weigh down the carpet buckles. It is wise to attempt to smooth the carpet after pulling it back. Finally, place something heavy on it to maintain the smoothness for an extended period of time. These ideas are not full-proof however if you are desperate and unable to hire a professional they might be your last resort.

Will the Creases Come Out of My Carpet?
Creasing is a negative consequence of carpet buckling. If you are unable to address your carpet buckling early in the process you might have to deal with long-lasting creasing in your carpeting.
Creasing can remain visible even after you have had your carpet re-stretched. Using limited moisture to steam your carpet in the areas of creasing may help, but there are no guarantees depending on the damage already done. Unfortunately, creases in your carpet may impact the value of your home. 
Will My Carpet Warranty Cover Buckling?
If you have a manufacturer's warranty on your carpet or a guarantee from your carpet installation company they will cover an assortment of things. Your manufactures warranty will most often cover carpet defects, deterioration, stains, texture damage, and fading.
There are a variety of other items that may also be included. You most likely will not see buckling in a manufacturer's warranty since they cannot control how the carpet was installed.
However, your carpet installer may warranty their work. This is your best chance to get your carpet buckling issues addressed. When you purchase your carpet, make sure you ask about these warranties and review them carefully.
Related Questions
Can I install my carpet? You can install your carpet, but it is not recommended. Installing your carpet might be extremely challenging for a novice. It requires being able to take great measurements and having access to specialized tools. I believe this is best left to the experts. Many things can go wrong which can ruin your new carpet. The cost savings might not be worth the headache.
How do I find a good carpet installer? The first thing you can do to find a good carpet installer is ask trusted sources for referrals or recommendations. Next, you can search the internet also looking at customer reviews of recommended installers. Once you locate some companies which might work, make sure you ask for and check their references. Also, make sure the installer you chose has experience working with the type of carpet you have and has other customers of your type (ie. Rental unit installation vs. custom home installation).
Can I get my carpet steam cleaned without it buckling? Yes, you can get your carpet steam cleaned without it buckling. However, whoever cleans your carpet must be experienced enough not to use too much water on your carpet. As we have discussed, extensive moisture can be devastating to the integrity of your carpet. This is best left to the pros!