The Benefits of Engineered Hardwood Flooring
Hardwood flooring has always been a popular choice for rustic or elegant homes, but engineered hardwood flooring is now taking the industry by storm. After searching for the perfect flooring for our new house and comparing other alternatives, we were attracted to engineered hardwood because of its durability and long-lasting finish.
So, what is engineered hardwood flooring? Engineered hardwood flooring is a new type of engineered product that consists of 3 layers: an engineered top layer, a wooden middle layer, and a plywood backing. This engineered hardwood flooring offers the beauty and durability that wood floors provide but also gives you the ease of installation and low price point you desire with engineered products.
This newer product has many benefits and can be a great option for those who wish to have the look and feel of a solid hardwood floor without the high cost or installation time.
Engineered Hardwood Flooring Advantages
There are many advantages engineered hardwood flooring has over solid hardwood.  It is water-resistant and moisture resistant, and engineered hardwood flooring holds up very well in high-traffic areas.
It does not expand or contract that much when humidity changes in the air, so it is great for houses that have a lot of temperature fluctuations throughout the year.
Another engineered hardwood flooring benefit is it doesn't need to be finished like solid hardwood. It has a durable scratch-resistant topcoat that does not need any sort of maintenance, unlike the natural aging process that requires oil or wax to maintain its luster.
Engineered Hardwood Flooring Can Last for Years
Hardwood flooring is one of the most durable floor types you can choose, but engineered hardwood is engineered to be even more resilient. Engineered hardwood floors are resistant to moisture and scratches, making them great options for homeowners with pets or children.
They are engineered to be 3 times stronger than solid hardwood. They are ideal for high-traffic areas that may see scratches or dents. These engineered planks can last years without needing the same finish that solid hardwood flooring does.
You have your choice of finished engineered wood flooring that comes in 60+ different colors, patterns, and styles to match your style. Engineered hardwood flooring comes in engineered wood planks in many widths ranging from 3″ to 12″, making it easy for you to find the perfect size.
Engineered Hardwood Floors Are Easy to Install
Choosing engineered hardwood flooring reduces installation time significantly when compared to traditional wood flooring. You won't need to dismantle your cabinets like you may have had to with other types of engineered products. This means your floors will be ready for use sooner than you might think!
Engineered hardwood floors are engineered, so they come prefinished. This makes the installation process much easier because you won't have to put down a sealer or finish before installation.
They also come in engineered wood planks that snap together with ease and only need to be nailed into place. You can easily install engineered hardwood flooring without the help of an expert, unlike other engineered types of flooring.
Engineered Hardwood Flooring Disadvantages
Although engineered hardwood flooring does have many benefits, it may not be the right choice for homes that are sensitive to allergens. The engineered hardwood flooring contains small wood particles, which can cause allergies among certain people.
Flooring manufacturers are working on engineered hardwood floors with no engineered top layer, but engineered hardwood floors without engineered top layers are generally reserved only for the highest-end projects or new homes.
The flooring is engineered to be slightly thicker than regular engineered types of flooring, so it can make them not as flexible as engineered products that do not have engineered top layers.
This does not affect the durability or strength of engineered hardwood flooring, but it may reduce the amount of wobble engineered hardwood flooring has when it is walked on.
The engineered top layers will dull over time if you have high-traffic areas in your home. This means you may need to refinish engineered hardwood flooring every few years to maintain the top layer of engineered woods.
Engineered Hardwood Flooring Installation Process
One of the most rewarding aspects of engineered hardwood flooring is how easy it is to install. It is very similar to laminate flooring, so you will need a small mallet or tapping block and an installation kit.
First, install the engineered hardwood planks with their tongues pointing up in order to get optimal performance out of your engineered hardwood flooring. Be sure that engineered hardwood planks are firmly pressed into the locking system on both sides before proceeding with the next steps.
The engineered hardwood planks can be glued in place for more severe changes in humidity; however, this is not necessary if you live in a dry area with relatively stable temperatures.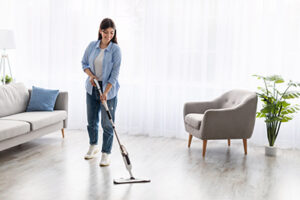 Another advantage is engineered wood floors don't need to be nailed down securely. Engineered hardwood flooring installation is as simple as laying each engineered plank and pressing it into place.
A major advantage engineered hardwood flooring has over other types of engineered wood products is that engineered hardwood can have a tongue or groove, just like solid hardwood or laminate flooring.
A grooved engineered hardwood floor will also go together like laminate or engineered wood floors, and a tongue and groove engineered hardwood floor is another one of the engineered hardwood benefits.
While engineered hardwood does not expand and contract as much as solid hardwood with changes in humidity, it does still move somewhat over time because the installation process creates joints or seams.
If engineered hardwood flooring will be installed in a climate where there is a significant range in humidity levels, it is not advised to install engineered hardwood without expansion gaps at the joints.
This can be accomplished by leaving engineered hardwood flooring planks long and cutting them to fit when installing engineered hardwood floors.
Is Engineered Hardwood Flooring More Affordable than Solid Hardwood?
The cost of engineered products is always less than solid wood because engineered products use lower-quality materials.
However, an engineered product like hardwood flooring uses better quality materials than its competitors and can last just as long. Some engineered hardwood floors, when installed properly, can last for more than 40 years.
The engineered hardwood flooring in your home may not be a permanent installation. If the engineered top layer chips or wears out, you can easily replace it without having to remove and reinstall the whole engineered hardwood floor. So you get the beauty of real hardwood with engineered ease of use!
Is Engineered Hardwood the Same as Laminate?
Engineered hardwood flooring is not the same as laminate. Engineered hardwood flooring is sturdier, more durable, and longer-lasting than laminate.
Laminate hardwood floors are engineered to look like natural wood; however; it is not the same as engineered hardwood flooring.
Engineered hardwood flooring can be installed above or below ground level, whereas laminate can only be installed above ground level.
Although engineered hardwood flooring is more expensive than laminate, it will last longer and have a better look and feel to it. Laminate floors tend to scratch easily and do not have the same luster as engineered hardwood flooring.
Furthermore, engineered hardwood flooring increases the value of a house, whereas laminate flooring does not.
What Is LVP?
LVP or Luxury Vinyl Plank is engineered hardwood flooring that is made to look like real wood. It is very easy to install and it requires very little maintenance.
LVP engineered hardwood flooring comes prefinished with UV-cured acrylic finishes designed for high durability and superior performance in even the heaviest traffic areas of a home, such as hallways.
What Is the Difference Between LVP and Engineered Hardwood?
The main difference between LVP and engineered hardwood is the material used. LVP engineered hardwood is made with vinyl planks, engineered hardwood flooring is made using real wood.
Another difference between LVP and engineered hardwood flooring is the thickness of each plank. LVP's are usually around 5mm thick, whereas engineered hardwood floors are generally 3mm or 4mm thick.
Both are great options for engineered hardwood flooring although engineered hardwood flooring tends to be more durable.
Is Vinyl Flooring Safe to Have In Your Home?
With the recent increase in LVP flooring, it's becoming more and more necessary to know whether or not LVP flooring is safe for your home. The safety of LVP has been a hot topic lately, with no conclusive answers as to whether or not LVP is safe.
The cause of concern is the LVP emits fumes when it is in direct contact with heat sources, causing LVP to be linked to Lymphocytic Plasmacytic Asthma. LVP also has the ability to off-gas formaldehyde which leads some people to believe LVP isn't safe for homes.
However, there are many LVP flooring options that don't emit harmful chemicals when indirect heat contact, making LVP flooring safe for your home.
In Conclusion
Engineered hardwood flooring is a great option for most homeowners, and can often increase the value of your home. Engineered hardwood is often more affordable than solid wood, while still providing you with the feel of real wood. In other words, it's worth the investment!