4 Simple Ways to Enhance Your Home's Outer Beauty
Imagine passing by a house, and its beautiful exterior catches your eye. You instantly feel a sense of curiosity and admiration. But does that make you wonder what made the home so captivating? Well, the secret behind its allure lies in a combination of various factors. So, if you too want to turn your own humble home into a head-turning masterpiece. You have come to the right place. We'll explore four simple ways to enhance the outer beauty of your home, making it the envy of the neighborhood.
However, before that, the first thing you should do is to clean and maintain. Regularly clean the exterior of your home to remove dirt, dust, and cobwebs. Pressure wash surfaces like the siding, deck, and driveway to restore their original appearance. Repair any damaged or peeling paint, replace broken or outdated fixtures, and keep gutters and downspouts clean.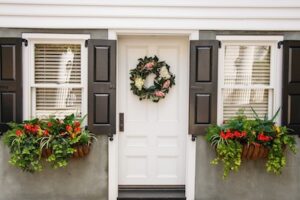 1. Front Door Makeover
Your front door is the first thing that any of your guests will notice. It's the gateway to your personal sanctuary. So, it is essential to give it extra attention and upgrade it accordingly. By doing so, you can instantly elevate the overall appearance and create a welcoming entrance.
Start by painting your current door with a bold and eye-catching color. Here are the top color options:
Shades of Red; exude warmth and elegance.
Timeless Black; to add a touch of sophistication.
Yellow; gives a playful and vibrant look.
Just make sure to choose a color that complements the overall exterior of your home.
Apart from this, don't forget to pay attention to the hardware. If you think the door handles or knockers have worn out. You can simply replace the handles, install a stylish knocker, and consider adding a peephole for added convenience and security. These upgrades give your door a fresh and updated look
However, if you still think your door's condition is worn out or doesn't match your desired style, it might be time to invest in a new one. When selecting a new front door, choose a design that matches the architectural style of your home.
2. Create a Lush and Vibrant Lawn
Creating a lush and vibrant lawn can bring a touch of natural wonder to the outside of your home. It adds a touch of natural beauty and creates a welcoming atmosphere. Start by preparing the soil and make sure it is nutrient-rich. Next, plant your favorite all-season plants that thrive in your climate. Finally, make sure that you water them regularly and protect them from any pests.  All this can be challenging and time-consuming, especially with the busy schedules. But here's the good news: you don't have to tackle it all by yourself.
For this reason, you can consider seeking reliable lawn care services to assist you in keeping your lawn in top shape. The professionals have the expertise and latest tools to handle all your lawn care needs. Additionally, the experts specialize in tasks such as aeration and disease control to ensure that your lawn receives the necessary treatments.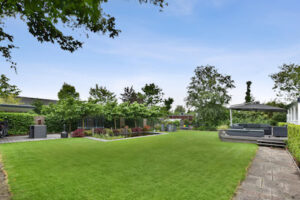 3. Prioritize Exterior Lights
When it comes to creating an inviting and safe outdoor space, exterior lighting is an essential piece of the puzzle. Through the lights, you can create a unique atmosphere when the sun goes down.
The most effective way to do this is by installing landscape lighting. It will highlight the focal points of your outdoor space. Also, place lights near architectural features, trees, or garden areas to create a stunning visual effect during the evening hours.
Another practical use of outdoor lighting is to brighten the walkways. Consider installing pathway lights along your garden paths. This will create a safe and well-lit passage for yourself and your guests. Moreover, the gentle glow of these lights adds a charming ambiance, making a warm and inviting atmosphere around your home.
4. Add Charm with Decorative Accents and Outdoor Art Pieces
Decorative accents add personality, character, and charm to your home's exterior. They are like little touches of magic that can transform a plain outdoor space into a captivating bliss. There are many different ways to go about this:
Outdoor Art
Incorporate outdoor art pieces to add a unique and artistic touch to your home's exterior. Consider sculptures, metal wall art, or decorative wind chimes that reflect your personal style, but make sure that the art pieces are weather-resistant and properly secured.
So, one way to infuse your outdoor space is by placing outdoor sculptures strategically throughout your yard. Choose a range of sculptures, from whimsical animals to elegant abstract designs. This way, you can bring a unique artistic flair to your surroundings.
Another idea is to install a birdhouse to invite feathered friends to visit your garden. Imagine waking up to the cheerful melodies of birds chirping and fluttering around your property. And to add a touch of soothing melody, hang decorative wind chimes. The gentle tinkling of chimes in the breeze creates a peaceful and relaxing atmosphere that relaxes both your mind and soul.
Potted Plants
Another idea is to place potted plants strategically around your home's exterior to add a touch of greenery and visual interest. Choose a variety of plants with different heights, textures, and colors to create an appealing arrangement. Place them near entryways, on patios, or along pathways.
Window Boxes and Planters
Add charm and character to your home by installing window boxes and planters. Fill them with colorful flowers or herbs that suit your personal style and the season. Ensure that they are regularly watered and maintained to keep them looking vibrant.
Outdoor Entertainment Area
Another great idea is to create an outdoor entertainment area where you can relax and spend time with family and friends. Install a patio or deck and furnish it with comfortable seating, a dining table, and even a barbecue grill. Add decorative elements like string lights or a fire pit to enhance the ambiance.
There are several other things that you can do outdoors according to your taste and liking. So, think through how you want the outdoors of your home to look and plan accordingly so that you can enhance the outer beauty of your home.
Wrapping Up
Remember, enhancing your home's outer beauty is a gradual process, and small changes can make a big impact. Take a moment to assess your home's exterior, imagine the possibilities, and begin on a journey to elevate its outer beauty. With a little effort and creativity, you can find a home that stands out in the neighborhood and brings you joy every time you come back. So, thanks for reading our article on how to enhance the outer beauty of your home, and enjoy the process of creating a beautiful and welcoming home for yourself and others to enjoy!