Take Care of Your Indoor Swimming Pool: 10 Tips
Indoor pools have become trendy nowadays at home. And, of course, recreational facilities have indoor swimming pools for people to learn the activity and enjoy leisure time. These also make for a great recreational escape for kids. Just because it's protected with walls and a ceiling doesn't mean it won't get dirty and doesn't need frequent maintenance. So how do you take care of your indoor swimming pool in your home? Here are ten tips to take care of your indoor swimming pool:
Know the Ins and Outs of Your Pool Thoroughly
Ensure Proper Ventilation
Clean Your Pool Interior Routinely
Soak the Oils With a Tennis Ball
Thoroughly Maintain the Filters
Check the Chemical Levels Frequently
Shock the Water Routinely
Maintain the Water Level
Regulate the Temperature Indoors
Ask a Professional for Help
Routine upkeep will pay off in the long run, saving you a lot of bucks and time. So, now that you know you have an idea of the tips for how to take care of the indoor swimming pool in your home, let's examine each of these tips in greater detail below.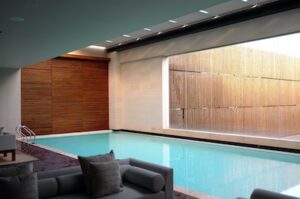 1. Know the Ins and Outs of Your Pool Thoroughly
Before taking care of your indoor swimming pool, you must know everything about it. Thoroughly learning about the ins and outs of the pool will help you understand how you need to clean and maintain it. Besides, it's not all about the pool; you need to ventilate the area properly.
Many people have the misconception that since these are indoor pools, they barely need to skim and clean them. However, these pools still need as much care as the outdoor pools, if not more. Therefore, you shouldn't skip the routine and deep cleaning if you always want a clean pool.
Hiring pool cleaning professionals can help you a great deal to understand more about these. You can learn more about taking care of your indoor swimming pool, the equipment, the pH and alkalinity testing, and some nitty-gritty hacks.
2. Ensure Proper Ventilation
Why is ventilation important for indoor swimming pools? Even if closed in walls, these pools will still evaporate due to internal temperature and the temperature of the human body. Besides, our body perspires a lot. All these will create a humid environment inside, which needs to get out.
Moisture trapped in the indoor recreation area will grow molds everywhere if you don't allow proper ventilation, creating a slippery floor that will soon become risky to walk on and swim in. To overcome that, you need to use dehumidifiers and install moisture-proof insulation on the walls.
It's essential to keep healthy air circulation in indoor pools. This will let the evaporation from our body and the pool escape, keeping the interior dry. 
3. Clean Your Pool Interior Routinely
Just as with outdoor pools and pool decks, you need to clean your indoor pool regularly. So, create a routine for regular maintenance of your pool, whether saltwater or freshwater. Skipping on routine cleaning of the indoor pool's interior is one of the crucial pool maintenance mistakes people commit. So what should you do to clean your pool?
Whether household or commercial, investing in a pool vacuum will help you take some pressure off your pool filtration system. Vacuuming once a week will remove any debris that clogs up the filters faster. 
Besides, scrubbing and skimming your pool at least once a week will help to keep your pool fresh. The more traffic you get on the indoor pool, the more frequent your skimming scrubbing routine should be. 
Remember, cleaning your pool correctly at least once a week will take off the hassle of spending a lot on deep cleaning your pool. The environment will also remain healthy and prevent algae and other microorganisms from developing.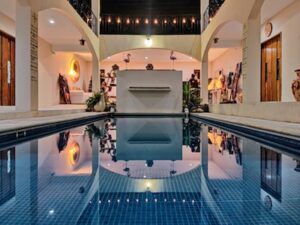 4. Soak the Oils With a Tennis Ball
How can tennis balls play a role in cleaning the pool? Try it, and you'll be amazed by how wonderfully it works soaking up all the oil from your pool's surface.
We can release oils in a few ways into the swimming pool, such as our natural oil or sebum, tanning products, hair products, and the oil from sunscreens and lotions. The fine fibers on tennis balls soak up all this oil from the pool surface.
All you need to do is toss a few tennis balls into the pool and let them sit there for a few hours. The balls will roll across the water, collecting all the oily residue. 
This will significantly reduce your work, as oils can help unwanted microorganisms grow in the pool if it's not cleaned. Don't forget to skim up the balls afterward! 
5. Thoroughly Maintain the Filters
Water filters carry an essential task: constantly filtering out the debris in your pool. Not cleaning these filters at least once a week is another crucial mistake people commit in pool maintenance. 
Take care of your indoor swimming pool filters by cleaning all the debris routinely, emptying the basket, cleaning it, and placing it properly. Just rinsing won't help, so you'll need to use a filter-cleaning solution to break down the debris thoroughly.
Backwash your pool filters during this time to push out the tough-to-clean dirt. With good care, the filters and baskets should flush the debris more effectively, last longer, and not need frequent replacements.
And if you have a saltwater swimming pool, you may have heard the myth that it corrodes the internal systems, which is false. The pool and the filtration system will be alright with routine maintenance work.
6. Check the Chemical Levels Frequently
Swimming pools, whether indoors or outdoors, freshwater or saltwater, needs proper chemical balance and routine check-up of the chemical levels. You can carry a water testing kit for testing pH and water hardness.
Usually, you'll need to add chlorine and cyanuric acid and maintain the calcium in your pool water. Chlorination sanitizes the water to eliminate all the bacteria and viruses, and cyanuric acid prevents chlorine from reacting with UV rays, aiding it to stay in the water much longer.
You must maintain an optimal calcium hardness level; otherwise, it can damage your pool and internal systems. A neutral pH of 7.2 to 7.8 will prevent the deterioration of the pool walls and the metals inside. 
With an expert's help or alone, check whether all the chemicals are optimal. Carry out routine chemical check-ups by testing the pool water's pH and alkalinity levels at least once a month to ensure proper pool health.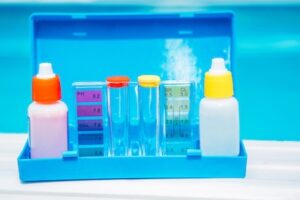 7. Shock the Water Routinely
One crucial step you must make to take care of your indoor swimming pool is shocking the pool water. No matter how much you skim, scrub, filter, or maintain the chemical levels, your pool water is bound to get cloudy or murky. This is when you'll need to shock the pool.
Shocking means pouring concentrated chlorine into the water; however, don't do it directly. It'll kill the overgrowth of bacteria and algae while breaking down all the debris stuck in the filter by creating an acidic environment. Mix concentrated chlorine in a bucket of water and then throw that water into the pool. 
This over-chlorination also bleaches the water. However, with the bucket approach, you won't damage the pool walls by over-bleaching. Keep it this way for twenty-four hours, and then test for free chlorine levels before allowing anyone to swim. 
8. Maintain the Water Level
Sometimes, when there's too much traffic in the swimming pool, the water level can dip due to all the splashing, soaking, and evaporation. Due to this, the filters can't pull the water efficiently due to lower pressure.
In such a case, you must fill the pool with a water hose and increase the water level to increase the pressure again. Once the water has been filtered well, add chlorine and test the water for pH and chemical balance.
If your indoor swimming pool is for commercial purposes, you must run the filters eight to twelve hours a day after every use. This way, you'll be able to maintain clean water and restore proper water levels. 
9. Regulate the Temperature Indoors
Even indoors, you need to regulate the temperature to take care of your indoor swimming pool adequately. A good trick to follow is keeping the temperature of the enclosed area a degree or two warmer than the pool water temperature. 
Maintaining the internal temperature this way will reduce the chances of condensation indoors, thus decreasing the possibility of moldy growth on all surfaces. You should also keep the pool covered during the off hours to minimize evaporation and increase the moisture in the air. 
10. Ask a Professional for Help
If you're unsure what to do, if your pool system is working properly, or if you need to change anything, you can always ask for professional help. As mentioned in the beginning, professional pool cleaners will guide you on taking care of your indoor swimming pool, which equipment you must use, what you should install or remove, and how to balance the chemicals.
A professional will teach you how many ppm (parts per million) of chlorine and cyanuric acid you need to add, how much calcium should be present in your pool water, and how to check the pH and water hardness. Besides, you can check the internals of your pool, and if there's any need for deep cleaning, they'll do it for you.
Conclusion
Whether saltwater or freshwater, you must take care of your indoor swimming pool properly. Maintain the filtration system, shock the pool water, and skim and scrub your pool and the surroundings routinely. You should also ensure ventilation and install indoor systems to maintain an optimum environment. We hope this article has helped you understand how to take care of your indoor pool. With these tips, your pool will stay fresh longer, and the internal systems will remain in good condition.