6 Tips For How to Make Stunning Gardens In Confined Spaces
If you love spending time outdoors surrounded by beautiful plants and flowers, but don't have a lot of space to work with, don't despair. A small garden can be just as lovely and inviting as a larger one. With a little planning and care, you can have a garden that is the envy of your neighborhood. So how can you make a stunning garden in a confined space? Tips for making stunning gardens in confined spaces include: 
Use Vertical Spaces to Your Advantage
Get Creative With Your Plants
Choose the Appropriate Furnishings
Make It Look More Spacious
Keep Your Garden Clutter-Free
Attract Wildlife
There are plenty of reasons to garden in a small space. Maybe you live in an urban area with limited outdoor space, or you want to save on water and energy by growing your own food. Just because you have a tiny place does not mean growing anything impossible. There are certain plants that thrive well in this type of environment. Take mushrooms as an example. Moreover, they don't take a lot to plant too. All you need are a beginner-friendly mushroom growing kit and you're good to go! Whatever your reasons, it is possible to have a great garden in a small space. Even if your garden is only a few square feet, it may still add a sense of freshness to your house if you customize it carefully. You may have to go outside the box regarding how you use the available space. So, if you want to find out how to do these things in order to make your small garden look stunning, now is the time to use these six tips:
1. Use Vertical Spaces to Your Advantage
When planning the layout of your garden, don't overlook the potential of vertical areas. Vertical areas are sometimes overlooked, even though they may help you to build a plant watering system and serve as a practical additional storage area for your plants, flowers, and other decorative items. Climbing plants such as the Star Jasmine may utilize vertical places such as walls and fences. Star Jasmine is also an excellent option for your garden as it may enhance the visual appeal of the space.
Those of you who are rose enthusiasts are in luck: you may still cultivate roses in the space that you have available in your yard. On the other hand, in contrast to natural climbing plants, this particular plant will not generate an abundance of blossoms.
In addition, you may add some personality to your fence by growing plants such as trumpet vines. The brilliant hues of its blossoms will undoubtedly attract a lot of attention. In addition to that, you may also dangle little potted plants from the bottom of your fence. Make sure to choose pots with a similar design to one another so that the arrangement is pleasing to the sight.
Do not worry if your fence does not allow you to use the technique of vertical spaces. You can always find a local fence service that can help you with your problem.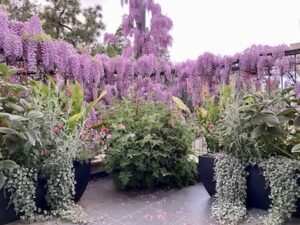 2. Get Creative With Your Plants
Even though you have a little garden, it does not imply that you cannot grow plants that produce edible food products. Harvesting fruits and vegetables are still viable for making the most of your available space. Kale, Tomato, and Bell Pepper are just a few examples. Not only are these three ornamental plants delicious, but you can also consume them regularly. Rosemary and Hyacinth, among other plants with cool hues, are also good choices. It's possible to give the idea of a wider area by using cool-toned flowers like these two. 
3. Choose the Appropriate Furnishings
You may be more driven to decorate your garden if you select a theme that is personal and significant to you. Because of this, you must get the appropriate furnishings that will round off the appearance that you are going for. Especially since having beautiful plants isn't enough to make a garden appealing to the eye.
If you prefer your landscape lively, use a colorful palette for your furnishings. Rather than purchasing the typical brown pots and baskets, go for the ones in various colors. But if you have any old brown pots, you shouldn't get rid of them just yet. Instead, you may personalize your pots and baskets by painting them yourself using the do-it-yourself method. Also, don't forget about container gardening. This is a great option for small gardens since you can move the containers around to create different looks. Plus, you can even grow many vegetables and fruits in containers if you choose the right varieties.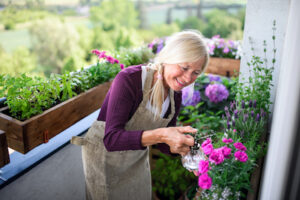 Because there is only so much room in your garden, you must be careful that the garden furniture you select won't take up too much of the available area. You may get garden chairs if you want somewhere to sit down and unwind in your yard. Their compact size is ideal for smaller gardens. The fact that you are free to remove a hammock at any moment makes it an additional viable option. To avoid giving the impression that your garden is congested, you should carefully consider how each garden furniture item will affect the available space before making a purchase.
Consider conducting an extensive study if you have grown attached to your miniature garden and are interested in making big adjustments to it, such as increasing its size. A construction project of this scale requires considerable deliberation due to the amount of time, money, and work required to complete it.
4. Make It Look More Spacious
You may enjoy your garden to its fullest potential if you take the time to beautify every available place, including the pathway. You may use bluestone and brick diamonds laid out in a diagonal pattern to give the impression that it is larger than it is. If you have grass growing all over your garden, you should trim it regularly, so it doesn't seem unkempt.
In addition, you may prevent your pathway from seeming empty by placing succulents in little pots along either side of it. You could also purchase a little fountain and position it at the end of the pavement to serve as a welcoming focal point for visitors.
Another great tip to make the most of the space you have is to garden in layers. The best way to do so is by placing taller plants in the back, medium-sized plants in the middle, and shorter plants in the front. This will give your garden a sense of depth and make it look more spacious.
5. Keep Your Garden Clutter-Free
Maintaining a neat garden is important for several reasons. First, it creates a pleasing aesthetic. Nobody wants to look at a messy garden full of weeds and dead foliage. A well-maintained garden is much more pleasant to look at and can even increase your property value.
As it is no secret that curb appeal can play a big role in how much your home is worth. And while there are many ways to add curb appeal, one of the most effective (and potentially least expensive) is through landscaping. Given that, it stands to reason that a well-landscaped garden could have a positive impact on your home's value. This is why a mortgage broker will recommend to their clients to have their gardens decluttered before they get their property valued, as it can make a material impact on their loan applications. 
Second, a tidy garden is easier to maintain overall. Caring for your plants is much simpler when they're not surrounded by debris and clutter. You'll be able to reach them more easily to water, fertilize, and prune them, and you won't have to deal with as many pesky weeds stealing their nutrients. Finally, keeping your garden free of clutter will discourage pests from taking up residence.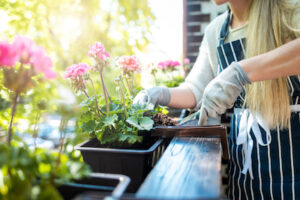 6. Attract Wildlife
If you love spending time outdoors, you may be wondering how you can attract more animals to your small garden. While you might not be able to turn your yard into a full-fledged nature reserve, there are a few things you can do to make it more inviting for local fauna.
One of the few tricks you can do to attract wildlife is by planting native flowers, shrubs, and trees. Birds, bees, and other small animals are attracted to these plants because they offer food and shelter. As for bees, they can be a big help in creating a strong and vibrant garden by pollinating many flowers and plants. You can start beekeeping to have a colony that will pollinate your plants.
Also, you can add a water feature to your garden – even a small birdbath or water fountain will do. This will provide a much-needed source of water for thirsty animals. Finally, avoid using pesticides and herbicides in your garden; these chemicals can harm wildlife.
Attracting wildlife to your small garden has its benefits. Not only will you enjoy watching these animals up close, but you'll also be helping local ecosystems by providing habitat and food for creatures that might otherwise struggle to survive.
Conclusion
You can also try artificial grass for your garden. As the installation of artificial grass in your home is becoming increasingly more popular. It simply looks perfect, all year round with low maintenance. You only ever have to brush it down if leaves and other garden debris settle. 
Regardless of the available area, there is no reason why you should not start working on your garden. You can always have a little one, and it won't be much different from other big gardens in terms of its overall appearance. In these circumstances, you will need to meticulously design your space to make the most of the area you have available without compromising the way it looks. With a little creativity and effort, you can have a garden that is both beautiful and functional, even if you only have a small amount of space to work with. Just remember that the finest garden is where you can unwind and feel more connected to the natural world. Hopefully, these six tips for how to make stunning gardens in confined spaces were helpful. If so made you want to get out there and start planning your dream garden today!