What 8 Things Do You Need To Do If Your Roof Leaks?
When your roof is leaking due to rain or snow, you need to take action. There will be eight items mentioned in this article that must be addressed right away.
Locate the Source of the Leak
Remove All Objects
If You Can't Move It, Cover It
Find a Way to Hold the Water
Step Back From the Problem
Document the Damage with Pictures for Your Insurance 
You Need to Call In a Professional
Keep Up With Regular Roof Maintenance
The first thing you should note is that unless you are a roofer, you might need to contact a specialist. However, hiring a specialist can be expensive but when you are dealing with possible water damage every moment counts and it should not be made worse by your lack of knowledge. Here are a few things you can do before the professionals can arrive.
When the leak happens or when you find the leak, you should do what you know you can do. Here are eight quick tips to take for a leaking roof:
1. Locate the Source of the Leak
Identifying what is allowing water into your roofing can help you avoid heavy rain leaks or some other water drip problem. If you figure out the cause, you'll save time and money by not having to purchase several tools to repair leaks.
The first thing you need to do is to look for any roof leaks and ensure that everything is in order.
There are a few other reasons for leaks including blocked gutters, infestations by pests, and plumbing, heating, and cooling difficulties.
Check your roof and ceiling for any tiles or drywall that have been damaged.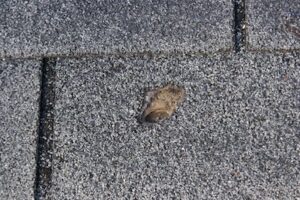 2. Remove All Objects
If you detect a leak in your roof, and there is a potential for water damage, the last thing you want is to have your things damaged as a result of the situation.
If water is overflowing onto your bed, clothes, or furniture, try to clear the area as soon as possible!
Water damage may harm your belongings, so if there is damage you can have your countertop resurfaced.
However, it is best to do everything you can to avoid the damage before it happens!
3. If You Can't Move It, Cover It
When the furniture is too heavy to move into another room, push it to the side and cover it with plastic sheeting.
Remove any protective covers once you've resolved the leak.
Cushions and fabrics require air to breathe, so they must be removed as soon as possible.
4. Find a Way to Hold the Water
Limit the water flow if you have a leaking roof.
This is generally accomplished by placing a pail or pot in your attic to collect water that runs down the Roof.
If you don't keep the water inside, you'll pay far more to repair the damage within your house than to repair the roof.
To avoid overflow, keep lots of buckets and pots around that can collect moisture and replace them regularly.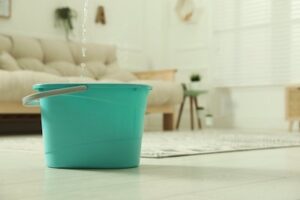 5. Step Back From the Problem
Once you've taken care of the damage inside your home, including the attic and crawlspace, it's time to look at the damage from afar and assess the roof.
Roof inspections might help you determine what needs to be done.
This technique is beneficial for roofs with slopes.
If the water is still dripping, use a hose to direct it away from the house. If possible, do this before the rain starts so that you can avoid as much damage as possible.
6. Document the Damage With Pics For Your Insurance
When submitting an eligible home insurance claim, you'll need to document your losses. As a result, remembering to take photographs of everything is critical for estimating the cost of repairs.
The photos will demonstrate not only the breadth of the roof damage but also other factors that have been damaged.
Your insurance carrier will be able to repair or replace your ruined roof and appliances.
7. You Need to Call In a Professional
The most important step in resolving a roof leak is to contact a reputable roofing contractor. A skilled roofer you call will know what to do with the damaged section of your roof and whether other areas should be patched up.
If you're in an earthquake-prone area, they'll likely advise you to avoid asphalt shingles. Be sure to ask about the warranty on workmanship and materials before making your final decision.
How Do I Choose a Roofing Contractor
In many cases, homeowners allow price to dictate the contractor they choose. As with most things in life, you get what you pay for. If you go with a roofing company that can give you a bargain price but can't provide a list of happy customers, you're probably going to end up with a substandard installation.
Important Questions to Ask Before You Hire a Roofing Contractor:
– Has This Roofing Contractor Been Around for a While?
Unfortunately, fly-by-night contractors are notorious for closing up and reopening under a new name to avoid paying damages. You can avoid being taken advantage of by this sort of unethical contractor by hiring someone with decades of expertise and a good reputation.
– Double-Check Licensing and Insurance
Roofing is a dangerous job, which is why we never recommend homeowners take it on themselves. It's important to have the right tools, materials, and safety equipment. It's also important to have experience. Reputable roofing contractors hold the requisite permits and licenses for every job they perform.
A high-quality roofing installer will also carry all required insurance for its workers, which will cover them in the event someone is hurt during your roof installation. As a homeowner, you should never work with a contractor that can't provide proof of proper insurance for its employees.
– Look at Past Work
For most businesses that provide a service, reputation is everything. The internet provides unbiased, third-party reviews from people who have used a business' services in the past. 81% of consumers say they research online before they make a purchase. Before you spend money, it pays to do your homework.
What do other homeowners have to say about the roofing contractor? You can ask the company if it has a list of homeowners you can call, or you can check online for information about the company's past jobs.
– Price Isn't the Only Thing That Matters
If you've ever undertaken a home renovation project in the past, you may have been told to "get three estimates." No one knows where this so-called "three estimates" rule comes from, and no one seems to be able to say why three is the ideal number.
There's no reason why you should limit yourself to three estimates — or why you should go beyond one or two estimates when looking for a roofing contractor. Rather, you should spend time talking to potential roofing companies until you believe you've got all of the information you need to make an informed decision.
– Get Financing Agreements In Writing
Every aspect of your roofing installation should be professionally documented, but it's especially important to make sure you understand the financing terms. A good roofing company will appoint a knowledgeable employee to walk you through the contract and answer any questions you have about payment. No part of the agreement should be confusing or left "up in the air."
– Ask What Happens If You're Unsatisfied with the Work
No matter how carefully you plan a job, there is always a chance that something will go wrong. If an error happens, how will the company handle it? This is something you need to know in advance. Will you spend hours on the phone, trying to reach a representative? Will the company take your money and run?
– Ask About Unplanned Repairs
Unfortunately, unplanned repairs and emergencies are more often the rules rather than the exception when it comes to home improvement. As soon as you start knocking down walls or ripping out cabinets, you're likely to find additional problems that need to be addressed.
Roofs can work much the same way. In some cases, decking is rotten or damaged by moisture, or the crew discovers water damage that needs to be repaired before additional moisture makes its way inside a property. Ask your roofing contractor how it handles unexpected repairs. This way, even if you're surprised, you know what to expect.
– Will the Roofing Contractor Tear Off Your Old Roof?
Some roofing companies will install new shingles over an old roof. However, this is almost always a bad idea. First, it adds additional weight to a roof that is probably already aging and due for new decking. Second, it doesn't address any underlying problems, such as damage concealed by old shingles.
In this way, slapping new shingles over an existing roof is a lot like putting a Band-Aid on an infected wound. You cover up the damage, but you do nothing to treat the real source of the injury. It can be an effective and cheap short-term solution, but it will cost you a lot more in the long run.
– Ask If the Roofing Contractor Is an Authorized Installer
Is the roofing contractor a preferred partner and authorized installer for the shingle manufacturer? This is an important consideration, as manufacturers won't honor their warranties when a roof is installed by a non-authorized installer.
8. Keep Up With Regular Roof Maintenance
The most effective approach to avoiding leaks is to keep your roof maintained. Roofs are subjected to a lot of wear and tear, as well as harsh weather conditions.
As a result, regular upkeep is an important aspect of roof repair in the long run.
You can ensure that leaves or other debris haven't piled up in your gutters and downspouts, check for water damage after severe weather, and replace any bent or broken shingles.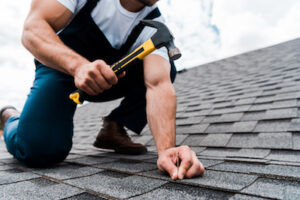 Important Tips to Remember When Maintaining Your Roof
Understanding that taking the time out of your busy schedule to ensure that your roof is always in excellent shape can be pretty hard. Regardless of the type of roof you have, roof maintenance doesn't have to be as difficult as you may think. All you need for your roof to survive its entire lifespan and perhaps even surpass it is a little bit of effort and attention. To continually maintain it and address any concerns, no matter how big or little, promptly will go a long way.
Roof maintenance can help you save money on long-term repairs and provide the peace of mind you need, we have compiled a list of essential, easy roof care guidelines.
Here are the best ways to keep your roof operating problem-free for a long time to come!
Remove Overgrowth Around Your Roof
Is there a lot of foliage within proximity to your house? If there is the best thing to do is trim them regularly you can.
The reason for this is quite simple. They may fly freely as a result of storms and powerful winds, causing damage to your roof. So, if you're concerned that the branches are perilously near to your home, they most likely are!
Remove Limbs, Leaves, and Other Objects
What is the purpose?
Elimination of any potential hazards that might harm your roof. It will also prevent moss from growing by removing debris.
You'll preserve the structural integrity of your roof, as well as minimize potential structural damage.
Roof Ventilation Is Important
Your roof must be able to breathe.
When adequate ventilation is not provided heat and moisture will wreak havoc on your roofing system, reducing the efficiency of your insulation.
The good news is that by installing high-quality insulation, you can prevent this from happening.
Check Your Gutters
Checking your gutters is something that has been mentioned previously, and it's important in keeping your home secure and protected.
They divert water (and debris) away from the roof when they're in good shape.
If you haven't checked your gutters in a while, now would be the time to do it.
By doing this, you'll guarantee that nothing is obstructing the water flow and reducing the chance of leaks.
After a Storm Get Your Attic Checked
It is critical to have your attic properly assessed regularly.
We strongly advise that you thoroughly inspect your attic after each storm to ensure there is no damage.
This may not appear to be an important thing, but we can assure you that it is.
Water damage and weak shingles that aren't addressed might lead to much more significant problems.
Roof Treatment For Moss and Algae
Moss and algae growing on your roof might be extremely harmful.
It also does not look very good.
Unfortunately, this is something you can anticipate mostly during the summer months.
However, there's a quick answer! You may have your roof professionally cleaned and treated with preventative treatments, which will keep moss and algae from growing on your roof in the future.
Conclusion
Knowing what to do when you find a roof leak is very important. It is also very important to take preventative measures to avoid roof leaks in the first place. By following the tips listed above, you can save yourself a lot of time, money, and stress.