Easy Checklist to Prepare Your Home for Winter
If you live in a country with bitterly cold winters, it is mandatory to protect your house and belongings from the harsh temperature.  It helps to have a list of things to check off as you prepare your home for winter so that you don't forget something important! Here are some of the most crucial things to remember:
Check Your Home's Heating System
Protect Your Wooden Doors and Windows
Reverse the Order of Ceiling Fans
Get Rid of Ice Dams
Check Your Drainage System
Seal Exterior Faucets
Stack Firewood
Get a Smoke and Carbon Monoxide Detectors
Close Down Your Pool

Check Your Home's Heating System
You need to check your home's heating system before the winter. Generally, the heating system of your home lasts for around 12-15 years or slightly longer. However, even if your home heating system is a few years old, it is better to check it before the weather turns cold.
You can sign up for an annual heating system maintenance or appoint an HVAC contractor to inspect it. This helps you to understand your heating system's condition and take the necessary precautions. In order to receive financial aid for any damage to your house, you can opt for an
appropriate home insurance policy. Such policies protect your house or the items within from
covered damages and provide financial coverage for the losses if they are within the insurance policy.
Protect Your Wooden Doors and Windows
Winters can be bitterly cold in many places of the world. In such cases, having a working heating system alone might not help? Have you thought of how to avoid the gush of icy cold wind seeping in through your windows? Remember, your windows are made of thin layers of wood. Thus, they can erode fast and create gaps. Therefore, it is essential to tackle this problem before it gets out of hand.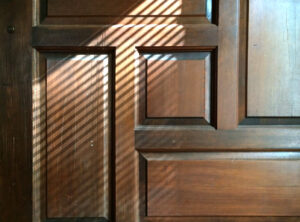 The idea of sealing your windows before winter can be beneficial. Alternatively, you can also choose to replace the wooden sheets on your windows to ensure that they do not create unnecessary gaps. The latter is a more pocket-friendly way of protecting your house during winters, as sealing them or removing the trim might drill a hole in your pocket.
You can also build a shed on your house to prevent the snow from accumulating on your terrace and damaging it.
Reverse the Order of Ceiling Fans
Does your room remain icy cold even after you switch on the heater? Remember, hot air often rises up because it is light and set around your ceiling. However, since that is of no use, you should reverse the direction of your fan. The reverse option causes your fan to spin clockwise and push down the hot air that has accumulated above. Such a technique is especially beneficial for rooms with a high ceiling.
Get Rid of Ice Dams
Ice dams are one of the most persistent issues in areas with a harsh winter. You must make sure to get rid of ice dams on the exterior walls of your house. Not doing so might cause the ice dams to damage your walls and even seep inside your house when it melts. Of course, you do not want to live in damp rooms, do you? It would be best if you could check for ice dams around the walls of your house after every snowfall to make sure you get rid of them immediately.
Check Your Drainage System
Checking your drainage system and its condition before winter arrives is one of the most crucial things that you should do. The snow accumulation can cause your pipes to freeze and break open, spilling over the sewage in or around your house. Of course, you do not need that mess. The best way to ensure that your drainage pipes are clear is to call for a plumber during the fall or before and get your drainage system checked.
You should also be careful about preventing soil deposition around your drain as it might cause your drains to get clogged. Furthermore, remember to fill up any gutter or hole in your courtyard to prevent snow from being deposited.
Seal Exterior Faucets
You might have exterior faucets in your garden or courtyard. Make sure you seal them before winter arrives so that there is no chance of water flowing through these pipes. Remember, there are chances for the pipes to break as the water inside freezes and expands, even if you do not use these faucets. Thus, it is always better to seal them beforehand and protect your pipelines. This would save considerable money and efforts in constructing new pipelines during Spring. You can always call for a plumber and unseal these faucets later.
Stack Firewood
Who doesn't like enjoying the warmth and coziness beside the fireplace during winters? In order to enjoy the comfort, you should stack enough firewood for the season. Having enough firewood helps you avoid fetching for some more while it's snowing outside and enjoy all the comfort at home.
While you plan and arrange your fireplace, it is also crucial that you get your chimney inspected. This helps you to detect any issue with the chimney and also get it cleaned before winter arrives. The residue in the chimney can reduce its efficiency, and thus, inspecting it once before winter is essential.

Get a Smoke and Carbon Monoxide Detector
While winter is the time to enjoy the fireplace, do not forget its risks. Most houses catch fire during winters because of the lack of carbon monoxide or smoke detectors. Make sure to order a smoke detector before the winter or test them if you already have one. A smoke detector helps you to detect whether the smoke from your fireplace is being ventilated well.
Having a carbon monoxide detector is crucial since you are certain to lock yourself up in a room with an active fireplace during the winter. These help you prevent the accumulation of carbon monoxide beyond a specific level that might otherwise cause deaths.
Close Down Your Pool
If you have a swimming pool in your house, make sure it is shut down during the winter season. There are several reasons for this. Firstly, dry leaves from trees might accumulate in your pool, making it swampy and dirty, thereby unfair for use. Secondly, the outside temperature might also cause the water in your pool to freeze. The expansion of water in the form of ice might cause cracks in the structure of your pool and have a disastrous effect.
Remember, you would need the help of experts to have your pool functioning during spring. It would be best if you could cover your dry pool area once you have shut it to prevent it from getting dirty. Doing this would help you to avoid the headache of cleaning your pool area after the season.

Conclusion
While winter is the season to decorate your house for Christmas and other parties, you must take the necessary precautions. Remember, snowfall or the low temperature might cause severe damage to your home, and thus, you should consider the points mentioned above to protect your house.
It is a lot better to purchase or build housekeeping with the temperature conditions of your area in mind. You must always go for houses with sloping roofs and provisions for the fireplace if you stay in places that have extremely harsh winters.