Copper Gutters Vs. Aluminum Gutters: Home Guide
Copper and aluminum gutters are two of the most popular types of gutter systems available today. If you are considering having gutters installed, you may be confused as to which option would be best for you. As with all things, there are both pros and cons to each option. Typically, copper gutters are the more expensive option of the two, leaving many consumers to wonder: are they worth it? Continue reading to learn more about why copper gutters are a superior option in gutter systems and why they are well worth a higher initial investment.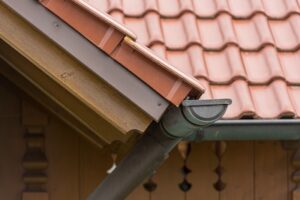 Why Should You Choose Copper Gutter Systems?
The first thing that comes to mind when thinking about copper gutters is cost. The average price for installing a copper gutter system can range from $1,000-$2,500 depending on where you live and how large your home or business is. While this may seem like a lot of money, if you consider the fact that these gutters will last much longer than any other type of gutter system, you'll likely realize that the initial cost is very reasonable. In addition, the benefits of copper gutters far outweigh the costs associated with them. They offer:
A Long Lifespan
Renowned for their exceptional durability, copper gutters are built to withstand the test of time. The natural properties of copper make these gutters resistant to rust, corrosion, and even UV damage.
Unlike aluminum gutters, copper gutters have been known to last up to 50 years! Thus, even though you will have a higher initial investment, their extended lifespan means they pay for themselves. Simply put, once you've made the initial investment, you won't have to worry about replacing your gutters again for many years or maybe the rest of your life.
Beautiful Appearance
Copper has become one of the most sought-after metals in the world because of its beautiful appearance. Over the years, copper develops a beautiful patina, enhancing the aesthetic appeal of your home. It's also extremely durable, making it perfect for use in commercial buildings and homes alike.
Increased Energy Efficiency
Copper gutters are more energy efficient. This is because copper is an excellent conductor of heat, it helps keep your home warm during cold weather months. Since it conducts heat better than aluminum does, copper gutters help prevent ice dams from forming, helping to save you money on heating bills.
Lower Maintenance
Copper gutters require less upkeep than aluminum gutters do. However, since they are made out of metal, they need to be cleaned regularly to avoid rusting.
Aluminum Gutters Vs. Copper Gutters
While copper gutters are generally considered to be the more desirable option, not every homeowner needs them. There are some situations in which aluminum gutters are preferable to copper gutters. For example, homeowners who have trees growing near their houses often find themselves dealing with tree roots getting into their gutters. These roots can cause leaks in the gutters, leading to water damage inside the home. When dealing with tree roots, aluminum gutters tend to work better than copper gutters.
Other Factors to Consider
Another situation in which aluminum gutters might be preferred is when you want to install your gutters yourself. If you choose to go this route, aluminum gutters are easier to install than copper gutters. Additionally, they are lighter than copper gutters, so they don't weigh down your roof as much.
You should also consider how long you intend to reside at your property. If you are simply fixing up a place to resell it or have purchased a home with an end date in mind, it may be advisable to choose aluminum gutters over copper. Since copper is a larger investment, you may want to wait to add this upgrade until you build or purchase your forever home. That way you aren't making expensive upgrades just to turn around and move out of the property. Although, if you do resell shortly after investing in copper gutters, you can rest assured knowing that your home's equity will increase as a result, helping you to get more out of your home.
Which Will Be the Right Choice for You?
While copper gutters are the superior choice, they will not be the right choice for everyone. It is important that you fully consider your situation before making a decision. If you are still confused, consider speaking with a reputable, local installer to have all your questions answered and to further investigate which option would make the most sense for you.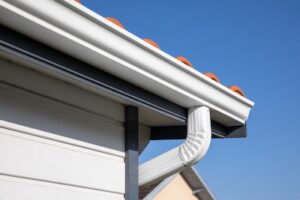 Seamless Gutter Systems Vs. Sectional Gutters
Once you've decided on your preferred gutter material, you will be left with one last decision; should you choose seamless or sectional gutters? While seamless gutters are more expensive than sectional gutters, most consumers find they are more than worth the investment. The value offered by seamless gutters is simply unparalleled. Your gutters perform such an important function in keeping your home safe and dry, which means you can't afford to choose subpar quality. Consider the factors below to determine which system is right for you.
Seamless Gutters
When it comes to gutter systems, seamless gutters are the best choice if you live in a climate where heavy rainstorms occur frequently. They are also great for areas where there is a lot of snowfall. Seamless gutter systems are comprised of several pieces of metal that form a continuous piece of material. This means that no seams exist between the individual sections of the system. The biggest advantage of this type of system is that it does not leak like traditional gutters. Thus, water can flow through freely reducing ice and debris build-up.
Sectional Gutters
Sectional gutters, on the other hand, are comprised of multiple pieces that meet at a seam. While the professionals will do their best to fit the pieces together and add a sturdy seal, they will inevitably begin to leak in time. Once the leaking has begun, you will be faced with issues like ice and debris build-up, separated gutters due to ice expansion, and a nightmare cleaning situation. You can also expect your gutters to need more frequent replacement than their seamless counterparts.
So, while seamless gutters are a bit costlier initially, their reduced maintenance will save you time, money, and frustration in the long run. Thus, after weighing out the cost-to-benefit ratio, most consumers find it far more advantageous to choose seamless gutters.
Conclusion
When it comes to making upgrades to your home, the choices can be overwhelming. Despite this, doing your research and making the right decision can alleviate stress and give you peace of mind for years to come. Consider the above information so you can choose the right gutter type and system for your home!