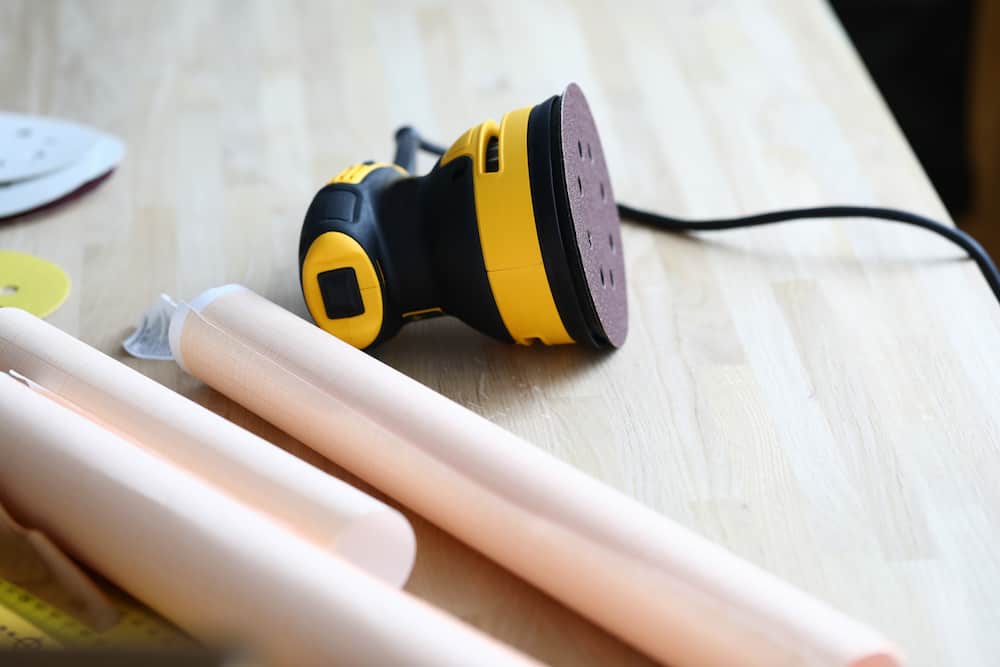 22 Feb

Best Electric Sanders for Furniture 2022
Best Electric Sanders for Furniture
Carpentry often calls for a variety of tools. From detailed tooling work to cutting pieces of wood and sanding them down, making furniture is a long and laborious process. Of course, there's nothing quite as satisfying as creating pieces for a home that will be used for years and years to come. Whether you're looking for a suitable electric sander for creating fresh new pieces to recrafting older pieces, we can help you find the right sander for your wood-working. Sanding can be laborious if you don't have the right equipment. If you do carpentry or even remodel furniture pieces pretty regularly, having a handy electric sander can save you tons of time in the long run. When it comes to creating or recrafting high-quality furniture pieces, you will want to have access to a sander that will allow you to smooth away in rough parts of the exterior so that your furniture is both safe and beautiful.
There are many sanders on the market that you can choose from for your carpentry needs. Before you decide what sander you should buy, you should first consider what kind is best suited for your needs. 
Detail Sander: This is a straightforward sander that moves in a straight path, back and forth, to sand wood. This is an excellent sander for finishing pieces before they are stained. Detail sanders will not sand against the wood's grain, so keep that in mind when thinking about choosing this type of sander. 

Orbital Sander: Orbital Sanders, as their name suggests, goes in circular motions and is a great option for remodeling pieces of older furniture. Keep in mind that this isn't a good sander for detailed work or edges, but a powerful sander that's an excellent medium between small and large. 

Belt Sander: The most influential group, a belt sander, is a great power tool for big jobs. Belt sanders are heavy-duty and are great for sanding down large pieces of furniture. Belt sanders are suitable investments for professionals or very invested DIY-ers. If carpentry is a hobby, you'll want to practice plenty with a belt sander before applying it to an actual project.
The TACKLIFE 5-Inch Random Orbit Sander 3.0A is ideal for Indoor Work. Precision engineered all-ball bearing construction for reduced vibration and noise, the machine works stably with low vibration, low noise and is ideal for indoor work. With high performance dust collection it provides a clean work environment with a compact size and ergonomic design. This sander can get into tight spaces easily and meet maximize user control, perfect for your furniture projects
Review:
To my surprise, this sander works very well, definitely has been speeding up my projects, and feels like it has been made of good quality. With that said, since this is a brand I had never heard of before, once it breaks, I will probably be buying a brand-name sander unless this one lasts for years. Only time will tell, but so far I am pleasantly surprised and happy with it.
Weight: 3.4 pounds
Dimensions: 10.1 x 6.6 x 4.9 inches
The Bosch ROS20VSK 5″ Random Orbit Sander/Polisher furnishes an optimized combination of pad orbit and rotation that delivers fast removal and a well-blended, ultra-smooth finish. This tool is designed to allow finish carpenters and cabinet makers to complete their tasks quickly and to exacting standards, without swirl marks. This sander allows users to find the perfect speed for whatever task they need to complete, with an optimal on-board system for filtering fine dust.
Review:
Sanding with 80 grit on plywood, with the dust basket, it worked very well. It still left a lot of dust on the surface, but not in the air. I then hooked it up with the vacuum attachment and there was almost no dust at all. I also noticed that the sandpaper didn't load up very much with the vacuum. I like the case as it has a pad alignment tool built in as well as places for extra parts. It's also very solid. I'd recommend it over the soft carry case.
Weight: 3.5 pounds
Dimensions: 9 x 5 x 6 inches
The DEWALT DWE6411 1/4 Sheet Orbital Finish Sander features a 2.3 AMP motor which sands at 14,000 OPM. A rubber overmold texture will provide smooth and comfortable control while sanding. It has an improved paper clamp features for better paper retention, and a locking dust-port system that allows the user to lock vacuum hose up with the sander. The reduced overall height of the sander to get the user closer to their work, while the separate counterweight design reduces vibration. It also features a rubber dust boot over the switch to protect against dust ingestion for longer switch life. Includes: 1/4 sheet sander, paper punch, owners manual, Dust Bag.
Review:
Very nice palm sander. Removes stock as well as any I've seen. The dust collector bag is really effective. I pushed it in place, gave it a twist to tighten it and it did a great job of catching the dust. You'll need to used the plastic plate with the pins to punch holes in the paper, (after the paper is loaded on the sander). Otherwise, It probably wouldn't collect dust nearly as well.
Weight: 3.7 pounds
Dimensions: 10.31 x 5.69 x 6 inches
The 7, 000-12, 000 variable speed dial allows the user more control over the output of the tool to match the orbit speed for the application. The tool' s powerful motor allows the user to remove more material per battery charge. The m18™ Random orbit sander powered by redlithium™ battery technology delivers up to 35 minutes of run-time on a m18™ 3.0Ah battery pack.
Review:
Trying to use this for more than 5min introduced hand fatigue like no other orbital. It also gets away from you quite easy if you don't use a firm grip at all times as the balance doesn't translate into the user's hand. I'll stick with my corded which is much easier to get pro results.
Weight: 5.39 pounds
Dimensions: 6 x 15 x 8 inches
Makita's 5-Inch Random Orbit Sander with variable speed (model BO5041) combines power, speed and performance with improved grip and control, including an innovative adjustable front handle. It is ideal for woodworkers, finish carpenters and general contractors. The BO5041 features a Makita-built 3 AMP motor with over-sized sealed ball bearing construction for longer tool life. The variable speed control dial (4,000 – 12,000 OPM) allows the user to match the sanding speed to the material, with a large two-finger trigger switch with conveniently located lock-on button for continuous use and increased operator comfort. The large 1/8-inch random orbit action delivers fast and smooth sanding and a swirl-free finish, with a pad control system for controlled pad speed upon start-up.
Review:
"Sanding is my favorite task" – said no one, ever. But let me tell ya, sanding with this bad boy is almost a pleasure. I've owned a few Makita tools over the years, but none recent, until this beauty. I'm glad to see Makita is still making quality tools.
Weight: 2.1 pounds
Dimensions: 10.8 x 4.8 x 6 inches