10 Bedroom Interior Design Ideas to Transform Your Space
Your bedroom is more than just a place to sleep—it's your personal sanctuary where you begin and end each day. Creating a bedroom that reflects your personality and offers comfort is essential. So, if you are wondering how to decorate a bedroom like a professional interior designer or home interior design company, look no further! In this article, we'll explore bedroom interior design ideas that can help you transform your space into a haven of relaxation and style. From using natural elements to infusing your space with personal touches, we've got you covered.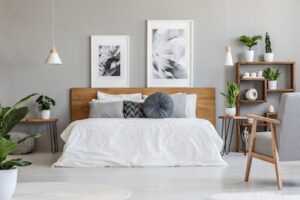 Starting Out With Bedroom Décor
When decorating a bedroom, the best place to start is by deciding on the basic style you want to utilize. When you have decided on this, picking color schemes, furniture (if you are purchasing new), décor, and accessories will be a lot easier because you already know what style you want.
But certain specific pieces of furniture may also serve as a beginning point for you. You may be lured to a statement bed frame as a starting point, or you may decide that you want a wall in a specific color that would complement a specific style. There is no one correct answer. However, the suggestions below may help you decide what features to base your bedroom decor on.
1. Think About Moving Around the Room
One of the simplest ways to create your bedroom as a quiet and relaxing atmosphere is to focus on the freedom of mobility or how easily you can stroll around the floor space without feeling constricted. Avoid having as much extra bedroom furniture as possible in your bedroom so you are not stumbling over bookshelves and coffee tables or squeezing past bedside tables to get to your bed. This is especially important in tiny spaces and places when space is limited, and breathing is critical. If you are truly struggling, try installing extra storage areas, such as drawers beneath your bed.
2. Keep the Colors Simple
Attractive bedrooms are intended to be soothing, pleasant areas, and the best colors to achieve this are delicate color schemes: neutral tones like whites and creams or a light color palette like lavender and light blue. Use it with furniture; for example, slim bedroom furniture in a pale color can be very elegant and refined!
All of this does not imply your bedroom has to be boring; if your favorite colors are bold, feel free to experiment with different approaches to add vibrant pops of color. Try some eye-catching throw pillows, a busy duvet cover, a comforter, or a bedspread, or bold paint color or wallpaper on an accent wall or ceiling.
3. Consider the Visual Weight of Your Furniture
While mobility is an important measure of whether or not your bedroom is cluttered, the look is equally important. A minimalist bed frame with no headboard, for example, would look substantially lighter than a heavy bedframe with a huge headboard. While selecting furniture for your bedroom, consider the visual weights of each piece.
Try a light-colored bed and a simple nightstand in a small bedroom floor plan. In a large master bedroom with high ceilings, try a tall headboard or a large piece of wall art to fill out the space and draw the eyes upward. If you are short on room, let your bed be the main point instead of shelling out for an expensive, eye-catching centerpiece. The apparent weight of any room can be changed with the help of a wall mirror. While light mirrors can give the impression that more space has been added.
4. Experiment with Different Light Sources Don't Limit Yourself to One Light Source
Lighting plays a pivotal role in setting the mood of a room. Instead of relying solely on traditional overhead lighting, experiment with layering and using a variety of light sources. Natural light from well-placed windows, energy-efficient LED lighting, and even soft bedside lamps can work harmoniously to create layers of illumination. Thus enhancing the visual appeal and functionality of your bedroom. Also, consider the other different basic light sources that are already present in your bedroom (such as ceiling lights, floor lamps, table lamps, reading lights, pendant lights, dimmers, and sconces) and creatively layer them as well.
5. Disperse the Soft Furnishings Around the Room
Every bedroom has one central large, soft object, the bed, which typically acts as the focal point of the room. To counterbalance it and keep the rest of the room from feeling overly "hard" in comparison, try incorporating a bit of the bed's visual softness in one or two other places. You may create a soft look in the space by using area rugs, velvety throw blankets, and window treatments.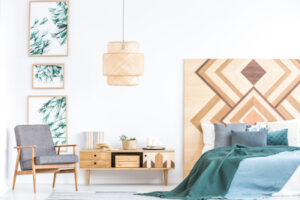 6. Don't Forget About the Ceiling
The ceiling is the largest uncluttered surface in your bedroom. However, the majority of inexperienced home decorators completely overlook it, making it a vastly underutilized resource in any space. To give your bedroom a unique feel, consider painting or wallpapering the ceiling with delicate patterns. If you are tired of following do-it-yourself tips for understated rooms and want a very opulent bedroom appearance, you may even think about having a molded ceiling installed.
7. Incorporate Natural Elements
Bringing a touch of the outdoors and nature into your bedroom can instantly create a calming ambiance. Consider placing potted plants like succulents or peace lilies on your windowsill or bedside table. The gentle rustling of leaves and the natural beauty of plants can enhance your bedroom's aesthetics and improve air quality.
8. Carve Out Space for a Secluded Area
Your bedroom should give you the impression that it is a hallowed place where you relax. If you have the space and want to add a bit more to make your bedroom seem like home, think about ways you may utilize it to create a personal space for yourself. For some alone time, you can curl up in a loft, a window seat, or even just a cozy chair and footstool.
9. Personalize with Photos and Souvenirs
Infuse your personality into your bedroom by displaying cherished photos and meaningful souvenirs. Whether it's a framed travel photo or a sentimental item, these pieces add character to your space and remind you of beautiful memories.  This personal touch can make your bedroom feel warm and inviting.
10. Follow Your Personal Preferences
Do not let design suggestions divert you from developing bedroom design concepts to the point where you produce a setting that does not feel cozy to you. Your bedroom should seem cozy and tailored to your requirements. So make sure you are asking yourself what appeals to you along the way. Make sure to include your preferred aspects in your designs, whether they are upholstered headboards or plants.
Conclusion
Bedroom design doesn't have to be difficult. Just use our advice as a starting point and as a guideline, and follow your heart for the rest of it. Ultimately, it is you that's going to be spending time in your bedroom. So making sure you are happy with it is the most important thing.